With supermarket groups reacting to fickle ginger group pressure, consumer options become inconsistent in the supermarket aisles, and local farmers lose out to lower standard imports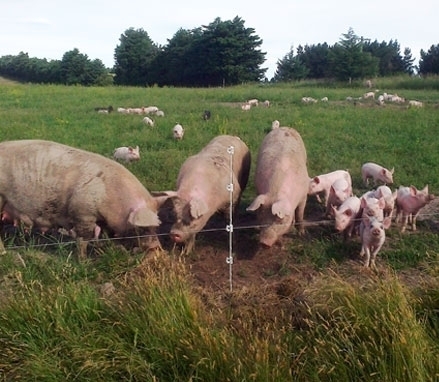 By Guy Trafford

One of the issues current food producers have is trying to satisfy a number of masters. The New Zealand pork industry is a classic example.
The general public require that pigs are reared in what are perceived to be systems that meet animal welfare requirements and many consumers desire pork that has been reared in a free-range requirement. These aims to produce a more 'ethical' food come at a cost to the producer.
Canterbury has the largest number of free-range pork farms in the country and while not the largest pork producing region, it is up there. Since the year 2,000; per capita consumption of pork has gone from 13.39kgs up to 18.06kgs in 2017. So, given a roughly 40% increase in consumption you would think pork producers would be smiling.
However, at the same time that consumption has been going up imports of pork are climbing also. Back in 2012 Kiwis were consuming roughly 55% domestic and 45% imported pork, whereas now it is more like 38%-62% percent.
Imported pork costs about $4.50 per kg (mostly as frozen pork). When a quick browse of the supermarket shelves is done unbranded pork, most likely imported, retails at $6.99 on special whereas domestic free range is $16.99 (also on special).
So why can't New Zealand producers compete?
New Zealand has the least agricultural subsidies of any developed country in the world whereas the meat we let in with minimal tariffs have significant subsidies protecting farmers from loss of profitability and generally, most of these countries have lower/cheaper standards of welfare for their animals. These countries, also in the main, have protectionist barriers against imports coming into them. The Canadian milk industry is a classic example.
And it is only going to get more difficult for New Zealand producers, free-range pork which the public desire, be it at a higher cost, has a very heavy nitrogen foot print. The consumer wants the sows outside in a natural environment but with no environmental consequences.
Increasingly the supermarkets are becoming the conscience of the consumer and for example are moving to stock only free-range hens' eggs. Well they then move to stock only free-range meats? To be consistent they should, but this will mean removing imported pork and perhaps a lot of locally produced poultry from the shelves. I wonder.
Word has it the main driver for the free range egg issue is to avoid coming under the gaze of SAFE and other such organisations and fall in line with what supermarkets in other developed countries are doing. As with a lot of imposed choices it will be those who can least afford it who will suffer the most. Ethical food production is an admirable goal, but it needs to be extended beyond our shores and the ethics also needs to come from their politicians as well as farmers. This swing will suit producers who practice free-range farming but it will mean to enjoy a cooked breakfast, consumers will be paying a lot more.
A final irony with pork, in 2013 the Pork Industry despite much lobbying failed to overturn MPI in its decision to allow raw pork into New Zealand regardless of the risk of PRRRS, a respiratory disease. Australia allows no fresh imported pork in as they consider the risk to be too high. Given the issues with mycoplasma bovis and the kiwi fruit decision it may be timely to reconsider this.
On a similar topic 2017 Consumer survey found 71% wanted Country of Origin Labelling (CoOL) mandatory. Despite this the major processing companies and producer groups put in submissions opposing the "Right to know" Bill in its original form. The revised version focuses more on 'whole foods' i.e. foods with minimal processing such as fruit and vegetables and 'complete' meat and fish. A start but certainly a long way short of the "full monty" for instance; tinned foods, processed meats crumbed fish fillets, dried fruits etc. would not come into the CoOL process.
The main reason given for New Zealand not adopting a comprehensive CoOL approach is that we may be on the receiving end of our trading partners doing the same to us. The irony here is that aren't we trying to promote ourselves as THE country of origin when it comes to safe food and food with a good sustainable story. There is obviously a limit to how small a detail of products need to be included on labelling, but if we said 5% of product by weight is included it would have to be in New Zealand's favour. Currently one of our biggest labelling issues is fraudulent marketers putting New Zealand grown on labels of food which clearly aren't grown in New Zealand. The EU policy which is currently under discussion and appears to be largely voluntary is that only the main ingredient need be identified as CoOL. Areas where confusion in the US and EU may arise are such as hamburger patties where New Zealand trim beef is blended with US 'fat' beef to achieve a better balanced product, and no doubt in the commodities area of milk powders there will be similar examples. The EU proposal suggests that a statement that states that meat (or milk or what-ever) included in this product does not originate from "the country of origin or place of provenance of the food". Currently in the EU there is a flag system where different colours denote differing amounts of EU based content.
The Markets
SHEEP
A lifting in the schedule on both lamb and mutton from some of the processors. In the saleyards prices are holding well with top prime lambs achieving up to $205 and prime mutton getting to $230. In-lamb ewes are coming through now and, given the prime price, appear to be relatively sound buying getting up to $250.
WOOL
Christchurch held its first wool auction for the season but prices were disappointing with a 3-5% drop. All categories apart from the finer classes were well down. Prices would have fallen more if it wasn't for the high level of lots being passed in, 45% on the day.
BEEF
Manufacturing classes achieved lifts also. Bull achieved small lifts while the processors were more generous with cow. Prices in the saleyards are holding on small yardings.
DEER
No changes