Europeans try to target livestock farming in the name of climate change, but are conflicted with heavy subsidies for their farmers. Depending on how they act, New Zealand could be a winner. Demand keeps local prices high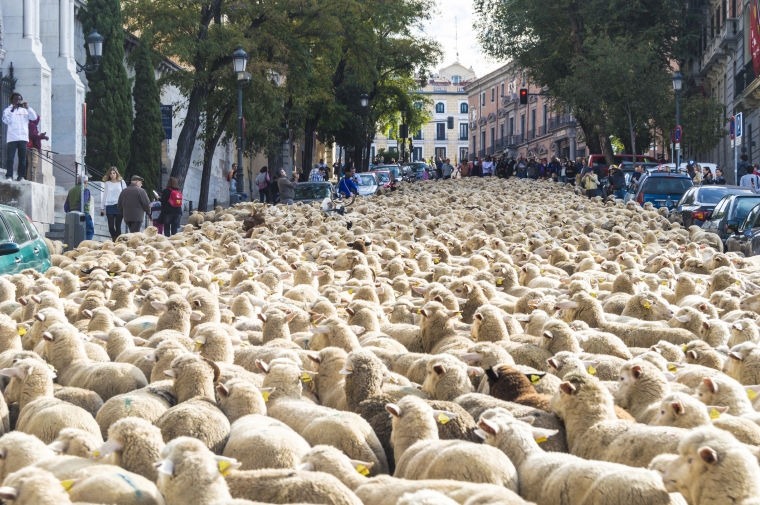 By Guy Trafford

A problem shared is a problem halved, or so the saying goes and in farming some comfort is often found from talking over issues, such as drought and feed shortages with neighbours who are going through similar ordeals.
Sometimes however, sharing a problem only means that more of you are being targeted and as an industry this is not a good omen.
A recent article published in the UK's The Guardian may be an example of the latter. From here in New Zealand as livestock farmers it feels the New Zealand farmers are the only producers who are being put under scrutiny regarding externalities and the bulk of our competitors have the security of government financial support in hard times and no mention of being held to account for greenhouse gas emissions. The Guardian article however is a warning shot that criticisms of livestock systems go well beyond New Zealand's borders.
The article is based around a report written by the Rise Foundation and is calling on EU's livestock farmers to halve their output by 2050. The major drive from the report is that the greenhouse gases emitted by animals are too great a cost to the environment, especially when considering the amount of land tied up in livestock system versus how many calories are produced. It goes on to state that per capita Europeans consume twice as much meat as national dietary authorities recommend and that not only would the environment benefit but human health also.
A positive for New Zealand livestock farmers, is that there are calls for the EU common agricultural policy to be reformed to 'encourage' farmers to move to more sustainable practices. What "sustainable practices" are in relation to existing European practices are, are not clearly laid out but the under-pinning inference is that livestock numbers need to reduce. The impact upon New Zealand farmers could go either of two ways.  The first is to our advantage given New Zealand's competitive advantage in area of sustainable agriculture. Some may debate whether we are indeed sustainable, however, when compared to Northern Hemisphere systems New Zealand stands out as having low inputs and as techniques are being adopted to minimise environmental degradation farmers are moving in a more sustainable direction.
So, if the EU does adopt a policy which does not prop up farmers with subsidies and supports, it can only bode well for New Zealand producers. Per tonne of meat exported the EU is one of the best markets for sheep meat and if a free trade agreement goes ahead may make exporting dairy products there a more likely event also. However, on the converse side if consumers agree that livestock systems everywhere are unsustainable and this moves them to consider a more plant based diet then there may be no winners within all livestock systems as demand for meat and dairy products reduce.
At the moment the EU policy makers are resisting the call  to put more pressure on livestock farmers and agriculture has been said to be a "taboo subject", but the 'noise' is starting to increase although not yet a clamour. One of the major reasons blocks like the EU and the USA have not targeted livestock as a means to reduce GHG emissions is the likelihood that production will move to less developed nations and rainforest may be sacrificed in the bid to raise production. However, in the EU at least, as the low hanging fruit of emissions are picked off areas such as livestock emissions will increasingly come into the discussion.
Markets
SHEEP
A chipping away at both the lamb and mutton schedules this week, however, with contracts in place the falls are not likely to have too greater an impact in the short term for most suppliers. With most Canterbury sheep farms dodging the worst of the storm in early September, which went on to inflict serious losses in the Wairarapa and Hawkes Bay, lamb numbers from the South Island should be good for the upcoming season, especially on the back of a good previous autumn and mating period.
Prices are also likely to remain at high levels with Australia sheep farms affected by drought and the NZ$ working to exporters favour.
The first of the new seasons lamb contracts should be coming out in the next few weeks and it will be interesting to see what message the processor are going to try and convey. Will they think the domestic market is 'too hot' and some cooling off is required?
The latest Southerly blast put good snow on the southern ski fields and whilst power was down for many in inland Otago there haven't been reports of any large-scale lamb loses.
Beef and Lamb NZ are predicting another good marketing year with both lamb meat and beef exports breaking the $3 bln mark at $3.1 and $3.4 bln respectively. Along with these predictions they are picking lamb numbers to be slightly down, due to reduced ewe numbers, a consequence of the high prices paid in the works for ewes and beef numbers increasing slightly on the back of the lower labour inputs required for cattle. There is a caveat of major disruption potential in the form of trade wars and the like which could undermine all forecasts.
WOOL
Prices have continued lift be it at a slower rate to previous weeks. China has returned to the market and wool is another sector benefitting from the Australian drought and their fall in quality and volumes.
BEEF
A small lift in prime cattle schedule which keeps prices matching what they were 12 months ago, although with a considerably weakened dollar internationally. Prices in the saleyards are holding also driven by a small supply coming forward at this time of year.
DEER
Throughout the season the South Island processors have been setting the pace for the venison market, however, this week that changed. The North Island schedule has jumped ahead with a +20c lift to $11.50, the South Island is not languishing though, with a 15cent lift from one processor to lift back up to $11.40.