Guy Trafford laments the state of agricultural training for a backbone sector as another bites the dust, reviews NZ's Brexit risks, and assesses the state of livestock markets in 2019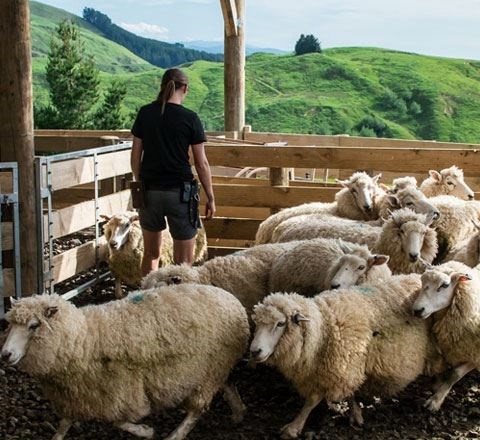 By Guy Trafford

The agricultural community should be very concerned at the current demise of the Taratahi training institution.
Currently in receivership due to high debts and losing income through falling student enrolments it looks, at least for the Wairarapa component, to be heading down a similar pathway to that which Flock House travelled in 1987 when it was closed as a training institution and eventually sold off. Flock House was a victim of the then recently introduced philosophy of user pays despite the terms of the initial intent which was the land and homestead were gifted to the nation for the training of seamen's sons (girls didn't quite feature in agricultural training at that point). It was then used for wider ag training under the MAF, now MPI, before being sold off.
Within the Taratahi Institution those involved with the South Island's Telford Institution must be feeling particularly frustrated. First the 2011 merger with Lincoln University failed to come close to meeting its goals of increasing the University's student numbers and making it more financially secure - although the $10 mln transferred from Telford to Lincoln as part of the merger certainly would have provided Lincoln with benefits at Telford's expense.
With that 'experiment' failed Telford then merged with Taratahi in 2017 with Taratahi receiving cash payments as the new tertiary provider of $7.7 mln and a $2 mln payment in compensation for the $10 mln that had previously been swallowed by Lincoln. None of these payments appear to have gone to Telford. It seems, at least in its current guise, that the die is cast for Taratahi and unless 'new' funders can be found quickly it is likely to head the way of Flock House.
Telford, however, with a different ownership base for the land, is more secure as a farm as it is in a trust and leased to the training institution. Indications are that SIT are interested in running the training institution and coming in with less seemingly less baggage than either Lincoln and Taratahi there may be a brighter future for Telford.
The question is however, with agriculture the largest export industry in New Zealand, what is wrong with the system that allows the major ag training institutions to be effectively uneconomic, especially at a time when agriculture at all levels is crying out for trained staff?
Part of the issue is the cost of delivery with an applied learning approach, as opposed to a more chalk and talk style, agriculture can be an expensive discipline to resource.
This is compounded at the rural based institutions by having to provide accommodation. If numbers are good then this can be profitable as students are levied for the cost. However, this provides another financial cost to students and a barrier to entry and when numbers are falling this adds additional cost to the institution.
Both Taratahi and Telford have managed to survive for over 50 years, 100 in the case of Taratahi. Along side these Lincoln is still struggling to gain traction with little visible building action happening after the 2011 earthquakes - certainly not the required look to encourage new students.
With the average age of farmers closing in on 60 it is imperative that a positive pathway is there to encourage young folk into farming and with the increasing sophistication that farming requires on all fronts the amount of learning entrants require has lifted, hence more avenues for training are required not less.
Brexit issues for New Zealand
With the Brexit vote now out Theresa May's government has received a major setback and the size of the No vote against accepting her plan must mean the likelihood of any conclusion soon is unlikely. The issue for New Zealand exporters is going to be how border control copes with traffic when the EU rules expire but there is no workable replacement. The new administrative paper work that is going to be required by both exporters (on both sides of the border) and bureaucrats is going to be horrendous. The result may see a lot of New Zealand product being diverted to alternative (non-UK) markets, even at reduced margins if the alternative is border hold up and subsequent reduced shelf life.
For the UK, there are huge range of possible outcomes now that MPs have voted 'no' to Mrs May's Brexit deal – these broadly include no deal, a "managed" no deal, a pivot to a Norway-style relationship, a second referendum, a General Election – or a second vote of some kind, perhaps after a renegotiation phase with Europe. All options appear to have some up and down sides with no one option seeming to have the support over others and, so what is a better show to follow than many soap operas, continues.
MARKETS
The hiatus imposed by the Christmas break has seen little change in the way of livestock markets with mostly small movements both up and down. Where the biggest, and most positive shifts have occurred has been in the international dairy markets. In the meantime rain keeps coming on a regular basis in many areas bringing with it, for sheep farmers, an increased activity from fly and good grass growth to the point of creating complications in how to manage it especially with baleage contractors working all the fine days available but with a major catch-up still ahead.
SHEEP
The lamb schedules have slipped with lamb losing up to $6 per head over the break, however mutton has strengthened slightly and saleyard prices seemingly close to where last year finished and ahead of what the schedule says purchasers should be paying.
WOOL
Just the North Island sale to go by so far and a whisper of a lift. The best news was the low pass-in rate (3.5%) which in the past has been up to 20%, and has clouded what the true price of wool is and likely prevented further falls.
BEEF
Prices for prime and bull meats have had a small lift with cow generally on par with before the break. Saleyard prices are in sellers favour no doubt economics helped by the abundance of feed around the districts. There look to be reasonable margins to be made between weaner and 15 month cattle with up to a $800 differential between the age groups.
VENISON
Excess supply in Europe is being blamed for the falling schedule with prices now $30-$40 behind where they were twelve months ago.
DAIRY
Although a way to go before being reflected in farmers bank balances, the international prices have lifted markedly, with the exception of whole milk powder. This has for New Zealand farmers been helped by the falling dollar which has come back ½c over the last couple of weeks against the US$. The Oceania site on "International Dairy Market News" monitored by interest.co.nz has shown lifts of between 2.8% (WMP) to 18.5% (SMP) in US dollar terms which translate to lifts of 3.6% to 19.4% respectively with the other products falling in between in NZ$s.