Guy Trafford reviews what the TDB Advisory report reveals about Fonterra's performance and strategy, and wonders what the new risk-averse, back-to-basics strategy will do to the cooperative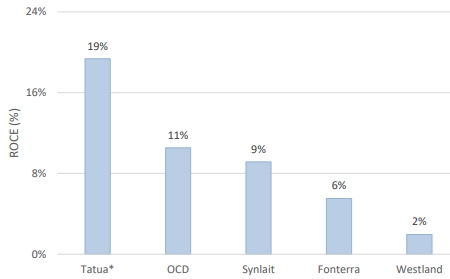 Recently the consultancy group TDB Advisory published their response to the Northington Partners November report looking at the financial performance of Fonterra and then comparing it against its major New Zealand based competitors.
With the benefit of more transparency of the latest Fonterra accounts and having the Northington report as a resource, they have been able to separate the New Zealand core of Ingredients from the Add Value (international sector). This has confirmed what all producers have known for some time, that is the Ingredients side has been carrying the company.
When compared to most other New Zealand dairy companies Fonterra is shown to be not performing well, hence the latest reviews and decisions of Fonterra to divest itself of the poorer performing businesses.
TBD has taken the stance that this is the correct pathway going forward as the ingredients side is what Fonterra does well, or at least better. However, while in the short term this has to been seen as necessary, I can't help but wonder if it is seen as a long-term strategy then it is short sighted. Several facts contribute to this view.
1. Most agree that New Zealand is at or close to 'peak milk' and may even reduce production. Fonterra is currently losing milk share against other competitors and while this will mean further investment into 'stainless steel' will be minimal the capacity of these plants may start to become underutilised thereby reducing their efficiency.
2. In the USA demand for milk products is reducing and this for developed countries is becoming a growing trend with other plant based 'milk' growing in demand somewhere in the 8%-10% per year while milk consumption is decreasing at over -1% per year. At this rate of change plant based milk is likely to overtake fresh milk consumption at around 2035. Which is not long in terms of farm business cycles.
While fresh milk is not a major component of Fonterra's milk exports, when supplying milk as a commodity to other users they are highly vulnerable to the requirements of other companies.
Companies such as Nestle and Danone will be quick to respond to consumer trends and already such companies are investing in non-animal produced proteins. Sticking with the commodities trade may require less investment and risk, at the moment, but in the longer term being a price taker with no control on the market may come back to bite.
What direction any added value should go is beyond my skill base and obviously China is a difficult market to get right but that doesn't mean it should not be pursued again but with a little less naivety than in the past. Hopefully the mistakes made in the past and the additional debt incurred don't hamstrung the co-op so much that it limits its potential for the future.
When a closer look is done of the TBD comparisons, some interesting features pop out. An interesting graph is the "Revenue per kgMS". Using Open Country Dairy (OCD) as the bench mark for commodity values, as they do not 'add value' to their product the figure $8.75 is revealed. Fonterra's total revenue per kgMS is $13.60 which is $4.85 for added value.
The problem is Fonterra has approximately 50% of its asset value tied up in producing this $4.85.
Looking at the other extreme, Tatua which sells almost totally 'added value' has revenue per kgMS of $23.80 The returns on capital employed (ROCE) over the last five years confirms what the revenue figures are saying. Top performer is Tatua with a 19% return. OCD due to their low cost operation are next with an 11% return closely followed by Synlait on 9% (likely to look better if just the later years are examined) then followed by Fonterra on 6% and Westland languishing on 2%.
These numbers confirm that Fonterra has not done well with the added value portion of the business and while the three non-co-op companies have some advantages over Fonterra in being able to dial-up extra milk when the need requires the difference in financial performance should not be at the level currently seen.
So OCD show that good returns can be made from the Ingredients side of the business however,
Tatua have shown where the biggest carrot is and it is nearly twice the size of its closest competitor.
I heard an American researcher (with kiwi connections) stating that New Zealanders in general are low on ambition and we are quick to 'punish' those who fail. She did provide a caveat saying foolish failure deserved what they got and some of Fonterra China failures must come into this category. But in my view, they still need to be looking for opportunities, they just need to be a little more circumspect in how they deal with them.
Today Fonterra announced its interim financial result which included impending sale of assets which are aimed to assist in reducing debt by $800 million. The current debt is $6.2 billion. While there has also been a drive to reduce the number of staff employed, New Zealand's largest company is being cagey about where these job reductions are coming from and their numbers. Given the aim to divest many of the international companies it is likely this is where the majority of job deductions are coming from.
At the time of writing this, the interest.co.nz monitored USDA oceania dairy price is continuing to show an upward trend with the exception of butter which is holding. The increasing NZ$ against the US$ has reduced a little of the cream, but at least for the time being prices are still heading in the right direction. The latest GDT auction also gave another lift there.