Guy Trafford looks at the latest dairy auction prices in light of Fonterra's changing direction, the China risks, and the extended milk supply logistics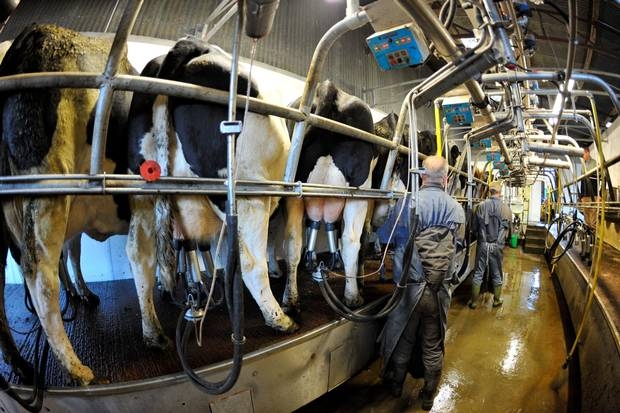 I sometimes think I'm operating in a parallel universe, and looking at other commentators view of the latest GDT results is one of those moments. 
On the surface, yes, a +0.8% lift should be seen as a positive result but when the Whole Milk Powder component is down by -1.3% and volumes are down by -18% to me warning bells should be sounding for New Zealand farmers.
WMP is the largest percentage of what Fonterra farmers sell overseas and presumably the "back to basics" strategy being adopted will mean more reliance is placed on WMP. Looking forward at the GDT results the WMP contracts steadily decline from June to September from -0.8% down to -5.5%. Not a great outlook.
One poor sale does not make a winter however, given the interest coming from other international producers i.e. DFA and the European EEX there does appear to be a rapidly lifting supply without an obvious lift in demand.
On the other side of the coin and just to be perverse and perhaps show that the commentators do have it right, at least in the shorter term - the USDA Oceania international Dairy Prices which are monitored by interest.co.nz had a lift in the last period of US$125 per tonne whereas they recorded a drop in SMP prices. Going back to WMP, USDA have shown consistent (US$) lifts since December.
New Zealand and China
Hopefully Jacinda Adern's rapid in-out trip to China to meet with the Chinese President and Premier has pacified any anti-New Zealand sentiment there. Given her record to date with being able to build relationships it would have to be seen as achieving a positive outcome.
While the Huawei 5G issue has no doubt created potential problems, and is likely to continue to do so until Spark make a final decision, Adern's face to face conversations and the emphasis on "trust" espoused by both Xi Jinping and Adern should go some way to keeping a lid on any high-handed responses from China if the decision goes against Huawei. At the extreme end remember what happened when Japan took exception to China's claim to Island's in the East China sea in 2012. Protesters wrecked Japanese goods and property worth over US$126 mln and cars sales plummeted by US$250 mln and so forth. So it doesn't pay to poke the tiger too hard.
On the positive side Chinese consumers seem quick to move on with Sino-Japanese trade relations now at record levels. As part of the PM's visit she witnessed several memorandums between New Zealand and China being signed one of which directly concerned agriculture, "an agreement for a strategic plan on promoting agricultural co-operation". Given the amount of Chinese ownership of primary production in New Zealand the horse has already bolted on this one.
A current success story with New Zealand dairy products is the Theland airfreighted fresh milk coming from New Zealand selling up to 40,000 litres a week for up to $15 per litre and plans to increase it to 100,000 litres. It should be noted while the companies are based in New Zealand they are Chinese owned, remember we are "back to basics". Nestle' on the over hand are expanding their research and development into China and are "bullish" about future prospects there. Perhaps that was the bit Fonterra missed.
The distance problem
The destruction of the Waiho river bridge in the recent floods shows vulnerability of outlying dairy farmers in Westland catchment. This re-emphasises the future potential risks 'distant' milk suppliers to the non-co-op future Westland face. Apparently, Fonterra were asked if they were interested in buying into Westland but it appears to have been a step to far at a time when Fonterra are having their own battles.