The launch of market leading home loan rates by subsidiaries of China's main banks signals a more active role in retail banking here. We profile the institutions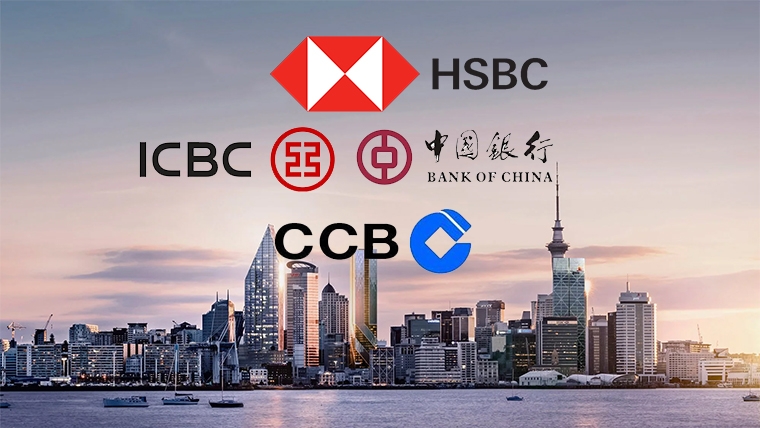 By David Chaston
Some of the lowest home loan rates available in New Zealand now are from Chinese banks operating here.
China Construction Bank is offering 3.19% to borrowers for fixed rate contracts of one, two and three years. Even their five year offer is a very low 3.45%.
HSBC has fixed rate offers of 3.35% for all durations from one to five years.
These rates are far below offers from most others.
In addition, Bank of China (NZ) has recently split its offers between 'standard' and 'specials'. And now they have launched a 3.15% home loan rate for one and two year fixed rate contracts.
Most home loan borrowers will know very little about these banks. But they are probably here to stay and their retail profile will undoubtedly grow.
This article is a basic primer of who they are and the options they offer retail customers.
The largest of these banks is HSBC. It operates in New Zealand as a branch of the main Hong Kong SAR institution, "The Hong Kong & Shanghai Banking Corporation Limited", rather than as a New Zealand incorporated subsidiary. That means they are a direct component of the Hong Kong bank. As such, they don't have a separate legal entity here and utilise the vast capital resources of the main bank. HSBC is a huge publicly traded corporation with global reach. It is not a state-owned enterprise. (In this regard, HSBC NZ is different to HSBC Australia which is an incorporated subsidiary there).
HSBC was first registered to operate as a branch here in July 1987.
The other three Chinese-owned banks are all subsidiaries here, incorporated in New Zealand and with their own capital structure and governance locally. Each has incorporated them with US$100 mln capital. The RBNZ regulates them like any other bank.
HSBC in New Zealand is currently about the size (in assets) of the other three mainland-China-owned banks combined. But this may change quickly as each of the others rolls out more aggressive retail positions in New Zealand. The launch of China Construction Bank's (CCB-NZ) 3.19% fixed mortgage rate offer could be seen as a signal for a more active retail presence outside its core origins in the Chinese immigrant community. The follow-up by Bank of China with its 3.15% rates is confirmation.
China's banks came because of the China:New Zealand Free Trade Agreement which was signed in April 2008. It was a ground-breaking agreement for China with a Western economy.
Another reason these banks are here is they want to be represented on the southern flank of the One-Belt-One-Road infrastructure program that China is promoting. This is a huge project to build a logistics infrastructure that focuses on China, to match the existing American/European systems that already exist.
But while these trade opportunities may have been the initial motivation to set up here, the retail opportunities will be developed as well.
There are three mainland China banks with subsidiaries here.
Bank of China (New Zealand) Limited was launched in Auckland, New Zealand in November, 21, 2014. They say they are "on a dynamic journey to achieve our vision of becoming New Zealand's leading global bank." In 2016 they signed Fonterra as a client with a $300 mln multi-currency bank facility including a Chinese currency component.
Their dominant activity is full-service corporate banking.
This bank offers retail banking including home loans, savings and deposit accounts, and wealth management services.
They have one location at 205 Queen Street, Auckland, but full online services. Its local equity investment is NZ$231.6 mln. Local directors include Chris Tremain, Ruth Richardson, and Sinead Horgan. It is a subsidiary of a state-owned parent based in Beijing.
CCB NZ provides corporate banking services, private banking services aimed at immigrants, treasury services, and some personal banking services including home loans. They offer term deposit or savings services to personal clients on a relationship basis.
China Construction Bank NZ was registered by the Reserve Bank of New Zealand in July 2014. This subsidiary has local equity of NZ$223.2 mln as at June 30, 2019.
They have one location at the Vero Centre, 48 Shortland Street, Auckland, and full online services are coming soon. John Shewan is the acting Chairman of the local subsidiary after Jenny Shipley recently resigned. It is a subsidiary of a state-owned parent based in Beijing.
[This section for CCB has been updated.]
ICBC (Industrial & Commercial Bank of China)
ICBC offers full service banking in New Zealand for both personal and corporate clients.
It was first registered here in November 2013 and has an equity investment of $241.4 mln as at June 2019.
It has one branch at the corner of Quay Street and Queen Street in Auckland. Don Brash is the chairman of the local subsidiary. It is a subsidiary of a state-owned parent based in Beijing.
Of China's four pillar state-owned banks, only the Agricultural Bank of China is not here.
Including HSBC, these four banks have loans due from New Zealand clients worth NZ$8.8 bln and that is a mere 2.0% of all bank lending in New Zealand.
| | | | |
| --- | --- | --- | --- |
|   | Total lending | Mortgage lending | market share |
| June 2019 | NZ$ mln | NZ$ mln | % |
|   |   |   |   |
| HSBC | 4,260.3 | 1,939.6 | 0.7% |
|   |   |   |   |
| Bank of China | 1,681.4 | 841.8 | 0.3% |
| China Construction Bank | 1,123.2 | 666.6 | 0.2% |
| ICBC | 1,695.7 | 544.8 | 0.3% |
| Total these three mainland banks | 4,500.3 | 2,053.2 | 0.8% |
|   |   |   |   |
| Total including HSBC | 8,760.6 | 3,992.8 | 1.5% |
|   |   |   |   |
| Total all banks in New Zealand | $ 446,650 | $ 263,334 | 100% |