The Bank for International Settlements reports that contactless payments have surged globally since the onset of Covid-19, but precautionary holdings of cash have risen as well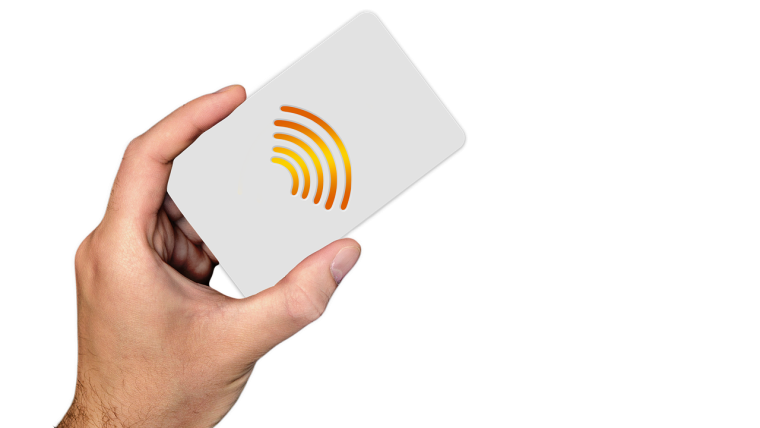 The Bank for International Settlements has highlighted a huge global spike in use of contactless payments since the onset of the Covid-19 pandemic and also - contrarily - clear signs of cash hoarding in some countries.
BIS is owned by 62 central banks, representing countries from around the world that together account for about 95% of world GDP. Its head office is in Basel, Switzerland and it has two representative offices: in Hong Kong SAR and in Mexico City.
In its annual economic report, BIS says contactless payments have surged globally to more than 33% of 'card-present' transactions from just over 27% in September. It also noted rapid growth in e-commerce, the slide in cross-border transactions and a forecast 20% drop in migrant remittances. 
In New Zealand, Retail NZ chief executive Greg Harford says he doesn't have any stats on the matter as such, "but anecdotally, I can confirm that we have seen a huge jump in contactless sales since the arrival of Covid-19 on our shores. There has been strong customer demand for contactless payments, and a large number of merchants have switched them on over the last few months. That has helped encourage customers to pay contactlessly".
"Retailers have been driven to turn on contactless because of customer demand, but have been supported in that decision by the banks generally waiving fees for contactless debit, especially for SMEs," he said
BIS has cited "at least four reasons" for marked changes in retail payments patterns after the onset of the pandemic. 
First, it says public concerns about viral transmission from cash have risen. Scientific evidence suggests that risks are low compared with other frequently touched objects. Yet consumers in many countries have stepped up their use of contactless cards, and the pandemic could drive greater use of digital payments.
Second, as in past periods of uncertainty (eg the expected Y2K glitch in 2000 and the Great Financial Crisis of 2007–09), precautionary holdings of cash have risen in some economies – even as its use in daily transactions has fallen.
Third, as physical stores temporarily closed, e-commerce activity surged.
Fourth, cross-border transactions have collapsed. As mobility dropped, cross-border credit card transactions by Visa fell 19% in March 2020 relative to the same month in 2019, and remittances are projected to fall by about 20% in 2020 as migrants face job loss and uncertainty.
The precautionary holding of cash appears to have happened in NZ too. 
In its latest Financial Stability Report last month the Reserve Bank reported that the amount of cash in circulation in this country had surged just before the March lockdown, rising by about $800 million in the month.
The BIS report says the pandemic has highlighted "both progress and shortcomings" in payments.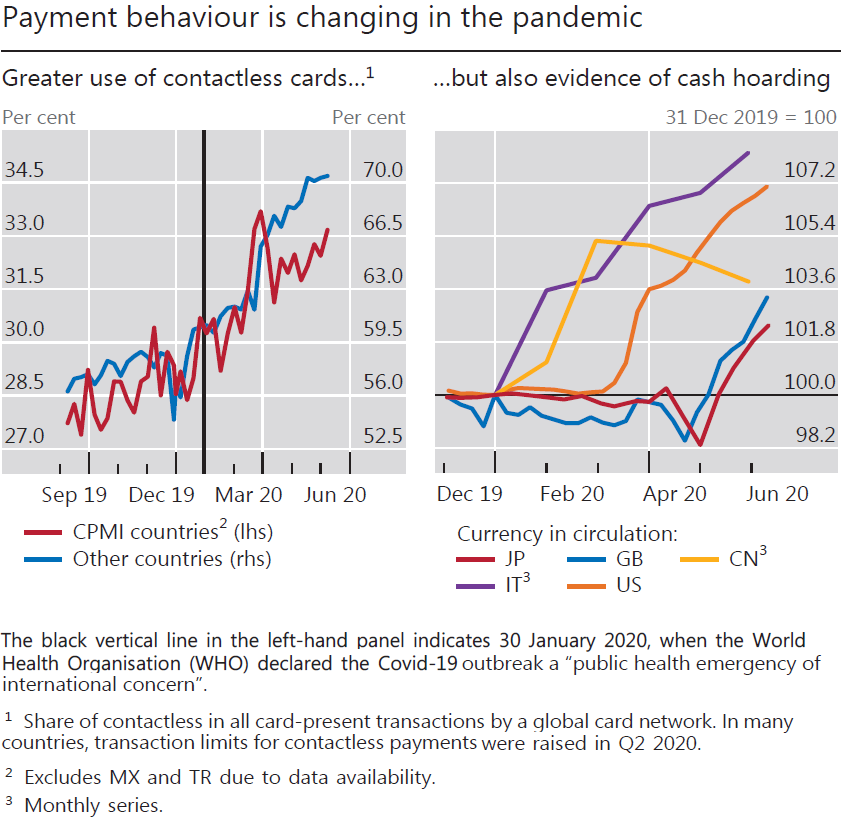 "Digital payments have allowed many economic activities (eg purchase of groceries and other essential goods) to continue online during the pandemic," it says.
"Yet due to unequal access, low-income and vulnerable groups face difficulties in paying or receiving funds."
It notes that some central banks have warned that refusal by merchants to accept cash could place an undue burden on those with limited payment options.
"The crisis has amplified calls for greater access to digital payments by vulnerable groups and for more inclusive, lower-cost payment services going forward."
Economic Adviser and Head of Research at the BIS Hyun Song Shin said as innovations increasingly emerge from outside the traditional "two-tier structure" provided by central banks and commercial banks, it is essential that policymakers meet the challenges of these new innovations to maintain the integrity of the payment system.
"While the private sector is well placed to draw on ingenuity and creativity to serve customers better, this is best done on solid central bank foundations," he said.
The BIS report said central banks play a pivotal role in safeguarding the payment system by underpinning trust in money, thus supplying the ultimate safe retail (consumer) and wholesale (financial institution) settlement medium. Their operation of public infrastructures and promotion of interoperability and competition are also key to accessible, low-cost, high-quality payment services.
"But they also need to foster innovation to help tackle systemic shortcomings and ensure that households and businesses have access to a diverse set of safe and efficient payment methods."
Head of the BIS Innovation Hub Benoît Coeuré said one option at the "frontier" of policy opportunities is the issuance of central bank digital currencies (CBDCs), which could offer a new, safe, trusted and widely accessible means of payment.
"Central banks around the world are stepping up their efforts to study CBDCs and, whether wholesale or retail, the goal is to create safe and reliable settlement instruments for transacting in the digital economy,"  he said.
"In tandem, international policy coordination can ensure that all advances in payment systems facilitate greater efficiency, cross-border integration, safety, financial inclusion and innovation."
*This article was first published in our email for paying subscribers. See here for more details and how to subscribe.