David Chaston summarises how the recent run-up in longer-term wholesale interest rates is affecting the cost of money, and for who. He also shows how the FLP is distorting these market moves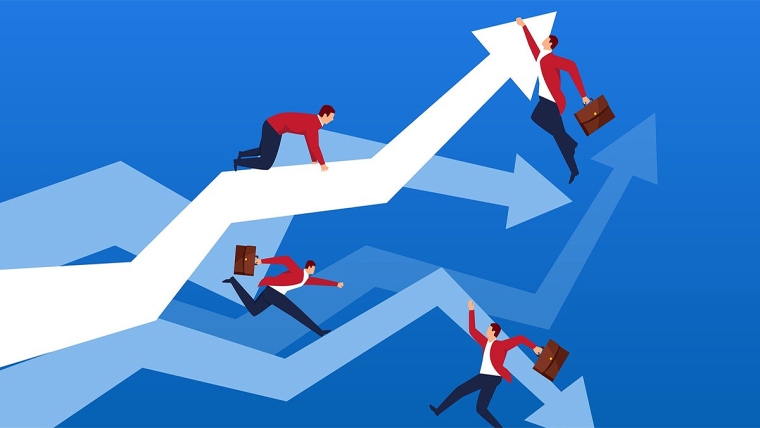 By David Chaston
Much has been said elsewhere about the remarkable improvement in our economic fortunes in the past three months.
This short article summarises how benchmark interest rates have behaved in that time.
At the November Reserve Bank (RBNZ) Monetary Policy Statement, no new programmes were announced except the Funding for Lending Programme (FLP).
$28 billion was assigned by the RBNZ for trading banks, at the Official Cash Rate of 0.25%, to ensure money was available for borrowers at low interest rates.
Since then only $1.14 bln has been drawn, by three banks. Only The Co-operative Bank has been transparent about their $40 mln. The other two are trying to hide their involvement.
But the central point is that so far, very little of this money has been drawn, on its own, certainly not enough to make a difference in lending activity.
But household borrowers are in fact lining up to borrow, especially for higher priced houses. The asset-price bubble is expanding fast, especially for housing.
And savers have seen the returns on their deposits at banks collapse. The one thing the FLP did do was speed up the retreat from term deposits.
Term deposit interest rate offers have been falling sharply since March 2020 (the trend got started in March 2019, but gathered speed as the pandemic took hold). These rates have moved down in the past three months, but that hasn't been the main effect. The main effect is that term deposit savers have given up on that savings tool and just rolled their investment over into non-interest earning current accounts. But they didn't take the money out of the banking system, exactly the reverse. This effectively converted the funding for banks to zero interest - ironically lower than the FLP funding promise from the RBNZ.
So the main impact of the November 2020 RBNZ MPS decision has been on the psychology of savers and their willingness to tie up funds at a fixed term. On the other hand, the one thing left that the RBNZ FLP does do for banks is give 'term' certainty for their long-term lending. If they just relied only on savers, they would effectively be borrowing very short (at call) and lending long (one, two or three years for home loans). Borrow-short, lend-long is a dangerous position for any financial institution to be in. Saver behaviour has raised these danger risks for banks.
Banks can attract wholesale funding at longer fixed terms but that now comes with the higher interest rates demanded by wholesale investors. And these are rising like the benchmark rates. A proxy for these increases can be seen in swap rates. Apart from the one year rate, these are all showing new rises, and they are higher for longer durations.
Here is what is happening at the benchmark end of the market. In this case, these benchmarks are what investors offer as yield for New Zealand Government bonds on the secondary market.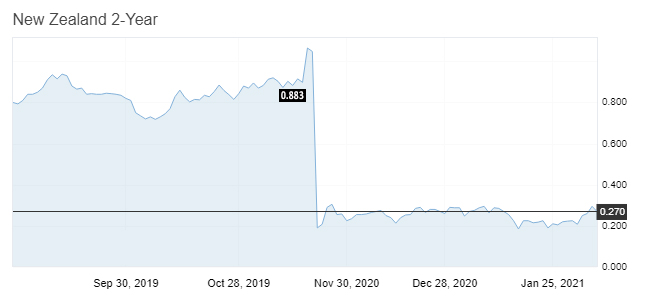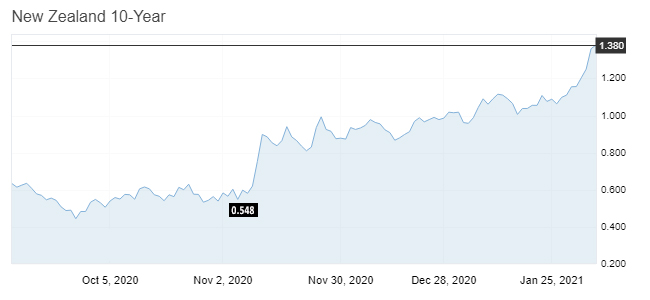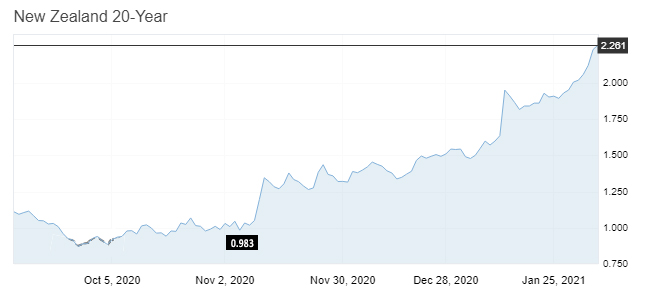 As long as the FLP option is around, it is unlikely that short-term retail interest rates for either bank deposits or borrowing from banks will rise.
But these new long term benchmark yield rises are now of a scale that they will affect other parts of the economy.
Company treasurers will be watching. It may motivate some of them to bring forward bond issues before these yields rise even further.
And the Government will be looking sideways at them too. Their bonds on issue are now $140 bln and that will be growing for some time yet, even if the "new issuance" plan is being scaled back.
Every +0.1% rise in yield will cost $140 mln additional per year in interest cost, on top of the current $3.5 bln per year. That is more than twice what central government currently spends on our largest District Health Board.
Of course, the RBNZ can keep buying Government bonds on the secondary market at bids that keep the rates low for Treasury.
But from the yield track over the past 90 days, that hasn't stopped the rise in long term rates. It may have slowed them, but investors have the option of other risk-free alternatives from other sovereigns and they are rising too.
The global sovereign debt market is enormous and 'efficient' in this way - there is no way New Zealand Government bonds can avoid these trends for very long. Remember, the RBNZ buys on the secondary market; actual investors bid in primary markets. If they bid and win at say a 2% yield and the RBNZ stands in the secondary market to buy at a price that tries to push that down, then all the RBNZ is doing is guaranteeing a bond price gain for investors. They will take that every day, essentially free money. The RBNZ is likely to tire of doing this very quickly.