RBNZ acknowledges its balance sheet is likely to remain large for decades to come, and it will continue to be used in 'innovative' ways to maintain financial stability and support monetary policy
The Reserve Bank (RBNZ) says quantitative easing and the use of term lending facilities will remain "mainstream" monetary policy tools that will continue to be used in the future.
The RBNZ started doing quantitative easing in March 2020 by buying mostly New Zealand Government Bonds via its Large-Scale Asset Purchase (LSAP) programme.
In December 2020, it also started providing banks with cheap funding to help them keep borrowing rates low via its Funding for Lending Programme (FLP).
Both programmes are mainly aimed at boosting inflation and employment. The RBNZ is due to stop making regular bond purchases via the LSAP in June 2022, and is due to stop making FLP funding available to banks in December 2022.
However, RBNZ Head of Financial Markets Vanessa Rayner said, in a speech delivered on Wednesday, these previously "unconventional" monetary policy tools will "likely remain mainstream for as long as global central bank policy rates remain at, or near record lows".
Rayner noted that with the Official Cash Rate (OCR) already rock bottom, the RBNZ (like other central banks around the world) has "less space" to cut rates. There is also a "limit to how negative rates can go before causing adverse side effects".
"This means that other tools that utilise the [RBNZ's] balance sheet have become an important part of the 'package' of monetary policy instruments that global central banks have turned to."
Rayner noted the RBNZ is one of only a few central banks in advanced economies that didn't have to deploy such tools until 2020.
She noted these tools can work in different ways, and don't just reduce short-term interest rates like the OCR does. As the RBNZ understands these channels of transmission better, it will be able to "better calibrate an 'optimal package' of monetary policy tools in response to future shocks".
Rayner also repeated what RBNZ Chief Economist Yuong Ha told interest.co.nz in an interview conducted on Monday afternoon (see above).
She noted all the bond buying the RBNZ has done via the LSAP programme has seen the RBNZ's balance sheet balloon. For example, it now owns more than $50 billion of New Zealand Government Bonds.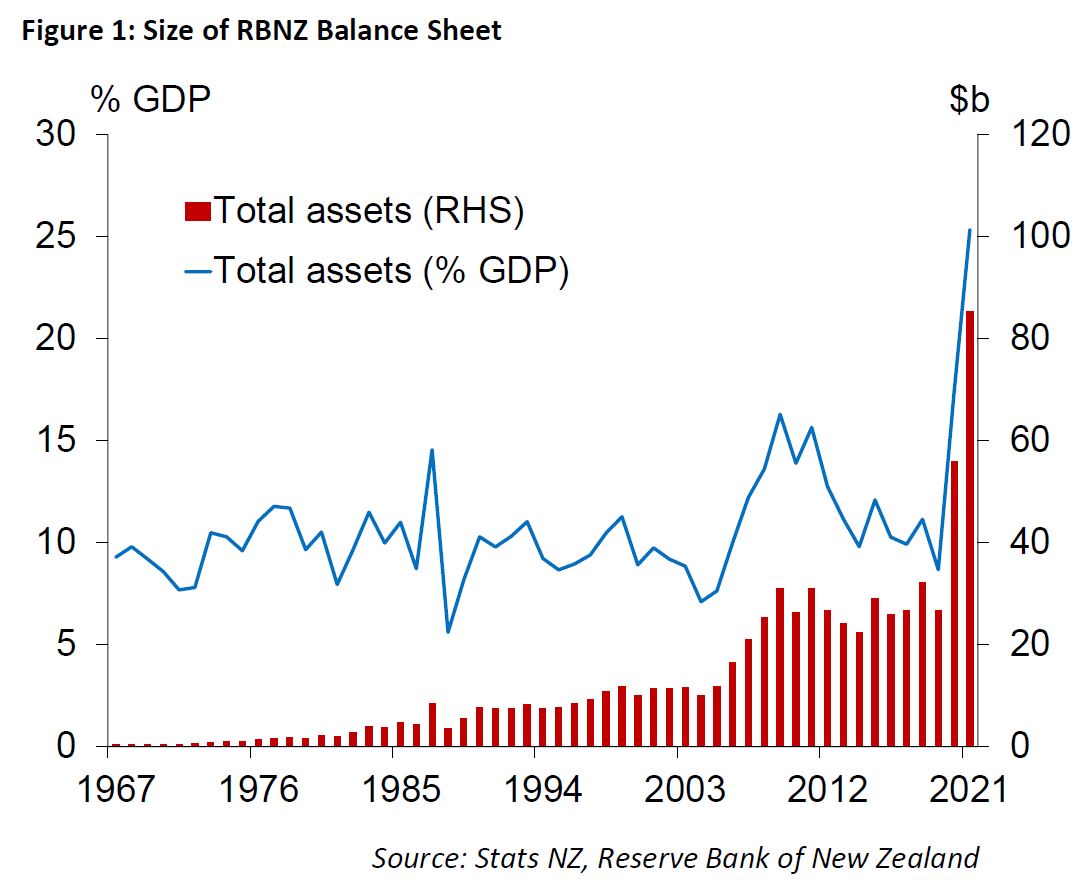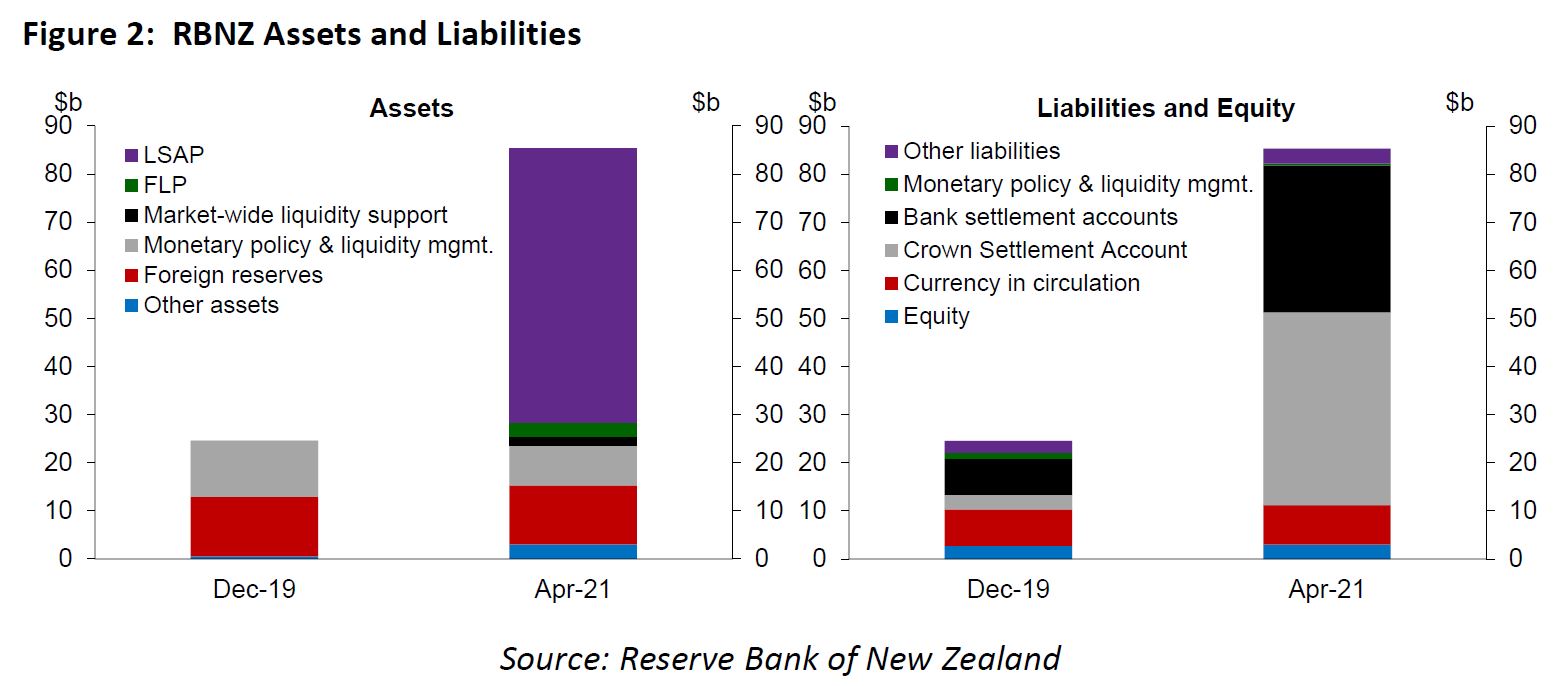 But because some of these government bonds will only mature in 2041, they could end up sitting on the RBNZ's balance sheet for decades to come.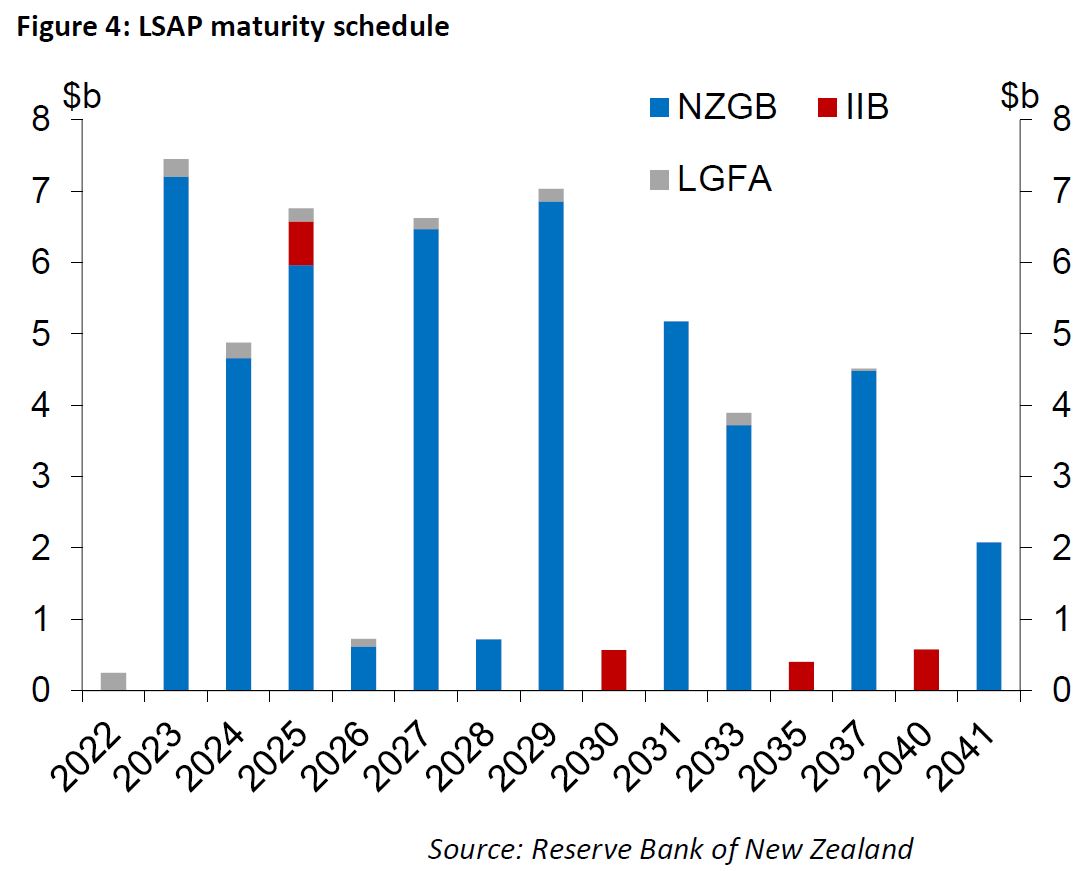 And as Ha said earlier in the week, the RBNZ might not want its balance sheet to shrink at the pace at which the bonds it owns matures. So, it might decide to keep buying bonds to replace the ones that roll-off.
Rayner made the same point: "In many cases overseas, central bank balance sheets have remained large for a prolonged period.
"There have been some limited instances where the size of balance sheets have started to reduce when policymakers had sufficient confidence their policy objectives could be achieved with less support, like in the case of the Federal Reserve in 2018 and 2019.
"In the long run, the LSAP programme may be unwound and the size of the balance sheet may be lower than it is today. However, any decision to reduce the size of the balance sheet by not reinvesting maturing assets will depend on the level of monetary policy stimulus required in the future and will be decided by the Monetary Policy Committee, guided by staff advice."
Financial stability
Rayner said the way the RBNZ does its job maintaining financial stability is also changing and some "further innovation" in its "balance sheet operations" may be required.  
She noted the RBNZ has moved beyond being a "lender of last resort" to individual commercial banks that need liquidity to meet their short-run obligations, as it's started responding to "severe market dysfunction".
"For example, last year we introduced a Bond Market Liquidity Support scheme to purchase small amounts of New Zealand Government and Local Government Funding Agency bonds at short notice when there were no other buyers in the market," Rayner said.
"The subsequent LSAP programme also alleviated market-wide liquidity concerns, freeing up capacity on dealers' balance sheets to return market liquidity to more normal levels."
Rayner said the RBNZ would also change the amount of foreign currency it holds. It holds these assets in case it needs to intervene in the foreign exchange market to address market dysfunction or if the level of currency is unjustified relative to economic fundamentals.
Rayner noted changes being made to the Reserve Bank Act will require the RBNZ and Finance Minister to agree on a framework around the way the RBNZ manages and uses foreign reserves.
She said that unlike other central banks, the RBNZ hasn't ramped up its foreign reserve holdings since the 2008 Global Financial Crisis.
Rayner indicated the RBNZ was viewing its monetary policy and financial stability roles through a climate lens.
Specifically, she said there is an "opportunity for central banks to take a step further to ensure their balance sheet operations actively support the transition to a low carbon economy and to ensure smooth monetary policy transmission over the long term".
She said the RBNZ would consider "what adjustments we can make to our liquidity operations - including eligible collateral and pricing - to mitigate our own financial risks and to contribute to the development of the sustainable finance market over time".
Risks
Bringing it altogether, Rayner recognised the RBNZ's larger and more complex balance sheet creates risks.
The RBNZ has to think about how different monetary policy tools will flow through into the economy differently.  
Using new tools also comes with "significant communication challenges".
"It is generally more difficult to communicate the impact of balance sheet tools [other] than the OCR, as the current and future policy stance of these new tools cannot be accurately expressed using a single measure," Rayner said.
"There is also greater uncertainty around the impact of balance sheet tools. This can lead to reputational risk and reduce policy effectiveness (e.g. the 'expectations channel' is weakened if policy actions and tools are not well understood)."
Finally, Rayner made the point the RBNZ faces additional risks by providing banks with longer-term funding and holding a lot of government bonds with long durations.
"In the past, the financial risks associated with traditional central bank functions such as monetary policy implementation and lender of last resort have been relatively low, given the collateralised nature of lending at typically a short duration," she said.
"As we have expanded our operational tool set to include outright purchases of assets, longer-term lending and 'market maker of last resort', we are exposed to increased risks that need to be well understood and managed.
"Our priority is to not minimise risk, but rather maximise our ability to meet our policy objectives without undue risk - whether that be legal, financial, operational or reputational risk."