Covered bond opponent urges Parliament to 'face down the banking lobby and ban these bonds' in select committee submission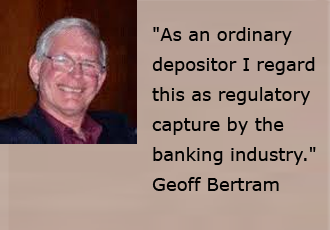 By Gareth Vaughan
The fact a bill establishing a legislative basis for covered bonds is before Parliament shows "regulatory capture" of the Reserve Bank by the banking industry given covered bonds should explicitly be prohibited by law, says a submitter to the Select Committee considering the Bill.
Geoff Bertram, formerly a senior lecturer in economics at Victoria University and now a senior associate at Victoria's Institute of Policy Studies, says in a submission to Parliament's Finance and Expenditure Select Committee on the the Reserve Bank of New Zealand (Covered Bonds) Amendment Bill, that the purpose of covered bonds is no mystery.
"The New Zealand banking sector, in common with its Australian counterpart (and dominant owner) has for over a decade now been engaged in the profitable business of funding its local credit expansion in New Zealand dollars by means of offshore funding - selling bonds denominated in overseas currency," says Bertram.
"The result has been a massive and worsening currency mis-match in the banks' balance sheets which has greatly increased the riskiness of the industry while fattening its bottom line and increasing the New Zealand economy's aggregate foreign-currency indebtedness and exposure to global financial instability."
Finance Minister Bill English introduced the  Reserve Bank of New Zealand (Covered Bonds) Amendment Bill to Parliament in May. English said the Bill would provide greater legal certainty for investors in the unlikely event of a bank defaulting. He also said covered bonds offered significant benefits for banks as a long-term source of relatively stable finance. The Bill is now before the Finance and Expenditure Select Committee with the deadline for submissions having closed on July 3.
Controversy
Bertram notes covered bonds are mortgage-backed securities packaged together and sold to investors with AAA ratings from major credit rating agencies, along similar lines to many of the toxic assets in the 2008 global financial crash. They carve off some of the banks' assets for the benefit of covered bondholders - in the event of a bank default - meaning bank depositors' claims are diluted. This aspect meant covered bonds were banned in Australia by the Australian Prudential Regulation Authority until last year when the Government, after lobbying by the major banks, bypassed APRA's concerns and enacted legislation allowing covered bonds.
Meanwhile the Bill has been compared with the Prostitution Law Reform Bill by Labour Party Economic Development and Associate Finance spokesman, David Cunliffe, and covered bonds themselves with "a drug that you don't go on unless you seriously need to," by ANZ Banking Group CEO Mike Smith. See more on Cunliffe & Smith's comments, and what covered bonds mean for both borrowers and savers here.
Bertram argues the best assets in the bank's portfolio (some of its residential mortgages) are removed from the reach of a liquidator and placed in a separate cover pool devoted solely to providing strong backing for bonds issued and sold to institutional investors, most of whom will be overseas. This leaves unsecured creditors, including regular depositors, exposed to greater risk of loss, given the bank uses its more risky and lower-quality assets to match its deposit liabilities.
"This arrangement is corrosive of the incentives that governments the world over acknowledge are needed to reduce the risk of future banking crises. It works to undermine the Reserve Bank's core funding requirement, and potentially enables the banks' shareholders to mitigate their losses in the event of bank failure by holding covered bonds in their own institution," says Bertram.
'Ban them'
Ideally covered bonds ought to be "explicitly prohibited" by legislation, and and the Select Committee should recommend accordingly. The near NZ$10 billion of covered bonds already issued by the big four banks - ANZ New Zealand, ASB, BNZ and Westpac New Zealand - could remain on the existing contract basis with no legislative status, and would be allowed to expire without replacement, says Bertram.
However, if the Select Committee is unable to "face down the banking lobby and ban these bonds," Bertram suggests its members should demand much stronger safeguards and restrictions than the Reserve Bank is proposing.
These include banning the issue of covered bonds in foreign currencies, reducing the ceiling of 10% of the issuer's assets allowed to be used as collateral for covered bonds to 4%, and prohibiting associated parties of an issuing bank from purchasing, holding or trading in the covered bonds issued by the bank they are associated with.
If this last safeguard isn't introduced Bertram warns covered bonds simply become a means for converting a large chunk of the NZ$45 billion of unsecured "funding from associates" in the New Zealand banks into protected preferential claims over the prime assets in the event of liquidation.
Furthermore, he argues New Zealand-originated loans that have been transferred to a bank's parent should be deducted from the asset pool available to support covered bonds, in order to pre-empt possible asset-stripping of New Zealand banks by their parents. And, all bank loans tied up in repo transactions at any time should be deducted from the asset pool when calculating the limit on covered bond issue. This, he argues, is because in the event of bank failure, the repo counter parties could sell off the loans they hold as security, removing them from the reach of any liquidator.
"As an ordinary depositor with two of the New Zealand banks, I regard this (the Reserve Bank allowing covered bonds) as regulatory capture by the banking industry, which will put at increased risk the savings of myself and other ordinary New Zealanders in a similar position," Bertram says.
"I am unmoved by Reserve Bank speculation that diversifying the banks' funding by the device of covered bonds 'may' benefit me and other depositors because it 'can potentially reduce the probability of a (bank) failure occurring'."
"The exchange of a clear and present watering down of the security of my deposits for an untested and hypothetical reduction of the probability of bank failure does not, in my submission, pass the most rudimentary cost-benefit test," adds Bertram.
What they are
Covered bonds are dual-recourse securities, issued for anywhere from three to 10 years, through which bondholders have both an unsecured claim on the issuing bank (should it default on the bonds) and hold a secured interest over a specific pool of assets - generally residential mortgages - called the cover pool.
Covered bonds are different to senior unsecured debt instruments issued by banks, where the bondholder is simply an unsecured creditor of the bank, and also from mortgage-backed securities, where the bondholder has a secured interest in the cover pool but has no claim on the issuing bank.
Due to their dual recourse security, covered bonds generally attract the highest possible AAA credit rating (which is higher than the bank issuer's own ratings) and are therefore a cheaper form of funding for banks than standard bank bonds.
This article was first published in our email for paid subscribers this morning. See here for more details and to subscribe.