Treasury reports budget surplus for 7 mths to Jan of $934 million, which is $724 mln more than forecast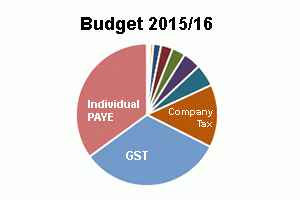 By Bernard Hickey
Treasury has reported the Government's Budget surplus in the seven months to the end of January was NZ$724 million better than expected due to higher tax revenues from GST and PAYE, but also because of payment delays on Treaty settlements.
The Operating Balance Excluding Gains and Losses (OBEGAL) was a surplus of NZ$934 million for the period, which was better than the NZ$210 million forecast in the Budget Update in December. It was also significantly better than the NZ$77 million surplus recorded for the same period in the previous year. Core Government tax revenue has risen 4.6% over the year, while spending has risen just 2.2%.
"Core Crown revenue at $42.5 billion was $200 million higher than forecast with higher than expected core Crown tax revenue (mainly GST and source deductions) being the main contributor to this favourable variance," Treasury said.
"In addition to this result, core Crown expenses, at $42.1 billion, were $403 million (0.9%) lower than forecast primarily due to timing differences relating to items such as Treaty settlements," it said.
In December, Treasury forecast a budget deficit of NZ$401 million for the full 2015/16 financial year, but the latest figures suggest the Government's finances are slightly healthier than that. The Goverment loosened fiscal policy slightly in December and softened its surplus and debt targets, while also increasing its capital spending allocation. It has since also signalled significant new spending on road and rail projects in Auckland as the Government's hard-line position on Budget spending has softened somewhat.
This softening may be welcomed by the Reserve Bank, which called late last year for more Government spending on infrastructure in Auckland to ease supply constraints and help lift economic activity. The apparent improvement in the Budget position may give the Government even more room for easing policy in its May 26 Budget for 2016/17 and beyond.
Treasury said the Government's core residual cash position was a deficit of NZ$1.5 billion, which was NZ$1 billion lower than forecast.
Core crown tax revenues were NZ$446 million higher than expected, although this was offset by interest payments being NZ$240 million lower than expected because some derivatives being rolled rather than turning into interest bearing deposits.
Treasury said total labour income was stronger than forecast in the December quarter with source deductions (PAYE) being NZ$227 million above forecasts. GST was 2.2% or NZ$220 million above forecasts, which Treasury said indicated higher consumption income than expected, although it cautioned some of the increase may be related to timing.
Treaty settlements were NZ$177 million less than expected because of ongoing negotiations.
Treasury said net debt was NZ$1.178 billion below forecast.
Finance Minister Bill English cautioned that the monthly results fluctuated.
"We don't read too much into any particular month's result. We will continue to focus on keeping a tight rein on spending and paying down debt - we're working hard to reduce net Government debt to around 20 per cent of GDP in 2020," he said.
No chart with that title exists.