ANZ economists highlight their preferred option if the Reserve Bank decides to take monetary policy beyond merely dropping the Official Cash Rate; but the ANZ economists stress that any unconventional monetary policy is risky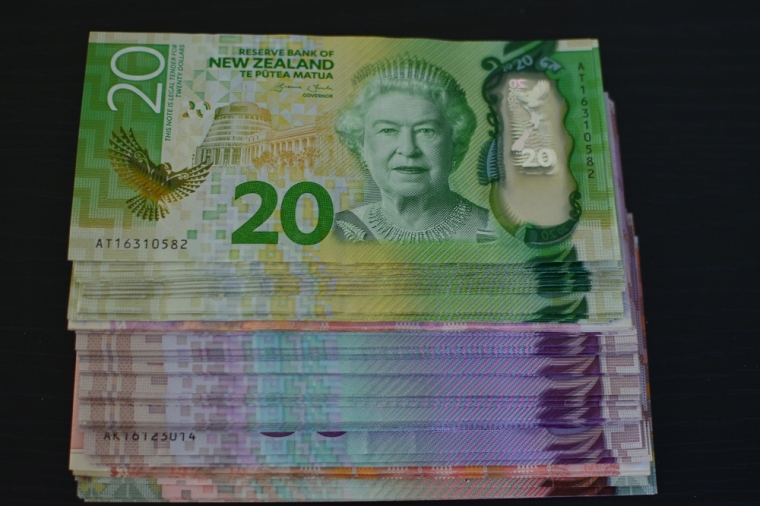 ANZ economists have a view on what the Reserve Bank's best option might be if it decides to embark on 'unconventional' monetary policy - but they stress that any such policies carry risks.
In a recent speech, RBNZ Assistant Governor Christian Hawkesby re-raised the prospect of our central bank pursuing unconventional policies.
"Having effective unconventional policy options expands the toolbox of a central bank, which is naturally more relevant in a low interest rate environment. In this spirit, we published a Bulletin article last year on the practicalities of unconventional monetary tools in a New Zealand context, and we continue to learn from the lessons of our central banking cousins," Hawkesby said.
"It's better to have a tool and not need it, than need one and not have it."
The question of the central bank applying different policies, such as for example quantitative easing, which was used overseas after the global financial crisis, comes about as people begin to wonder whether the RBNZ, with the OCR now down to 1.5%, is going to 'run out of ammunition' to help stimulate the economy.
ANZ economist Michael Callaghan and FX/Rates strategist Sandeep Parekh have had a detailed look and crunch of what the RBNZ's options might be for unconventional monetary policy in an ANZ New Zealand Insight publication. 
"With the Official Cash Rate at just 1.5%, there is now a very real chance that monetary policy will run out of conventional ammunition in the next marked downturn (caused by, for example, a negative global shock, an extreme drought or an earthquake)," they say.
"Odds are rising that some kind of significant economic hit will occur before the OCR is back to anything approaching historical norms."
They have summarised the options the RBNZ has: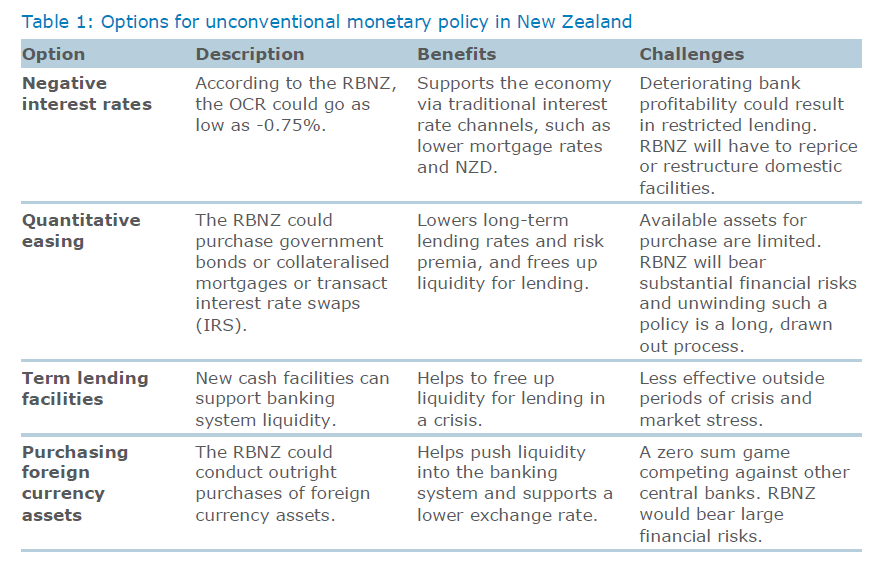 They say "it is certainly not a given" that taking New Zealand down the path of unconventional policy "would be necessary or wise".
"This paper does not address that complex question."
However, Callaghan and Parekh say that for the record, of the unconventional options available, they think that the best policy approach for the RBNZ would be to:
− reduce the OCR to -0.25% and provide strong forward guidance that rate hikes are a very distant prospect;
− reduce ESAS (settlement system) penalty rates from 100bps to 50bps;
− inject balances into the banking system (via a term auction facility); and
− transact swaps to reduce interest rate risk premia, and purchase NZ government bonds and collateralised mortgages.
"While we believe this would be the most effective policy approach, there would be numerous challenges, costs and risks associated with each part of it. Risks to the RBNZ's balance sheet, market functioning, and bank profitability would be of particular concern."
They also say there would be several steps the RBNZ would need to take, and communicate to the market, to prepare for unconventional policy and retain market confidence.
This is the summary of Callaghan and Parekh's preferred option: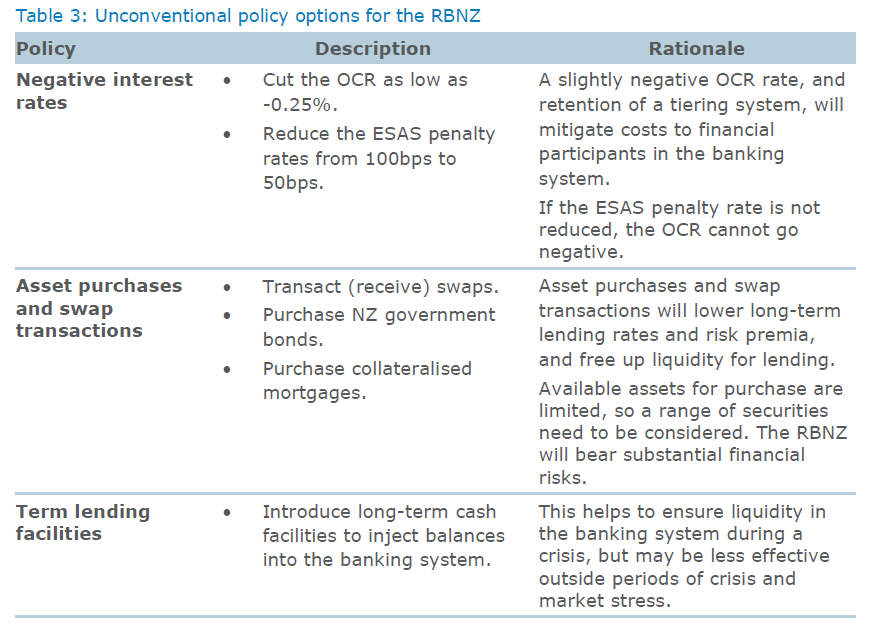 They say while they believe the options outlined above would be the best policy approach, there would be "numerous costs" associated with it as well as risks to the RBNZ's balance sheet, while market functioning is likely to suffer.
And they say if pushed too far and for too long, unconventional monetary policy can lose effectiveness, given the negative implications for bank profitability and credit availability.
"Regardless of the policy options chosen, there are several issues that the RBNZ need to urgently consider and communicate to the market to ensure confidence in their ability to respond to a weaker economy. A plan for adjustments to the operations of the settlement system (penalty rates, tiers) and for fiscal and monetary policy coordination needs to be planned and communicated.
"At the end of the day, consideration must be given to whether unconventional monetary policy is a path we want to go down – the examples of those who have traversed this track before us certainly inspire a mix of hope and fear. But if unconventional monetary policy is a risky strategy, implementing it without prior preparation is undoubtedly a riskier one."