Winston Peters tells unionists wanting a fair pay agreement framework legislated that change can't happen overnight; Jacinda Ardern says the Government's still 'consensus building' and fair pay agreements are part of a 'longer-term solution'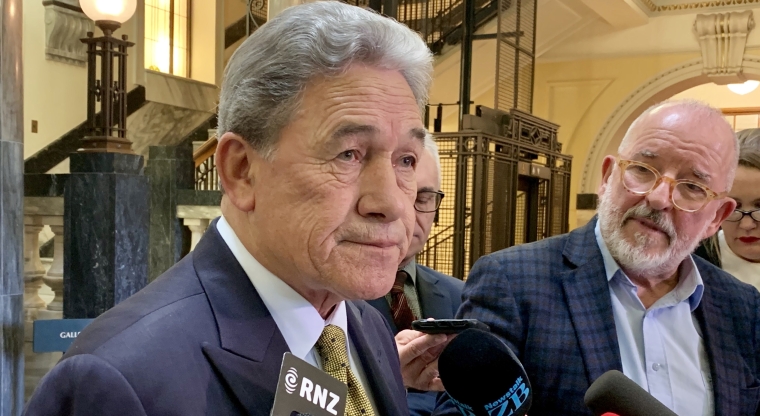 Deputy Prime Minister and New Zealand First Leader Winston Peters has told unionists they are "asking for the impossible" if they "expect a massive shift in industrial relations in just three years".
He made the comment during a speech at a Council of Trade Unions (CTU) conference on Tuesday.
The CTU is urging the Government to get on with introducing legislation to give workers a framework to negotiate fair pay agreements.
A working group, led by former National Party prime minister Jim Bolger, in December reported back to the Government on how it believed a system of bargaining to set minimum terms and conditions of employment across industries or occupations should be designed, and what its scope should be.
"We all know what is needed to make good fair pay agreement law - the work has been done. Now is the time for action," CTU President Richard Wagstaff said.
Ardern: Fair pay agreements part of a 'longer term solution'
However speaking to media after Peters delivered his speech, Prime Minister Jacinda Ardern said work was still underway "building consensus across the Government".  
Asked if NZ First was the handbrake, Ardern responded: "Consensus does take time, but hopefully that means, of course, that the changes that we make are long-lasting."
She opened her speech at the CTU conference later on Tuesday afternoon, making a similar point. 
"Both NZ First and the Greens have maintained strong voices, and achieved important results in different areas within the Government," Ardern said.
"And that is the reality of our government. Nothing can be done without the full support and votes of each party in it."
Ardern said fair pay agreements were part of the "longer term solution" for low wage earners, and the Minister would announce "progress" on that "soon".
"We're tackling the long term issues, but long term problems take time to fix," she said.
Back in August 2018, Ardern told the business community she envisaged fair pay agreements being introduced slowly, with no more than one or two concluding during this electoral term.
Peters: 'Capitalism with a human face'
Peters, during his speech to the CTU, dampened unionists' hopes of his party moving quickly to support fair pay agreement legislation.
He distanced NZ First from both Labour and National, pitching it as a "centrist party".
"This is why we listen to trade unions. This is why we listen to farmers. And this is why we also listen to business leaders," he said.
"Whilst we recognise and respect your organisations' right to strike, your timing is unfortunate to say the least.
"While conditions for much of the workforce deteriorated under the previous government with stagnant wages and a rising cost of living, you sat on your laurels.
"Now, just as right wing governments and private interests exploit perceived vulnerabilities to exploit their agendas, some unions have attempted to do the same.
"Except it won't work.
"Significant change to economies and government cannot occur overnight without massive disruption to the most vulnerable - despite Marxists and Neoliberals' parallel claims to the contrary.
"We are in our first term. If you expect a massive shift in industrial relations in just three years, you are asking for the impossible.
"This is not a Government of irresponsible sedition, nor is it merely a modified status quo.
"We are open for work, and we are open for business. All we ask is that all parties in the industrial relations equation start behaving the same way."
Speaking to media, NZ First MP Shane Jones further detailed his party's thinking on the matter, reiterating how he was a "pro-industry politician".
"Our party wants to be absolutely sure that we don't impose uniform or universal obligations on businesses, because there's a different cost structure between Eketahuna, Invercargill and Auckland," he said.
"We need to be mindful of the actual businesses and their free cash flow to absorb the transitional costs."
CTU concerned about cleaners, security and supermarket staff 
The CTU on Tuesday released a report, Fair Pay Agreements: A Framework for Fairness, detailing six principles it sees instrumental to fair pay agreements.
Wagstaff said its proposed framework "ensures agreements will cover all people working in an industry or sector, and provide them a real voice through their unions to collectively negotiate their pay and conditions like leave, overtime, training and hours of work.
"It ensures good employers will not be disadvantaged by a minority of exploitative employers.
"It will give independent arbitrators the power to resolve any disagreements in a way that is flexible enough to address the uncertain future of work.
"Finally, any agreed fair pay agreements need to be final, and not subject to unnecessary further hurdles or dilution...
"Too many working people in low paid industries like cleaning, security and supermarkets struggle to make ends meet."