Grant Robertson: Coronavirus emphasising need for diversification beyond China; targeted wage subsidies and tax relief for businesses on the way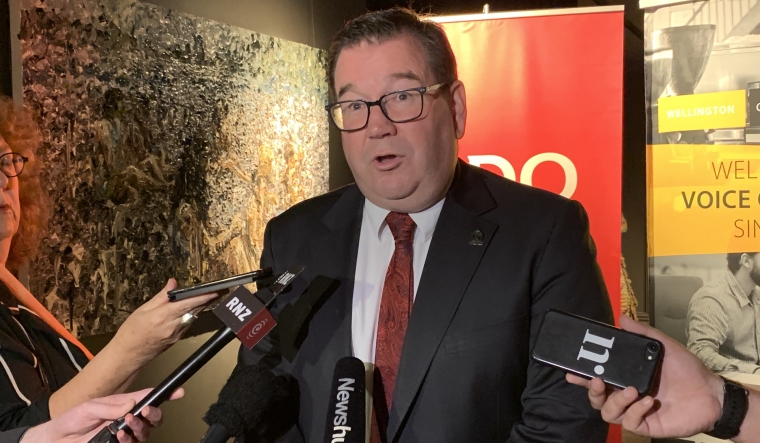 Finance Minister Grant Robertson has indicated targeted tax relief and wage subsidies are likely to be the first support measures off the block in the Government's coronavirus Business Continuity Package.
Details around the package will be unveiled next week and Robertson can't yet say when assistance will be rolled out.
Yet he stressed his focus was on getting cash out the door quickly.  
'We must further diversify'
Speaking at a Wellington Chamber of Commerce event on Thursday morning, Robertson also came out strongly emphasising the need for New Zealand to diversify its export and import markets.
Robertson acknowledged to media New Zealand has been too reliant on China in "some industries".
He said diversifying markets and products has been part of the Coalition Government's agenda from day one - hence its focus on securing new free trade agreements, as well as upgrading the NZ-China Free Trade Agreement.
He said reliance on China was "in some ways understandable" given China has a large market that opened up to New Zealand after the agreement was signed in 2008.
"But we must further diversify," Robertson said.
As well as creating a Business Continuity Package, and preparing a macroeconomic package - including more broad-brush tax and welfare changes that could be made should coronavirus have a much worse impact on the economy - the Government has also directed officials to consider what the recovery phase will look like.
"Already, plans are under way to adopt a NZ Inc. approach to re-engaging with China," Robertson said.
"I would like to see this approach for other markets, and in other sectors."
Robertson heads to Australia on Friday for a scheduled day-long visit, where he will meet with his Australian counterpart, Josh Frydenberg, and other political and business leaders.
"We will compare notes on how our two economies are reacting to the uncertain situation presented by the global spread of COVID-19 and discuss our plans to get our people through the outbreak," he said.  
"As Australia looks to boost infrastructure spending, we have already got ahead of the curve with the announcement of our $12 billion infrastructure investment through the New Zealand Upgrade Programme."
Working capital arrangements could come later 
Coming back to the immediate situation and the focus on the Business Continuity Package, officials are looking at how after the Kaikoura earthquakes, affected businesses were given $500 a week to pay full-time employees and $300 a week to pay part-timers for up to eight weeks.
And they're considering how businesses affected by Havelock North's water crisis were given tax assistance.
Robertson has said tax policy options are aimed at helping businesses keep operating. Officials are also considering ways to "support households to maintain incomes and labour market attachment".
Included in the Business Continuity Package will be training and redeployment options for affected employees.
Work is also underway with banks on the potential for future working capital support for companies that face temporary credit constraints.
Robertson indicated such assistance may be deployed over time.
The message of his speech, which can be read in full here, was aligned with that Reserve Bank Governor Adrian Orr delivered on Tuesday - that the response remains targeted.
He echoed a phrase used by Orr that a "knee-jerk reaction" isn't necessary.
And he reiterated the "best and first way to protect the economy is by containing the spread of this virus". 
Time is of the essence for businesses
Wellington Chamber of Commerce CEO John Milford agreed with Robertson that government support should be "timely, targeted, and proportional", but stressed: "What we can't have is a significant gap in time between any disruption and the assistance on offer.
"We are hearing from our members, particularly smaller businesses in the hospitality, retail, export, tourism, and education sectors, that they are already hurting from export delays, fewer visitors, and uncertainty in the community.
"Funding for business advisory services, faster payments from government departments, and bank assistance for customers is a good start. Instructing the Ministry of Social Development and the Inland Revenue to work with businesses and workers on targeted tax adjustments, such as deferred payments on provisional tax and GST, also show the Minister is listening.
"We would also like to see some promotional work done to push Kiwis to support their local shops, cafes, and restaurants. It's small businesses like these that are really hit hard in times like this."