RBNZ Governor Adrian Orr puts onus on the Government to be at the frontline in the fight against coronavirus, saying monetary policy will play a "support role"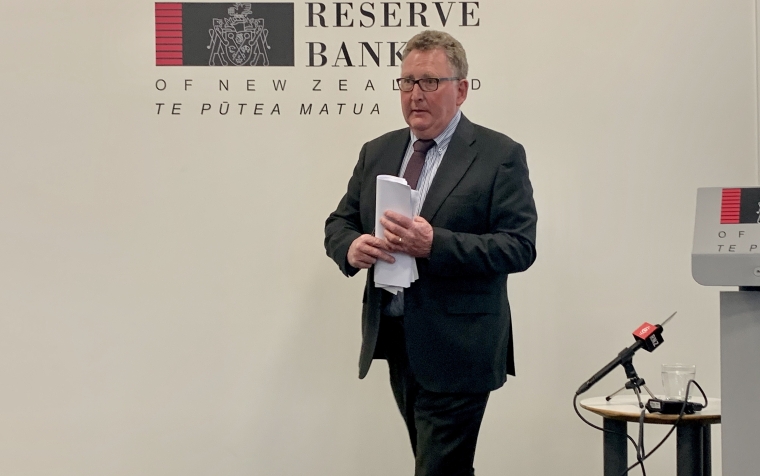 Reserve Bank (RBNZ) Governor Adrian Orr has tempered market expectations of the Official Cash Rate (OCR) being slashed by a large amount in the near-future.
He said, in a speech delivered in Wellington on Tuesday, that the RBNZ won't have a "knee-jerk reaction" to coronavirus.
He also said monetary policy was in a "support role", with fiscal policy (government spending) being at the "frontline".
The main purpose of Orr's speech was to detail progress on a long-standing piece of work the RBNZ has been doing on unconventional monetary policy - the tools it could use to ensure it meets its employment and inflation targets if the OCR nears zero. 
Orr noted other countries faced challenges implementing unconventional monetary policy in and after the 2008 Global Financial Crisis. 
"We're not in one of those periods here in Aotearoa New Zealand," he said.
"We have the time to think about how would we deploy, how would we communicate, if we ever needed to use these instruments."
Markets have priced in a whopper 50-point OCR cut for March, although some bank economists forecast a more regular 25-point cut. ANZ economists are expecting a further 25-point cut in May, taking the OCR down to 0.25%, from where it's at now at 1%.
There had been speculation the RBNZ would follow the US's Federal Reserve and make an emergency cut ahead of its scheduled review. Yet the RBNZ poured cold water on this in its invitation to the speech, specifically saying the next scheduled review is on March 25.
'NZ doesn't need a knee-jerk reaction'
The small group of journalists and industry stakeholders at the RBNZ event watched closely for signs of what the bank's mood is and how it might respond to turmoil around coronavirus, and now an oil supply shock.
Orr spoke for more than 30 minutes, referring to handwritten notes. He didn't stick to the script of the more dense speech published on the RBNZ's website. He then took questions.
Orr said coronavirus posed a fiscal and monetary policy challenge, "but monetary policy will remain in that support role with fiscal policy being very much the frontline activity as it is now".
"We will be watching very carefully for what is the important monetary policy response we need to make, but we want to do that in the best and fullest information, not some knee-jerk reaction, because New Zealand doesn't need a knee-jerk reaction.
"We're in a good space. I'm not sure a knee-jerk reaction would be particularly useful."
Orr noted that at the RBNZ's last OCR review on February 12, the coronavirus situation was just evolving. It was clear there were specific industries affected, so a targeted fiscal response was required.
"That was then, this is now," he said.
"Our Monetary Policy Committee needs to go away and say, what is happening around the economic severity?...
"What do we know about anything new around the duration, location? And is it shifting from more narrow supply, fiscal policy-targeted responses through to a more aggregate demand response?"
Government officials are putting together a "business continuity package" for those affected by coronavirus.
While details will be unveiled next week, it's expected to include wage subsidies and working capital support for companies that face temporary credit constraints.
"Confidence and cashflow will win the day," Orr said.
Pressure on Finance Minister Grant Robertson 
Speaking in general terms, Orr echoed the sentiment expressed by a number of economic observers around the world - that monetary policy has done much of the heavy lifting, stimulating growth in recent years.
"Fiscal policy's too often either ruled off the table because of a lack of credibility or high debt; or ruled off the table because there's some sense it's not as effective as monetary policy; or more importantly, you have to go through a long decision period and that might not be palatable in a global economy sense in normal times," Orr said.
He credited the Government for committing an additional $12 billion to infrastructure investment, saying this has taken some of the heat off the RBNZ.
"Having one foot on the accelerator, the other foot on the brake only makes sense in very limited circumstances," he said.
"Generally, if you've got incredibly low fiscal credibility - high debt - then often financial markets will say, 'use the monetary, let's just see this debt being reduced'. That's not the situation here in New Zealand."
Orr said monetary policy is "still there in a strong supportive manner", but it's important for it to "work in concert" with fiscal policy.
Cameron Bagrie's take
Economist, Cameron Bagrie, of Bagrie Economics said his take-outs from the speech were that Orr was hosing down expectations of an early OCR cut and putting the ball in Robertson's court.
Bagrie expected a 25-point cut on March 25, noting the RBNZ will be careful about how many bullets it fires, with the OCR already at a record low. He also noted the usefulness of using monetary policy to combat a supply shock.
He said Robertson was taking steps in the right direction, but has more steps to take.
The quicker you go, the higher the risk of hitting the wrong target, Bargie said. On the flipside, you don't want to risk being slow out of the box.
He said the Government would need to put some guarantees in place so that banks can support customers, by waiving their normal credit criteria for example.
Given the importance of putting the right boundaries in place, he maintained this kind of assistance couldn't be set-up overnight.