Robertson increases cap on Business Finance Guarantee Scheme 10-fold, extends terms of loans and enables businesses to use loans for capital investment and re-financing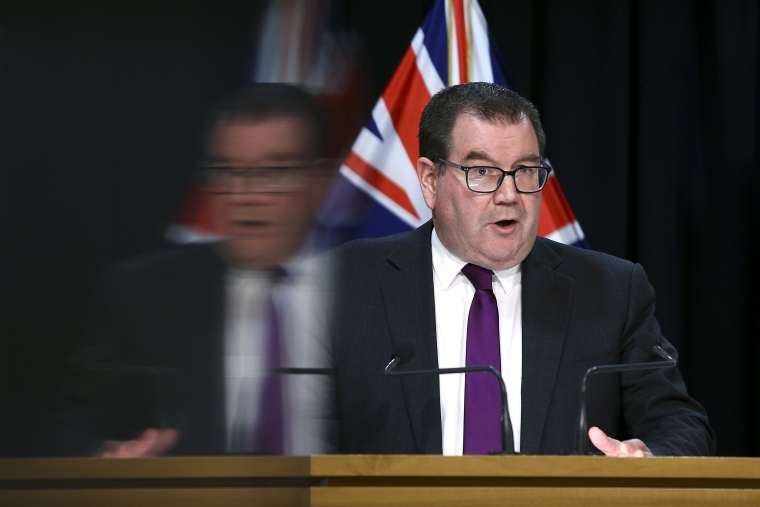 The Government is offering to underwrite larger bank loans to businesses via its under-subscribed 'Business Finance Guarantee Scheme' (BFGS).
It's increasing the cap on loans offered under the scheme 10-fold, from $500,000 to $5 million.
It's also broadening the BFGS to enable businesses to use the loans for purposes beyond cashflow. They can now use the loans for "capital assets and projects related to responding to, or recovering from, the impacts of Covid-19". They can also re-finance up to 20% of their existing debt. 
Larger businesses, with annual revenue of up to $200 million, are also eligible. This cap previously sat at $80 million.
And the Government is increasing the maximum term of loans from three years to five years.
If a business defaults on a loan under the BFGS, their bank will follow its normal process to recover the debt. If the debt can't be recovered, the bank can claim 80% of any shortfall from the Crown. 
By shifting the bulk of risk from the bank to the Crown, the purpose of the BFGS is to encourage the bank to lend more freely.
It's ultimately a bank's decision whether they lend to a business or not.
While the Government doesn't require the bank to take security, or for the borrower to provide a personal guarantee, the bank can still chose to do so.  
RBNZ changes term lending facility 
The Reserve Bank has been backing the BFGS by offering to lend banks money at the Official Cash Rate provided they on-lend these funds under the scheme.
Because the Government is increasing loan terms under the scheme, the Reserve Bank is likewise increasing the maximum term of its Term Lending Facility to five years.  
Participating banks - ANZ, ASB, BNZ, Heartland Bank, Kiwibank, SBS Bank, TSB, Bank of China and Westpac - have only drawn down $27 million from this facility to date.
$150m lent under $6.25b scheme 
Banks have only lent $150 million to 780 customers via the BFGS.
When Finance Minister Grant Robertson launched the scheme in March, when share markets were crashing, he expected businesses to borrow up to $6.25 billion.
The scheme faced issues, as it was announced on the fly before banks were ready to receive applications.
The eligibility criteria was also narrow, so had to be broadened in May to include agricultural businesses and smaller businesses. Robertson also did away with a requirement for banks to take security in some instances. 
While Kiwibank Chief Customer Officer for Business, Quentin Quin, said "a whole lot" more customers would now qualify for the scheme, NZ Bankers' Association CEO Roger Beaumont said "uptake will ultimately be driven by demand from businesses".
Reserve Bank Deputy Governor Geoff Bascand last month noted there had been a "material decline in businesses' demand for credit" (across the board, beyond the Business Finance Guarantee Scheme) over the first half of 2020.
"While demand for loans for working capital from small to medium businesses, corporates and sheep and beef farmers has increased, demand for credit for capital expenditure has fallen significantly," he said.
He casted doubt on the prospect on an immediate uptick, saying: "Businesses' investment intentions have also fallen sharply, with increased uncertainty around the strength of future demand.
"Some apparent weakening of demand for credit may also reflect perceptions by businesses that credit would not be available or that terms have tightened."
Bascand has repeatedly urged banks to lend, to avoid adding a credit crunch to the economic crisis caused by Covid-19.
Small businesses most in need
Coming back to the BFGS, Treasury in March advised Robertson small businesses, not covered by the scheme, needed support more urgently.
"The pressures will generally emerge first in smaller firms, which have fewer pre-approved precautionary loan facilities. Larger corporates have more options and deeper banking relationships," Treasury said.
"The banks still have capacity to provide support to their clients, notably large corporates that represent a good credit risk."
Indeed, the uptake of the subsequently announced, Inland Revenue-run Small Business Cashflow Loan Scheme, which offers unsecured interest-free loans of up to $100,000 to small businesses, has been huge.
The BFGS is available until December 31.
See Treasury's website for more on the BFGS.