New Zealand headquartered maker of breathing equipment Fisher & Paykel Healthcare has seen extraordinary demand for its products as Covid has swept the globe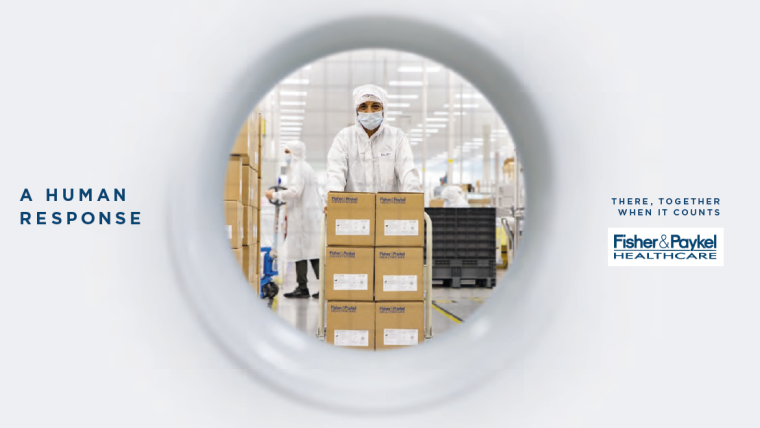 NZ-headquartered maker of breathing equipment Fisher & Paykel Healthcare (FPH) has had an extraordinary year on the back of the Covid pandemic, with after-tax profits rocketing up 82% to $524 million in the year to March.
Operating revenue was $1.97 billion, up 56%. Of this, some $1.5 billion (a rise of 87%) came from the company's hospital product group, which includes its Optiflow and Airvo systems used to deliver "nasal high flow therapy". 
"Sales of our Hospital hardware and consumables have continued to track Covid-19 hospitalisation surges in countries around the world," managing director Lewis Gradon said.
"It has been an extraordinary year and we want to thank healthcare professionals for giving their all to care for patients, often under the most difficult conditions. We also want to acknowledge the people of Fisher & Paykel Healthcare for their commitment to delivering for our customers, and the partners and families of our employees for the invaluable contribution they have made."
Gradon said that to recognise "the incredible contributions of our people", the board has approved a profit-sharing bonus totalling $29 million for the 2021 financial year to be paid "to everyone who has worked with us for a qualifying period". The company has also committed $20 million to establish the Fisher & Paykel Healthcare Foundation during the 2021 financial year. The Foundation's charitable purposes include supporting and funding health research and programmes that improve access to healthcare, supporting environmental protection initiatives and promoting awareness of opportunities in science, technology, engineering and mathematics.
"The value of our total donations for the year, including product donations, was $26 million," Gradon said.
The shareholders aren't being forgotten though. They are getting a final dividend of 22.0 cents per share, an increase of 42% on the final dividend last year. This brings the total dividend for the year to 38.0 cents per share, an increase of 38%. The final dividend, carrying full New Zealand imputation credit, will be paid on 7 July 2021 with a record date of 25 June 2021.
It's worth remembering that this year's incredible surge in earnings for the company actually follows a year that was also a record profit, with revenues boosted then by the start of the pandemic.
With the company's earnings being so affected by the track of the virus, F&P Healthcare is declining to provide any profit guidance for its 2022 financial year now under way.
"We expect our Hospital and Homecare revenue for FY22 to be impacted by the number of COVID-19 related hospitalisations around the world," Gradon said.
"There is a wide range of scenarios for both the timing of a 'return to normal' and to what extent a return to normal includes COVID-19 endemic hospitalisations. It is unclear at this stage when and if other respiratory hospitalisations and surgical procedures will return to pre-Covid levels, or whether countries will increase their investment in healthcare infrastructure."