Roy Morgan names TSB, Kiwibank as winners in its latest monthly banking and finance sector customer satisfaction awards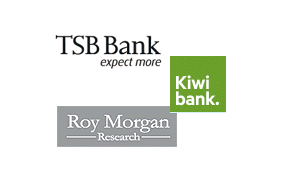 TSB Bank and Kiwibank have again cleaned up in the banking and finance categories of the Roy Morgan Research monthly customer satisfaction awards.
TSB was named August's Financial Institution of the Month for the tenth time in the last 11 months. And Kiwibank again won in August in the Major Bank of the Month category.
The major bank category is for banks with at least 7.5% market share. The financial institution category includes banks, insurers, and some financial service providers such as AMP.
In the financial institution category TSB scored 93%, up from 92% in July. SBS Bank was up from third in July to second in August, with Rabobank up to third from fourth. The Co-operative Bank slipped to fourth from third and Kiwibank was again fifth.
Among major banks Kiwibank came out on top with 82% customer satisfaction in August, up from 81% in July. BNZ, the only bank to win the monthly gong aside from Kiwibank since the award's introduction in January 2011, again came in second. BNZ was Major Bank of the Month in March this year.
ASB was again third in August, Westpac again fourth and the National Bank still fifth, once again ahead of ANZ even though the National Bank brand is well on the way to being phased out in favour of ANZ.
See how Roy Morgan scores customer satisfaction here.
And see a video interview here with Roy Morgan Research's Asia-Pacific regional director Debnath Guharoy on how being locally owned helps boost customer satisfaction.
This article was first published in our email for paid subscribers early this morning. See here for more details and to subscribe.