NZ Bankers' Association says Government run public awareness campaign on AML would be useful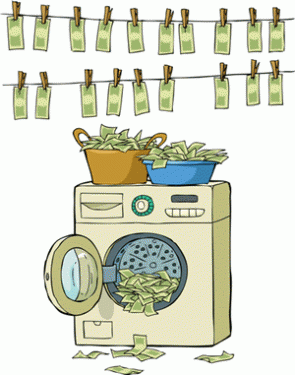 By Gareth Vaughan
The New Zealand Bankers' Association says it'd like to see the Ministry of Justice, alongside the three anti-money laundering law enforcers, run a public awareness campaign to boost understanding of how anti-money laundering laws affect bank customers and the public in general.
The comment comes after the Banking Ombudsman Scheme's annual report, released on Wednesday, showed the scheme dealt with 39 cases related to the Anti-Money Laundering and Countering Financing of Terrorism Act (AML/CFT Act), which took effect from June 30 last year. In its previous financial year, before the AML/CFT Act came into effect, the Ombudsman dealt with 11 cases related to the Act.
Banking Ombudsman Deborah Battell told interest.co.nz it appears the public may not be as well informed as possible on the impact of the AML laws. In terms of issues raised by bank customers with her office, Battell said generally they were complaining about having to provide details they considered banks should already have.
"So they complained about the inconvenience and felt the banks were being over-zealous. A few have also complained about having their accounts closed. That, however, is outside our mandate. Banks, as with most businesses, have the right to determine who they will accept as customers. And given the consequences of breaching the legislation, it is not surprising banks have decided to take a low risk approach," Battell said.
New Zealand Bankers' Association deputy chief executive Karen Scott-Howman said when the Act took effect the bank lobby group encouraged the Ministry of Justice, which administers the Act, to develop a public awareness campaign.
"While they do have some information on their website, it's mainly targeted at businesses and their obligations," Scott-Howman said. "We would support a public awareness campaign run by the Ministry of Justice, perhaps in conjunction with the AML supervisors. It makes sense for the government to explain laws it has introduced that have a wide-ranging public impact. Such a campaign would also have the benefit of providing an independent and authoritative reference for members of the public."
Under the AML/CFT Act, the Reserve Bank oversees compliance by banks, life insurers and non-bank deposit takers such as finance companies, building societies and credit unions. The Financial Markets Authority (FMA) is tasked with overseeing compliance by issuers of securities, trustee companies, futures dealers, collective investment schemes, brokers, and financial advisers. And the Department of Internal Affairs supervisors compliance by casinos, non-deposit taking lenders, money changers, and any other financial institutions not supervised by the Reserve Bank or FMA.
Bring on phase II
A Ministry of Justice spokesman said industry and public engagement will form an important part of the implementation of what it calls phase II of the AML/CFT reforms. The spokesman said initial policy work for phase II was underway, but no decisions have been made on the exact timing of those reforms or the specific sectors that will be brought within the Act's scope.
"This work will consider introducing AML/CFT obligations for other businesses and professions, such as lawyers, accountants, conveyancing practitioners, real estate agents and businesses that deal in high-value goods, such as auctioneers and bullion dealers," the Ministry of Justice spokesman said.
In terms of whether the Ministry sees value in a public education campaign about the AML regime, the spokesman said the FMA, Reserve Bank and Department of Internal Affairs, plus the Police Financial Intelligence Unit and the Ministry of Justice, worked closely with businesses, professions and industry representatives in their respective sectors to help them prepare for the Act before it came into force last year.
"Before phase 1 of the reforms coming into effect on 30 June 2013, the agencies actively engaged with industry over several years about their new obligations, via road shows, seminars, questionnaires, one-on-one visits and targeted presentations. They also published several sets of guidelines to help businesses comply with the Act," the Ministry of Justice spokesman said.
"Industry and public engagement will form an important part of the implementation of phase II of the AML/CFT reforms."
Ombudsman has so far (kind of) found in favour of just 1 bank customer
Battell said her office had only found in favour of one customer in the AML cases it has dealt with to date. And even in this case it found in favour of the bank in terms of the technical issues. The Banking Ombudsman did, however, encourage the customer to accept $500 in compensation from their bank, which Battell didn't name, for inconvenience.
"The bank was not as well prepared as it should have been in terms of communicating what was happening to the customer. The customer was left for longer than would be normal not knowing why the money they had sent had not reached their account, having failed to provide required address details," said Battell.
"Just to be clear – it (the bank) was prepared in terms of compliance with the legislation – it had all its systems etc in place. It just hadn't anticipated the number of enquiries it would receive and took too long to respond. It proactively offered the customer compensation for inconvenience. It was $500 which we considered to be fair in the circumstances."
A year ago the Financial Action Task Force (FATF), an inter-governmental body established by the Group of Seven that sets policies and standards on anti-money laundering and combating terrorist financing, effectively removed New Zealand from the international anti-money laundering dogbox. However, FATF said it expects to see the AML/CFT net widened to include the likes of the professions named by the Ministry of Justice spokesman above by 2017.
The Ministry of Justice spokesman said if New Zealand doesn't align itself with international best practice in terms of AML/CFT laws, our companies could face costs, delays and barriers when doing business with overseas institutions and enterprises, because authorities around the world are increasingly requiring entities in their jurisdictions to comply with AML/CFT standards.
Both the Banking Ombudsman and NZBA have issued guides on the AML/CFT legislation. They can be found here and here.
This story was first published in our email for paying subscribers on Friday morning. See here for more details and how to subscribe.