Interest rates, house prices, regulation, costs among the key focuses for banking in 2015, Co-operative Bank CEO Bruce McLachlan says
By Gareth Vaughan
"Quite a big transfer of value" from savers to borrowers is on the cards next year given the interest rate outlook, the Co-operative Bank's CEO Bruce McLachlan says.
Speaking to interest.co.nz in a Double Shot interview on what to expect in banking in 2015, McLachlan said the current global economic picture potentially looks like a once in a life time event with the recent sudden drop in commodity prices.
"They (commodity price falls) are so substantial and so quick I challenge anyone to be able to predict what's going to happen next week, let alone in a year's time," McLachlan said.
Against this backdrop the forward interest rate picture has changed significantly over the last three or four months.
"I think we're going to see quite a big transfer in value over the next year. My personal view is that more value is going to switch from depositors to borrowers and that's based on a simple supply and demand. Credit is growing at half the rate that deposits are, and I think bank funding generally is really sound at the moment but everyone is struggling to grow their asset book. So that can only mean more competitive pressure on home loans," McLachlan said.
"So I think you'll see a continued edging down of fixed mortgage rates and that'll be paid for by similar moves in deposits."
Nonetheless with inflation probably now below 1% McLachlan suggested savers are doing "pretty well" out of their returns.
"So I think there's just a bit of a rebalancing going on there."
In terms of the bank funding picture there's currently a lot of cash in the system, he added.
" I think clearly next year though, with the fall in the dairy payout, that's going to impact the income flows quite substantially. And that will certainly change some of the picture throughout 2015. We're starting off with a really sound position so even if it changes quite dramatically through the year, I think the (banking) system's well placed to cope with that."
RBNZ house price forecast looks out of step with the market
Meanwhile, McLachlan said a recent surge in the housing market was probably inconsistent with the forecast in last week's Reserve Bank Monetary Policy Statement for annual house price inflation over the next year stabilising at about 5%.
"There's just no way in my mind that the Reserve Bank will allow house prices to take off much above that 5% level next year. So that's an area that we'll all be watching very closely," McLachlan said.
If house price inflation does rise strongly, McLachlan expects to see the Reserve Bank go back to its macro-prudential toolbox.
"They have their existing macro-prudential tools (of) which one is in place. That's in place with a (10%) level. One of the things they could do is change that level. Instead of phasing it out they could actually bring it in more powerfully," said McLachlan. 
"They obviously (also) have the option of changing capital requirements on home loans, different LVRs. So the existing macro-prudential tools, given the lead time to introduce those, would be the first place that I'd be looking at that if they were going to do anything. It would be in that existing toolbox. Because the lead time to do anything else is quite significant."
The chart below comes from the RBNZ's latest Monetary Policy Statement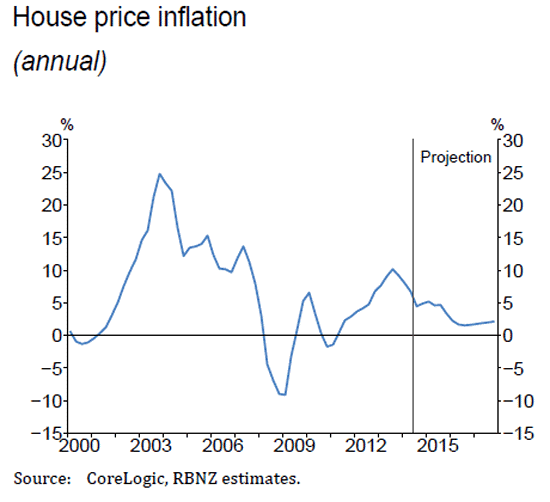 Regulatory 'fallout' for customers?
 
"If it effects Australia and the Australian banks, then it's going to effect everyone in New Zealand would be my view.  And I think if you look at the drivers of that regulation it's really around, particularly from a banking perspective, it's around basically requiring banks to hold more capital."
"If the levels of capital, particularly in home lending are lifted, then that's going to have pretty significant impacts through to customers in terms of the price that they pay," said McLachlan.  
"Globally there is pressure on lifting bank capital levels. The Reserve Bank here have not said that that's a particular issue in this market up till now and New Zealand banks are pretty well capitalised. (But) that's the area that banks are particularly sensitive to. It can impact your level of growth, impact customers significantly, and obviously quite significantly changes the return you generate. So that's the real area of focus."
However, any changes to bank capital requirements driven by the Australian inquiry are likely to take some time, with the final report open for consultation until the end of March next year.
In terms of their cost bases McLachlan, who who had nine months as acting CEO of Westpac NZ before joining the Co-operative Bank in 2012, suggested productivity would be the focus in 2015.
"When you look at banks (and) the make up of their expense bases, personnel always makes up the lion's share... T
he high value jobs, the strong customer value adding jobs in banking are here to stay. Those that are more administrative in nature will just continually be taken out by technology, I think. 
So I think productivity will be the focus."