Robust domestic demand and investment reflects a silver lining to NZ's widening trade deficit; Chinese imports hit record high in September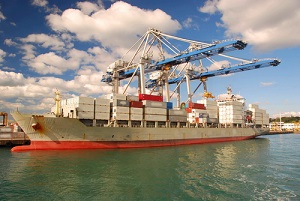 New Zealand's wider than expected trade deficit for September confirms the dairy downturn as a speed bump in an otherwise growing economy.
The trade deficit increased to $1.222 billion ($397 million more than market expectations) in September, as low dairy prices dragged exports, while strong domestic demand saw imports spike more than expected.
ASB senior economist Jane Turner says that while weaker export values appear concerning, there's no need to fret.
"If we put dairy aside for a minute the trends in other exports remains very encouraging," she says.
"Fish and fruit did drop significantly in the month, but this follows two very strong months so the weak result in September is likely to be down to timing.
"Meat exports held on to gains made in recent months – meat exports are up 13% over the quarter. Meanwhile, exports of manufactured goods also continue to grow strongly.
"Turning back to dairy, the fall in exports over September was largely due to a drop in volumes. This likely reflects falling NZ production. Forecasts for dairy production this season are bleak and will be a significant direct drag on GDP growth this year.
"For the quarter, dairy volumes actually increased 11% due to strong export volumes in July. As such, the weakness in the September month will be more apparent in December quarter figures."
Domestic demand robust
Turner says strong import figures indicate domestic demand remains robust.
"In particular, the September lift in plant and machinery imports is encouraging, given the background of falling business confidence," she says.
BNZ's chief economist, Tony Alexander, agrees.
Plant machinery imports rose by 15% in September, compared to September last year, or 6% in the year to September, compared to the year to September 2014.
Meanwhile consumption goods imports surged 18% in September, compared to the same month the previous year, or 19% in the year to September, compared to the year to September 2014.
Alexander says this, coupled with strong electronic card transactions, shows people are spending. Core retail spending increased by 8% year-on-year in September.
Yet Turner warns, "Some of the recent lift in imports will be a valuation effect due to the weaker NZ dollar over September. We will get a better idea of import demand when the Overseas Trade Indices are released next month."
Annual imports from China reach new high of $10 billion
Zeroing in on China, Chinese imports into New Zealand increased by 22% in September, compared to September 2014, or 19% over the year to September.
This saw monthly imports from China top $1 billion, and annual imports reach a new high of $10 billion for the first time.
"The value of imports from China has increased across most commodities for the last 12 months," says Statistics New Zealand international statistics senior manager Jason Attewell.
"Mobile phones and laptops led the increase, up a quarter of a billion dollars."
Statistics NZ notes, "Annual two-way trade (imports plus exports) with China has been increasing since June this year and is now at $18 billion.
"This is despite dairy exports driving a 26% decrease in total exports to China for the last 12 months, down $3.0 billion compared with the year ending September 2014."
Imports from India increased by 23% in the year to September, compared to the previous year, while those from Thailand increased by 26%. Imports from the US only increased by 9%, falling by 38% in the month of September compared to September 2014.