BNZ annual net profit after tax rises 22% to record high north of $1 billion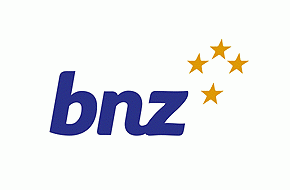 By Gareth Vaughan
BNZ has bolstered its provisions for bad and doubtful debts due to the weaker and volatile outlook for the dairy sector.
BNZ's parent, National Australia Bank, said its New Zealand banking operations posted cash earnings of $405 million for the six months to September 30, a drop of $13 million, or 3.1%, from $418 million in the six months to March 31, the first-half of its financial year. The bank's charge to provide for bad and doubtful debts surged $42 million, or 91.3%, to $88 million. The rise was attributed to an increase in collective provision charges, mainly due to the outlook for the dairy industry.
Fonterra's forecast milk price payout for the current 2015/16 season is $4.60 per kg of milk solids. The 2014-15 payout was $4.40, well down on the $8.40 in 2013-14. Dairy NZ's analysis shows the average farmer needs a milk price of $5.40 to breakeven.
NAB said its NZ banking operations' total collective provisions for doubtful debts rose $97 million to $375 million during the year to September 30. Increased collective provisions for the dairy industry are in anticipation of cash flow pressures resulting from current forecast payout levels.
'The quality of the book is very strong'
Managing director Anthony Healy told interest.co.nz BNZ's dairy collective provisioning had been increased by about $41 million to $96 million.
"I think we've been quite conservative because the credit metrics in our book are very strong, the gross impaired and 90 days plus to gross lending assets are sitting at 37 basis points so the quality of the book is very strong. We've reviewed the top 200 exposures in the book and no specific provisions have come out of that," says Healy.
"The (dairy) book's in really good shape. But because we've moved to IFRS 9 (unlike other banks) it requires us in effect to take a through the (economic) cycle view in collectives, or our economic cycle adjustment, and we think we've taken a very conservative view through the cycle," says Healy.
BNZ has a "continued focus" on supporting farmer customers deal with volatile commodity prices.
"Asset quality in our agri and dairy book remains extremely sound. We are well placed to continue supporting our farming customers through a more volatile trading period," says Healy.
For the year to September, cash earnings from NAB's NZ banking operations rose $16 million, or 2%, to $823 million. Loans at least 90 days past due plus gross impaired assets dropped to 0.61% of gross loans at September 30 this year from 0.77% six months earlier. 
(The chart below comes from NAB's investor presentation. EAD stands for exposure at default & DPD stands for days past due).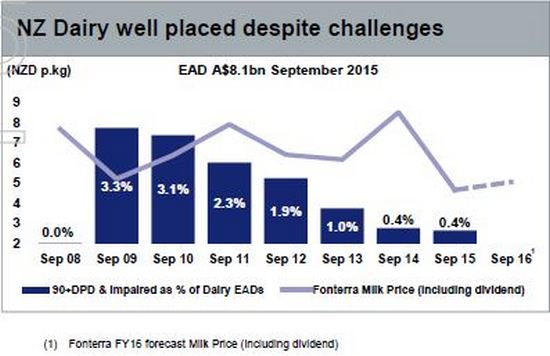 Net profit surges
On a net profit after tax basis the BNZ Banking Group posted a $188 million, or 22.1%, rise to $1.038 billion, record high annual profit exceeding last year's previous record of $850 million. The surge above $1 billion was helped by gains less losses on financial instruments, which includes offshore wholesale funding, of $322 million versus just $69 million last year.
Total operating income rose $296 million, or 13.9%, to $2.4 billion and operating expenses fell $36 million, or 4%, to $865 million. Annual impairment losses on credit exposures climbed $54 million, or 73%, to $128 million.
Loans increased 5.9% to $68.2 billion and deposits from customers grew $3% to $46.7 billion.
According to NAB figures, BNZ lost marketshare in all of housing lending, credit cards, agribusiness, business lending and retail deposits during the year to September 30.
BNZ paid NAB dividends of $345 million during the September year, down from $420 million the previous year.
| | | |
| --- | --- | --- |
| BNZ | 2015 | 2014 |
| Net profit on average assets | 1.27% | 1.12% |
| Net interest margin | 2.28% | 2.26% |
| Cost to income ratio | 35.6% | 42.2% |
| | | |
| --- | --- | --- |
| Market share | Aug 2015 | Sep 2014 |
| Housing lending |  15.5% |  15.9% |
| Cards |  20.2% |  23.9% |
| Agribusiness |  22.2% |  22.3% |
| Business lending |  26.4% |  26.6% |
| Retail deposits |  17.5% |  18.8% |
Here's BNZ's press release. And here's NAB's results release.