ANZ to accept UnionPay's tap & go credit and debit cards in support of customers' cross-border activities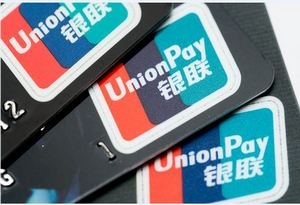 ANZ, New Zealand's biggest bank, has begun accepting China UnionPay credit and debit cards as the number of Chinese visiting and migrating to New Zealand surges.
ANZ's point-of-sale and ATM terminals will take UnionPay cards, with ANZ also accepting QuickPass, UnionPay's tap and go product for credit and debit cards, across its EFTPOS network. From today (Wednesday) ANZ says selected payments terminals will start accepting QuickPass, with the rollout continuing to all eligible merchants over the next 12 to 18 months.
"Every year the number of Chinese tourists, students and businesspeople travelling to New Zealand grows," ANZ NZ CEO David Hisco said.
"As a super-regional bank operating in 34 markets, we recognised that we needed to expand our card payment options to support customers' cross-border activities, and make the payments process simpler and more convenient for them while they're here," Hisco added. "As China's leading card network this is a significant step for ANZ and for payments in New Zealand."
According to Statistics New Zealand, visitor arrivals to New Zealand from China surged 87,400, or 34%, to 344,900 in the year to November 2015. There was also a 1,300 increase in Chinese migrants to 10,900, or a net gain of 8,800 in the November year.
Meanwhile, Bloomberg reported this week that China's capital outflows jumped in December, with the estimated 2015 total reaching US$1 trillion.
UnionPay is the most commonly used payment tool by outbound Chinese people, with 5.6 billion cards in circulation across more than 150 countries. It is also currently the only card network that issues, clears and settles in Chinese Yuan. 
"In the future, we will deepen our cooperation with ANZ to promote its network in other Asia-Pacific markets to accept UnionPay cards," David Lee, chief co-operation officer for UnionPay International, a subsidiary of China UnionPay, said.
Earlier this month UnionPay International announced it had concluded a memorandum of understanding with ANZ on global cooperation. The two companies would "join hands to optimise the card use environment" in Australia, New Zealand and the Asian-Pacific region and explore cooperation in more business areas, UnionPay International said. The plan is for UnionPay card acceptance to be introduced to ANZ EFTPOS terminals and ATMs across 11 Asia Pacific markets from April 2016.
Separately, BNZ's website boasts that it's the only bank in New Zealand that "welcomes your China UnionPay card." And a UnionPay International website says the cards can be used to withdraw New Zealand dollars at about 30% of New Zealand ATMs.
ANZ NZ's announcement comes after its parent announced last June that it was introducing contactless technology to its EFTPOS terminals across Australia and New Zealand to improve the service and security for UnionPay International's worldwide cardholders. As the first bank in Australia and the Pacific region to implement UnionPay's QuickPass contactless capability, the ANZ group said this would be made available to about 90,000 ANZ EFTPOS terminals across Australia.
Last June's announcement also said ANZ would launch contactless acceptance technology for UnionPay International customers in New Zealand by the end of 2015.