Ratings agency says banks have enough money to manage the 'twin threats' of continued house price inflation and slumping dairy prices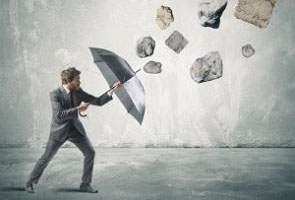 Standard and Poor's (S&P) warns banks' profits could be in for a hammering if dairy prices keep souring and Auckland house prices keep soaring.
While the threat is big, it says banks are strong enough to take the hit.
The ratings agency has drawn this conclusion in a report released today, 'Will home and dairy prices sour the performance of New Zealand banks in 2016'.
Dairy debt a worry
It recognises dairy farms are struggling with losses amid depressed prices.
Dairy prices fell for the fourth time in a row at last week's fortnightly GlobalDairyTrade auction.
While the price of Whole Milk Powder is 19% above the low it hit last August, at US$1,890, it's still 62% below the level it was at in mid-February 2014.
S&P says: "After a prolonged slump in dairy prices, many dairy farmers have incurred operating losses.
"About 10% of New Zealand banks' lending is to the dairy sector, which accounts for two-thirds of agricultural loans.
"A further 10% of these farms accounted for about one-third of total dairy sector debt; these farms tend to have higher levels of debt relative to output, leaving their operating cash flows exposed to downturns in their sector.
"Should lower dairy prices persist, we believe banks would have to raise their provisioning, which would be detrimental to their profitability."
S&P notes most forecasts suggest prices will in fact remain low this year, yet it says a cut into banks' profitability will be "manageable within the current ratings".
It says that as the global supply and demand imbalances eventually unwind, "dairy prices will revert to their long term trend and that New Zealand farmers are likely to benefit more strongly from their low costs of production.
"We also observe that the devaluation of the New Zealand dollar in 2015 has helped local dairy farmers cope with lower product prices and demand."
Continued house price inflation an unlikely threat
As for the effect of rising house prices, S&P says New Zealand banks would be more vulnerable to a sharp correction in property prices, if prices spike.
REINZ figures show the national median house price hit a record high of $484,650 in September last year, while the median price in Auckland hit a high of $771,000.  
Yet it believes signs of a slowdown are emerging in Auckland and prices will stabilise.
"We anecdotally observe that a recent decrease in demand from Chinese buyers occurred in part due to foreign buyers having to register with the New Zealand Inland Revenue Department and an increased scrutiny of capital outflows from China," S&P says.
REINZ figures show the national median house price has dropped back to $448,000, while the Auckland price has fallen to $720,000.
S&P goes further to say it expects the other key property price drivers to remain unchanged from 2015.
It believes the high demand for residential mortgages will stay, as long as low interest rates remain. It also expects strong migration to keep fuelling demand for houses in Auckland.
"We do not foresee an immediate change in the central bank and regulatory response over the short to medium term.
"In our view, regulatory actions such as loan-to-value ratio "speed limits" and curtailments on investor lending did, to an extent, counter the rise in residential house prices. We are also of the view these tools have a lagged effect.
"We also believe that the curtailment of high loan-to-value lending will support the resilience of residential mortgages portfolios for the banking system in a downturn. That said, New Zealand household indebtedness remains elevated, evidenced by high private-sector debt levels."
It says that even though the risk of further housing inflation remains low, "a further increase in credit pressures will not result in a revision of the anchor assessment for banks operating in the country but may have a bearing on the risk-adjusted capital ratios we calculate for individual banks".
Banks profitable enough to weather any storms
S&P says banks are profitable enough, relative to their international peers, to deal with these housing and dairy risks.
"Given the oligopolistic nature of the system and absence of overcapacity, we do not foresee that banks would be taking on undue risks even though some margin pressures may be looming on the horizon," it says.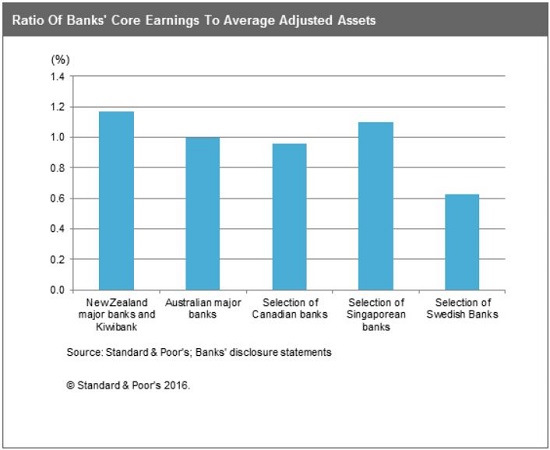 It maintains banks also have enough capital; their level of capitalisation being up for review by the Reserve Bank of New Zealand (RBNZ) again this year.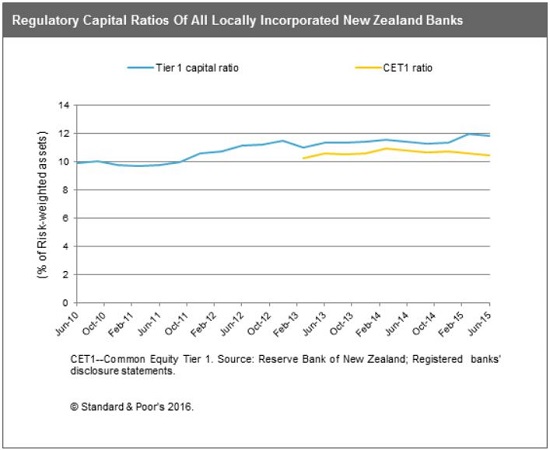 Furthermore, S&P notes the RBNZ has conducted "high-level stress tests" on banks' dairy exposures.
"We also observe that the banks are being encouraged to work with dairy farmers that are under stress and that lending to these customers occurs on the basis of expected profitability should dairy prices recover, thus avoiding a kneejerk reaction that might put the industry into a tailspin."
S&P notes that the rating of the New Zealand subsidiaries of the four major Australian banks, remain on par with each other.
Therefore any major pressure on the parent bank issuer credit ratings are likely to be mirrored in the New Zealand subsidiary.
In other words, S&P warns that any weakening in government support for Australia's major banks may hurt the ratings of their subsidiaries here. However it says the chances of this happening are slim.
"In our view this is likely to occur if the Australian government develops and implements a more comprehensive bank-resolution regime, particularly if it confers wide bail-in powers for the regulator," it says.