'Investors and customers [should] properly assess the businesses from whom they procure goods or services, and do not presume similar names are necessarily related'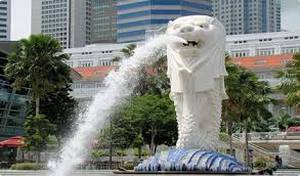 By Gareth Vaughan
Fullerton Fund Management, an asset manager owned by the Singapore government's wealth fund Temasek Holdings, is distancing itself from the New Zealand registered, but unlicensed forex and derivatives company, Fullerton Markets Ltd.
The curious Fullerton Markets is a jersey sponsor of the Hurricanes rugby team and had then-Finance Minister Bill English attend its launch in Wellington last June. Fullerton Markets touts itself as Asia's fastest growing brokerage firm, with its website offering trading in foreign exchange, the derivatives product contracts for difference (CFDs), gold and silver plus crude oil. The website's available in English, Chinese, Thai, Malay and Vietnamese.
A registered NZ company, and registered on NZ's problematic Financial Service Providers Register (FSPR), Fullerton Markets isn't actually licensed by the Financial Markets Authority (FMA). It's CEO is the Singapore-based Mario Singh. Another key player is Chanthru "Chan" Sarigabani, originally from Malaysia. Interest.co.nz' has published four previous articles on Fullerton Markets, which can be found here.
Correspondence between Fullerton Markets and Bill English's office obtained by interest.co.nz under the Official Information Act, shows the company saying in January its "FMA application" was "in progress" and "progressing satisfactorily." And Fullerton Markets' website says derivatives are not available to NZ clients until a derivatives issuers licence is obtained from the FMA. But on Monday an FMA spokesman said, "The FMA has yet to receive an application for a licence from Fullerton Markets."
Meanwhile, Fullerton Fund Management is an asset manager owned by the Singapore government's Temasek Holdings and was incorporated in 2003. According to Bloomberg, at the end of March it managed S$16.5 billion (about NZ$17.2 billion) worth of assets. As of March last year, Temasek - which has been around since 1974 - managed S$242 billion. 
Interest.co.nz asked Fullerton Fund Management if it had any link to, or relationship with, Fullerton Markets.
"We would like to clarify that Fullerton Markets Limited is not part of the Fullerton Fund Management Company Limited group, and we do not have commercial dealings with this firm. Fullerton Fund Management Company Ltd is an asset management specialist that manages equities, fixed income, alternatives and multi-assets on behalf of clients globally, but is not a brokerage business. Fullerton Fund Management Company Ltd does not currently market or engage distributors in New Zealand to distribute our products," Bharathi Rajan, head of marketing and communications at Fullerton Fund Management, said. 
"Our best advice is that investors and customers properly assess the businesses from whom they procure goods or services, and do not presume similar names are necessarily related," Rajan added.
Interest.co.nz is not suggesting Fullerton Markets is claiming any links to Fullerton Fund Management. However, given both companies use the name "Fullerton," there is scope for confusion. Fullerton Markets has not yet responded to requests for comment. Aside from Fullerton Fund Management, Singapore also has the Fullerton Hotel, Fullerton Square and Fullerton Road. The Fullerton name comes from Sir Robert Fullerton, the first British Governor of the Straits Settlements, which included Penang, Singapore and Malacca.
Fullerton Fund Management certainly has a profile in the international financial press. Here's a recent Bloomberg interview with Ong Guat Cheng, the firm's senior vice president for fixed income, about her expectations for US Federal Reserve interest rate hikes.
Trouble with regulators
According to Singh's LinkedIn profile, he was director of training and education at FX Primus from 2010 until 2015. This company's NZ offshoot, Strategic Markets Ltd, was kicked off the FSPR by the FMA in 2015 along with 22 other companies. The FMA has powers to direct Registrar of Companies Ross van der Schyff to remove companies from the FSPR where it is likely that a company is giving a false or misleading impression about the extent to which it's regulated in NZ.
"The FMA has concerns that some offshore companies have registered on the FSPR primarily to take advantage of New Zealand's reputation as a well-regulated jurisdiction. The FMA has received complaints from offshore investors who have lost their money to forex companies, or other types of service providers operating abroad that are registered on the FSPR," the FMA said at the time.
Around the same time the Australian Securities and Investments Commission (ASIC) announced FX Primus had agreed to make changes to its websites and to notify its Australian clients it was not licensed to provide them with financial services. ASIC also said it had raised a number of concerns about FX Primus's initial public offering (IPO) prospectus disclosure with an interim stop order placed on the prospectus to provide time to address these concerns.
"FX Primus Group Limited has since consented to a final stop order being made by ASIC and, as a result, no offers, issues, sales or transfers of shares in FX Primus Group Limited can be made under the prospectus dated 16 April 2015," ASIC added.
The Australian regulator also pointed out FX Primus's statements and material that specifically targeted Australian investors included the marketing of a sponsorship deal with football club Melbourne City FC.
The company is the counterparty
Fullerton Markets' order execution policy says; "The Company is always the counterparty (or principal) to every trade; therefore, if the Client decides to open a position in a Financial Instrument with the Company, then that open position can only be closed with the Company." 
The photo below shows Mario Singh pictured with Bill English at Fullerton Markets' launch last year.
*This article was first published in our email for paying subscribers. See here for more details and how to subscribe.