Prime Minister Bill English admits wage growth isn't 'hot'; Says businesses need to increase pay significantly before complaining about skills shortages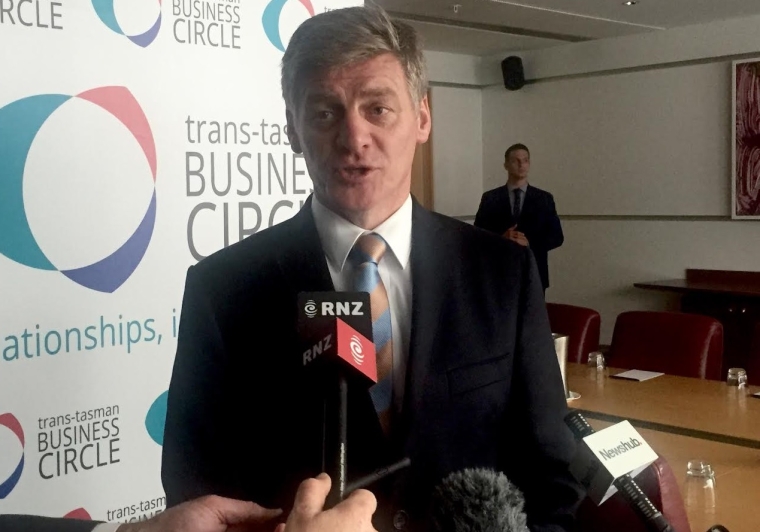 Prime Minster Bill English says businesses need to be willing to put cash on the table to attract the right talent, before complaining about skills shortages.
"I'll believe businesses when they tell me they increased the pay significantly and still couldn't find someone," he told those at a Trans-Tasman Business Circle lunch on Friday.
"The general wage data tells us wage growth is better than inflation, but [I] certainly wouldn't describe it as 'hot'."
Annual wage inflation held steady at 1.6% in the March quarter, with growth in private sector wages falling to their lowest point since the June 2010 quarter.
While the consumer price index rose 2.2% year-on-year in the March quarter, wage growth has been higher than inflation in previous quarters.
English said he's found businesses are increasingly "taking responsibility" for filling any skills shortages.
"It's not the government's job to run your machine, or pick your fruit, or run your hotel. It's not our job to staff those places. It's your job.
"I see more and more businesses who understand, it's a bit of a departure from the traditional kiwi model that they need to invest in a supply chain, a supply line, of qualified skilled people.
"For some of them that means… going to the local secondary school, so people know your industry is there. For some of them it means understanding the migration system. For some of them it means investing more in your own people…
"Finally sometimes, you've got to pay more."
Questioned by media after his speech, English wouldn't go so far as to explicitly saying firms aren't paying their staff enough.
Yet he said that as they talked to the government about what it could do to help fill skills shortages, he expected them to do their bit and "make themselves more attractive to the skills that are around".
He said the construction sector was doing so, experiencing 20% compound wage growth per year.
"The government can take direct action around getting more young people to the start line and… adapting the migration criteria," he said.
"[But firms] have a role, which is to make themselves attractive businesses to work for."
Pressed on why wage growth is muted, English said: "I think it has just been the large number of people showing up to the labour market.
"You've had a lot of older people staying on working because of the opportunities available. We've had skilled migrants coming in, filling the gaps. A lot of high levels of participation by almost any group you can find.
"Even now people would say there's still people outside the labour market who'd like to get in there. The economy's generating a lot of jobs, but there's a lot of people showing up for those jobs."
Asked about the extent to which an uptick in migration in particular has contributed to subdued wage growth, English said: "We see the skilled migrants filling the gaps. That's what you pick up from the businesses who are employing them; that they're employing someone from offshore because they can't get locals to fill the gaps. It's all about the fine tuning, making sure we get the skills we need."
All this said, English expects wage growth to rise over time.
"We've been through a period of very low interest rates, very low inflation. So you haven't see the same pressure on wages. If those things change, the pressure on wages will change."