Big IT project impairment hits Kiwibank's profit hard as new look board influenced by new shareholders reviews strategy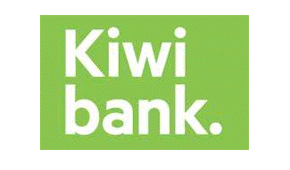 Kiwibank's parent company has posted a whopping drop in annual profit after taking a big impairment stemming from the bank's core banking system upgrade project.
Kiwi Group Holding's June year net profit after tax dived $73 million to $58 million from $131 million the previous year. The bottom line was smashed by an impairment of $90 million, or $65 million after tax, relating to an the IT project known as CoreMod.
Kiwibank recently announced that CEO Paul Brock is leaving at the end of 2017. Speaking in a media briefing Brock said there could be additional impairment to come, but that what was disclosed on Friday was the bulk of it. He said CoreMod had only been looking at the back end systems, while Kiwibank was now looking to work more aggressively on its front end systems that reach customers and staff. The first phase of the core banking system upgrade, which updated payments using SAP products, has been completed and is up and running.
Brock said the world and technology in particular had changed  "a hell of a lot" over the four years since the IT upgrade began. He said Kiwibank's sales done via digital channels had increased to 40% from 10% over four years.
Meanwhile, Kiwibank grew total lending 6.8% to $17.815 billion and customer deposits 8.1% to $15.983 billion in the June year. The bank's cost to income ratio rose to 69% from 63%, its net interest margin fell to 1.92% from 2.05%, and its return on equity dropped to 10.1% from 12.1%.
Kiwibank's annual net profit after tax, which excludes sister companies Kiwi Wealth and Kiwi Insure which are part of Kiwi Group Holdings, tumbled to $53 million from $124 million. The bank's paying a $5 million annual dividend, down from $29 million last year.
Kiwibank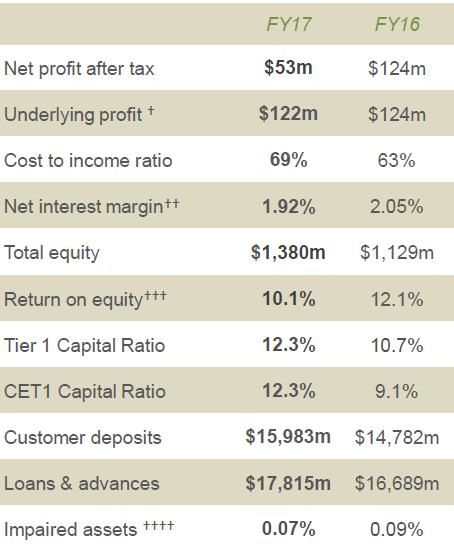 Brock praised
With NZ Post having sold a combined 47% stake in Kiwibank to the New Zealand Superannuation Fund and Accident Compensation Fund late last year, Kiwibank's board composition has changed. However, acting chairman Kevin Malloy spoke of Brock in glowing terms at the media briefing, saying Brock had done "an outstanding job" in the growth of Kiwibank and making it the bank it is today in his seven years as CEO and 17 years at the bank overall. (Kiwibank chairwoman Susan Macken is overseas).
"It's sad to see Paul go but he certainly goes with the thanks and appreciation of the board and we definitely wish him well," Malloy said.
Malloy said Kiwibank had experienced "a fairly challenging 12 months" with a new board and shareholders, the impact of the Kaikoura earthquake, a capital dispute with the Reserve Bank and the IT upgrade issues.
'CoreMod system is not the system that is going to deliver us digital transformation'
In April Kiwibank's chairman Rob Morrison and deputy chairwoman Rhoda Phillippo both left the board. Their departures followed the appointments of Malloy, an advertising and marketing specialist who represents the NZ Super Fund, and ACC chief executive Scott Pickering. Malloy said one of the first items on the new board's agenda was a strategic review.
"And I think you would appreciate that any new board would undergo such a review. And one of the things that was at the heart of that strategic review was an understanding of where the bank is going in the future and future proofing the bank. And that very quickly got us to a theme of digital and digital transformation, and the need to understand changing consumer expectations and changing technology,' said Malloy.
"In that context when we looked at the CoreMod project, a project that was born four years ago, a significant amount has changed in terms of technology, a significant amount has changed in terms of consumer expectation. And the brutal reality is that the CoreMod system is not the system that is going to deliver us the digital transformation going into the future. It was a tough decision by the board to make the impairment, but it is absolutely the right decision."
"We are continuing the strategic review. We are looking at options going into the future, and we know we absolutely have to get this right. We are going to take our time to do it. But I can assure you it's the number one priority, that future proofing the bank and becoming a digital bank of the future with the transformation that requires. [This] is the thing that we are absolutely focused on at the moment.
Malloy said the CoreMod project has no impact on day-to-day banking or customers. 
Kiwibank has never disclosed exactly how much the core banking upgrade was expected to cost. In February Brock acknowledged the upgrade, which he had previously said would cost "more than $100 million", was now going to cost well in excess of what was initially expected, without saying how much more. However, in its interim report in February NZ Post did say;
The Company has agreed to provide up to $40m of capital to Kiwi Group Holdings Limited [Kiwibank's parent company] if required to allow completion of a key IT project. If the capital is called upon, the Company will subscribe for ordinary shares in KGH and will make transfers to the other shareholders in the relative proportions of their shareholdings at that time for nil consideration. At this stage of the project it is uncertain whether any of the $40m will be called upon and therefore no provision has been made at 31 December 2016 as an amount payable cannot be reliably measured and the timing of any payment is uncertain.
AI on the radar
Malloy said one area of new technology that Kiwibank is interested in is artificial intelligence, and its ability to deal with transactions in a digital context much better.
"We're seeing artificial intelligence that can help manage people's payments and give them advice to the extent that you've got systems out there, things like Finie that can take you to the next level of thinking again," Malloy said. "We need a system that has the ability to embrace it ."
New HQ in Wellington being sought
Kiwibank was hard hit by last November's Kaikoura earthquake with its NZ Post House headquarters in Wellington closed. The annual result includes $6 million of earthquake costs. Brock pointed out 1200 Wellington staff have been disrupted, kicked out of their building and sent to seven different locations.
"I'm really proud of what the Kiwibank people have achieved, what they've done with no impact to customers,' Brock said.
Kiwibank is now looking for new premises that can accommodate all its Wellington staff. The bank is hopeful of moving into its preferred location in the middle of next year.
Here's Kiwibank's statement below, and more detail is here.  And Kiwibank's presentation is here. 
Financial results of Kiwi Group Holdings (including Kiwibank) for the year ended 30 June 2017

Kiwi Group Holdings ('Group'), which includes Kiwibank, has reported an unaudited net profit after tax for the year ended 30 June 2017 of $58 million. The result has been significantly impacted by an impairment of $90 million ($65 million after tax) relating to the work in progress on the IT project known as CoreMod.

The decision to make the impairment is a result of a strategic review to ensure the Bank's future IT systems meet rapidly-changing technology and customer requirements. The Group's unaudited underlying profit1 of $129 million was down $2 million (1.5%) compared with $131 million in the prior comparative period.

The Kiwibank Banking Group ('Kiwibank'), which provides the bulk of the Group's earnings, achieved an unaudited net profit after tax1 for the year ended 30 June 2017 of $53 million. Kiwibank's unaudited underlying profit was $122 million.

Group Chief Executive Paul Brock said that maintaining similar levels of underlying profitability to last year's performance, without full flexibility to optimise funding costs, is very pleasing – all the more so despite a number of external disruptions, notably the impact of last November's earthquake as well as regulatory challenges.

During the year to 30 June 2017, the Group:

All comparisons are with the previous year unless otherwise noted

 Grew lending and advances to customers by 6.8% from $16.7 billion to $17.8 billion
 Grew customer deposits by 8.1% from $14.8 billion to $16.0 billion
 Continued to build presence in the SME sector, having 8.0% market share at the end of June
 Increased KiwiSaver membership by 13% 

Mr Brock said the past year was a remarkable one for the Group with New Zealand Post divesting 47 per cent of its shareholding to ACC and the New Zealand Super Fund last October, as well as issues with the Reserve Bank relating to capital in March (prompting a $247 million shareholder capital injection) – recently resolved in favour of Kiwibank on 10 August. Governance changes to the Kiwibank Board were also made with the appointment of a new chair and new directors. 

Overall, Mr Brock said profitability across the Group was commensurate with the operating environment, levels of investment and work underway to deliver on our ambitions. 'We're positioning ourselves to take full advantage of the opportunities in front of us, predominantly with a digital focus – we're committed to our customers and long term value creation for our shareholders'. 

Strategic Review 

Mr Brock said that to accelerate and achieve the best long term outcomes for the Group, a shareholder initiated strategic review is focusing on a number of options for how best to deliver a digital future. 'The way customers interact with Kiwibank is changing almost as rapidly as the technology required to support their increasing preference for digital banking experiences. In the past year over 40% of sales, for example, were completed through a digital channel. More than 57% of customers digitally connect with Kiwibank, collectively over 27 million times each month'.

Mr Brock said these numbers are expected to climb along with advances in the technology that enable this trend. As a consequence, a review of the project underway to modernise Kiwibank's core banking system (known as CoreMod) is being conducted to assess the value of some of the work completed so far. 

While this review is being completed, a decision has been made to impair the value of the work in progress which currently sits on the balance sheet as an intangible asset. The assets associated with the successful migration of our batch payments to a SAP solution are unaffected.  

There is no impact on the current core banking system which is stable and functioning. Mr Brock said the decision to impair at this time is prudent and reflects the challenges and changing nature of banking since Kiwibank first contemplated the upgrade four years ago. 'We need to ensure that our broader IT infrastructure (not just the core system) doesn't limit delivery of our long term strategy'. 

Operational highlights 

Operationally, Mr Brock said the Group had made improvements to the retail network including upgrades and another new stand-alone Kiwibank branch (in central Auckland), as well as some strategic closures. -

Kiwibank has more than 1 million customer relationships. Market share in the highly competitive mortgage market has been maintained at around 7.0%, while the business banking team is cementing its presence in the SME sector, commanding 8.0% market share at the end of June. 

The Kiwi Wealth, Kiwi Insure, and New Zealand Home Loans businesses have also experienced growth, particularly the Wealth division, which now manages nearly $4 billion of invested funds and serves over 158,000 KiwiSaver customers. 

Mr Brock said the value of establishing the Hastings office to provide cover for essential banking operations was confirmed following last year's mid-November earthquake which displaced around 1200 people from the Wellington Head Office. 'We immediately dispatched about 100 staff from Wellington to Hastings to ensure banking services were not interrupted. It is a tribute to our people that we were able to conduct business as usual at a time of considerable upheaval'. 

Those displaced have been operating from seven offices in the Hutt Valley, Porirua and central Wellington but Kiwibank has plans to consolidate the head office later next year.