A 325% debt-to-disposable income ratio, loans to prop up dairy farms, NZ's net external liability position at its lowest level since the 1980s, 50% housing loan growth in just 2 years & more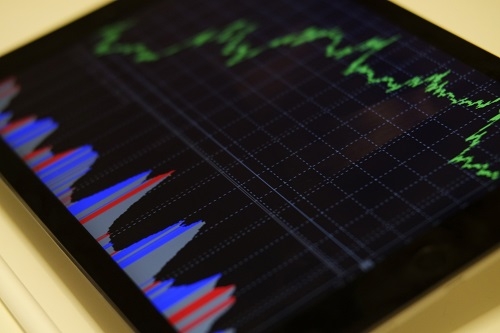 Although the Reserve Bank's decision to "modestly ease" its loan-to-value ratio restrictions, in the words of Acting Governor Grant Spencer, rightfully stole the headlines from the central bank's latest Financial Stability Report, there were plenty of other issues aired worth highlighting.
Thus here's a series of comments, details and charts from the Financial Stability Report that also deserve to see the light of day.
1) A 325% debt-to-disposable income ratio. 
The Reserve Bank notes that the growth and concentration of household debt leaves many households, and thus their banks, vulnerable to an increase in interest rates or a decline in household income. Rapid increases in debt have often preceded past economic downturns and financial crises internationally, the Reserve Bank points out, especially when debt has been concentrated among borrowers unable to meet debt payments when hit by difficult financial conditions.
"In New Zealand, household debt has risen from 146% of disposable income to 168% over the past five years. This debt appears to have become more concentrated. The Reserve Bank estimates that the average debt-to-disposable income ratio of households with mortgages is currently around 325%, up from 280% in 2012."
"It is estimated that only 8% of households currently own investment properties but these households account for around 40% of housing debt. While only a small proportion of household lending is currently non-performing, high debt levels imply that some borrowers are likely to have difficulty servicing their debts if interest rates rise or incomes decline," the Reserve Bank says.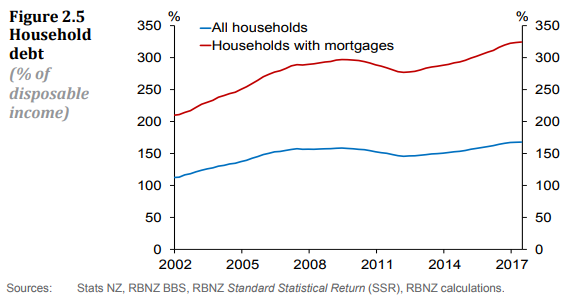 2) House prices remain stretched relative to incomes and rents in Auckland.
The Reserve Bank points out that despite the sharp slowdown in house price inflation over the last year, the level of house prices is still stretched relative to incomes and rents in Auckland and some nearby cities.
"If a disorderly house price correction were to occur, this could weaken household resilience by reducing households' ability to absorb shocks by borrowing against the value of their house or selling their home. It could also amplify an economic downturn if households respond to the fall in wealth by reducing their consumption," the Reserve Bank says.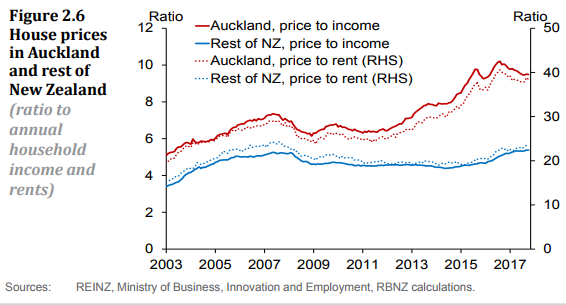 3) Loans to prop up dairy farms.
The Reserve Bank notes that during the recent downturn in dairy prices, bank lending to the dairy farming sector increased by $5 billion, or 15%, mainly for working capital purposes to prop farms up. Farmers also borrowed nearly $400 million through Fonterra Co-operative Support Loans.
"With leverage in the dairy sector already high, this growth in debt has left the sector more vulnerable to another period of low dairy prices or an increase in interest rates. Within banks' agriculture portfolios, lending to the dairy sector poses the greatest risk to financial stability as it accounts for 10% of total bank lending. The next largest agriculture sector, sheep and beef, accounts for just 3% of total lending," the Reserve Bank says.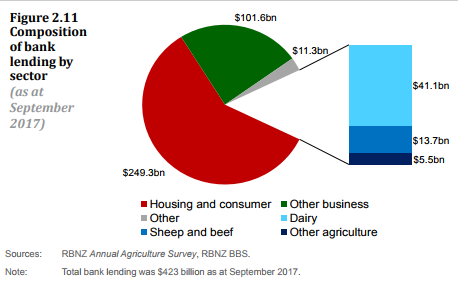 4) Debt in the dairy sector estimated at more than three times income, but recent developments encouraging.
The Financial Stability Report points out the dairy sector is more indebted relative to its income and assets than other agriculture sectors.
"Debt in the dairy sector is estimated to be more than three times income, compared to a debt-to-income ratio of around two for the sheep and beef sector. Lending to the dairy sector also tends to be at higher LVRs, meaning banks and farms would be at greater risk if farm prices fell."
"Relatively high prices for sheep and beef products in recent years have helped to maintain the resilience of this sector. …but recent developments are encouraging. There are signs that some dairy farms are starting to use higher incomes to reduce their level of indebtedness. Bank lending to the dairy sector grew by just 0.6% in the year to September 2017. In addition, the share of dairy lending on interest-only terms has decreased since late 2016, as banks and farms have increasingly focused on reducing debt. These developments are encouraging," the Reserve Bank says.
"Farms are likely to reduce debt if current levels of dairy prices are maintained, but some farms also need to catch up on deferred maintenance and capital expenditure which will slow the repayment of debt."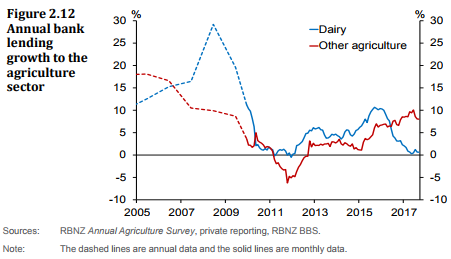 5) NZ's net external liability position at its lowest level since the late 1980s.
New Zealand, as the central bank notes, is a net borrower from overseas and our current account has been in deficit for 40 years. NZ's net external liabilities account for a bit below 60% of GDP, with about 70% of this net position intermediated by banks.
"While still high by international standards, New Zealand's net external liability position has declined notably since 2009 and is currently at its lowest level since the late 1980s, leaving the economy less vulnerable to external shocks. Part of this improvement reflects reduced investment income deficits as a result of lower interest payments on debt. An increase in offshore interest rates could see the investment income balance deteriorate, which could put upward pressure on net foreign liabilities over time," the Reserve Bank says.
"New Zealand's banking system currently sources 23% of its funding from abroad, down from 37% in late 2008. Three-quarters of this offshore funding is raised in financial markets with the remainder from non-market sources, such as deposits by non-residents. Although most offshore funding is denominated in foreign currencies, almost all is hedged against movements in exchange rates."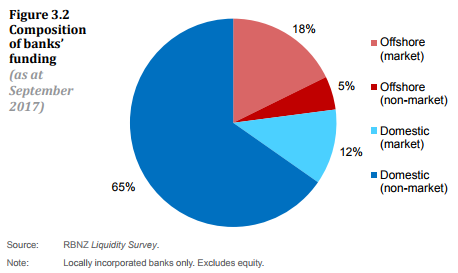 6) Big banks bump up capital through tax friendly contingent debt issues.
Over the last four years, the increase in the banking system's total capital ratio is mostly due to higher levels of additional Tier 1 (AT1) capital, instead of from higher quality Common Equity Tier 1 capital.
"Almost all of the increase in the major banks' total capital ratios since 2013 has been due to an increase in AT1 issuance, whereas the increase in other banks' capital ratios has been driven by higher levels of CET1 capital. A key element of the [Reserve Bank's] Capital Review is to consider how regulatory capital should be defined to ensure that capital instruments can perform their function to absorb losses if they arise," the central bank says.
Key in the AT1 capital from the big four banks is the issuance of what's known as contingent debt, of which the Reserve Bank has said tax advantages are basically the only reason banks want to issue this. 
"It is generally accepted that for banks the primary appeal of contingent debt is an attractive tax treatment relative to equity. Coupons are tax deductible unlike dividends paid on shares. In the absence of tax advantages, there would appear to be little appetite from banks to issue contingent debt," the Reserve Bank said in one of its capital review consultation papers earlier this year.
"Banks may also find the instruments attractive if they are permitted to issue to retail investors and retail investors do not adequately price the risks involved."
In its capital review the Reserve Bank has suggested these contingent debt instruments, which can be loss absorbing via write-off with interest payments to investors suspended if the bank issuer hits turbulence, may no longer qualify as regulatory capital.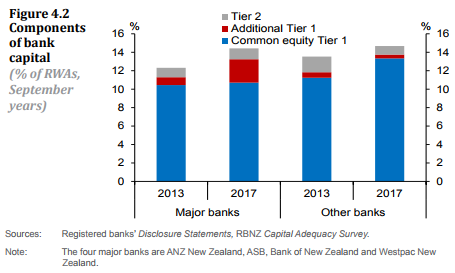 7) Big banks particularly cautious about lending to property developers.
According to the Reserve Bank, the slowdown in credit growth has in part been due to a broad-based tightening in banks' lending standards over the past year.
"The major banks remain particularly cautious about lending to the property development sector, given elevated housing market risks and capacity constraints in the construction sector. In the agriculture sector, lending standards have also tightened since the May [Financial Stability] Report and banks are placing greater emphasis on dairy farms repaying debt. Lending standards are expected to tighten further in the next six months, most notably in the agriculture and business sectors," the Reserve Bank says.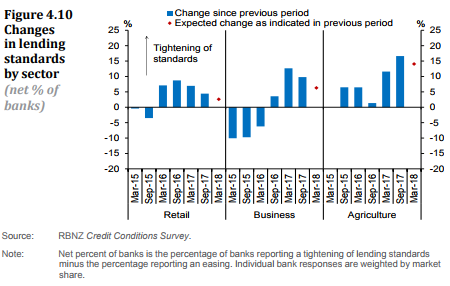 8) 50% housing loan growth in just two years.
The Reserve Bank has again put a spotlight on strong lending growth from the smaller NZ owned banks such as TSB, SBS Bank and The Co-operative Bank.
"While aggregate bank lending growth has slowed over the past year, this has predominantly been due to a slowing in lending growth by the five largest banks. In contrast, credit growth from the smaller banks remains elevated to some sectors of the economy. For example, housing credit by the smaller banks grew by almost 30% in the year to September, compared to around 5% for the five largest lenders."
"Over the past two years, the stock of smaller banks' housing loans has increased by around 50% to $12.5 billion. While the five largest banks still dominate the mortgage lending market, smaller banks have contributed around 20% of the growth in housing lending over the past year," the Reserve Bank says.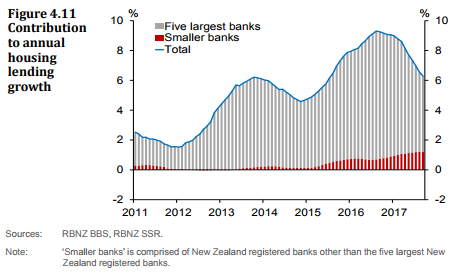 9)...And 80% growth in lending to residential property developers.
Additionally the central bank points out residential development lending is another area where there has been a big difference in lending growth between big and smaller banks operating in NZ.
"Reduced risk appetite and tighter lending standards have seen the stock of residential development credit from the five largest banks remain broadly flat since January, at around $2.7 billion. Over this period, smaller banks have grown their lending to this sector by around $250 million, or 80%, and now account for 18% of total bank lending to the residential development sector." 
"This has largely been due to growth from foreign banks [three Chinese banks are active in NZ] rather than from small domestic banks. Strong lending growth by the smaller banks is likely to partly reflect these banks entering new lending markets, particularly as the major banks have tightened lending criteria to some sectors. The ability of some small banks to grow their market share in certain sectors suggests that barriers to expansion in the New Zealand banking system are not prohibitive," says the Reserve Bank.
The Financial Stability Report goes on to say rapid lending growth can lead to deteriorating credit quality, especially if it is driven by weak origination standards. Additionally it can also put strain on internal risk management systems.
"At an aggregate level, there has not been a material deterioration in risk metrics that the Reserve Bank collects on housing lending by smaller banks. The smaller banks have tended to have a slightly lower share of new lending at high loan-to-value ratios, on interest-only terms, and to investors. Small banks' share of new lending at high debt-to-income ratios has been broadly similar to the largest banks over the past year. However, in the Reserve Bank's recent hypothetical borrower exercise, some smaller banks did show a higher willingness to lend than the larger banks. This reflected these banks using lower estimates of borrower living expenses and lower interest rates in their serviceability assessments."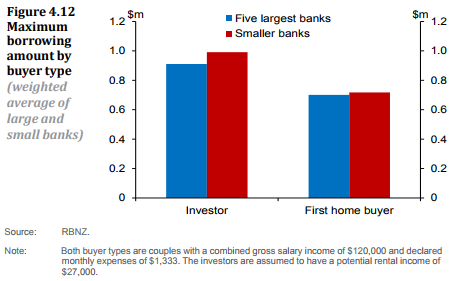 10) Surging growth of car loans.
The Financial Stability Report also includes some comments on the non-bank lending institution, or NBLI, sector. Here a feature has been the strong growth of vehicle lending.
"Consumer lending growth has steadily increased over the past two years. Dealership car finance has recently expanded rapidly, accounting for around 40% of growth in NBLI consumer lending over the past year,' the Reserve Bank says.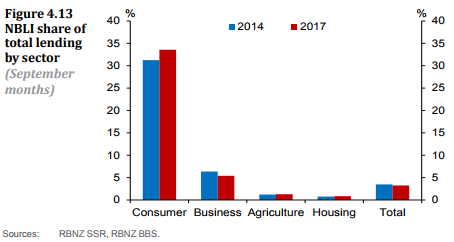 This article was first published in our email for paying subscribers early on Thursday morning. See here for more details and how to subscribe.