A discussion document has been released for consultation on the proposed independent infrastructure agency through which it is planned to lift the quality of infrastructure investment in New Zealand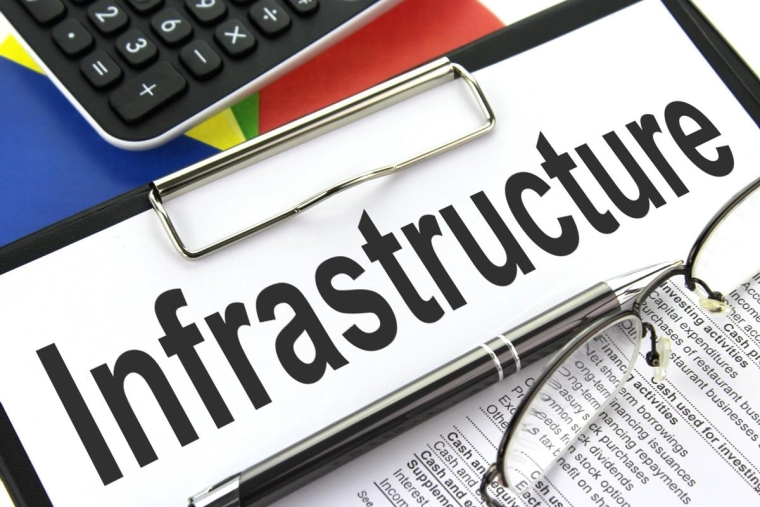 Treasury is calling for submissions on how best the new proposed independent infrastructure body aimed at lifing the quality of infrastructure investment in the country might work.
The formation of the proposed body was announced by Infrastructure Minister Shane Jones in August.
At the time, Jones said the Government needs to do better when it comes to long-term infrastructure funding and he said the new body would provide expert advice, planning and strategy and will support the delivery of major infrastructure projects across the country.
"[It will] act as the golden thread between the various pieces of work this Government is undertaking," Jones said.  
Treasury said a key finding of its review earlier this year of the 'institutional settings' for infrastructure was that that, while institutional arrangements for managing infrastructure investments have been strengthened in recent years, "the system is not consistently delivering good outcomes".
In particular, stakeholders had identified the following weaknesses:
investment decisions are not well integrated. For the market, this means there is a lack of visible projects at sufficient scale
the focus is on building new assets, rather than focusing on outcomes
infrastructure investment decisions are not always informed by evidence
central and local government procurement capability is at times lacking
there are gaps in our information and data
skills shortages are one of the greatest challenges faced by industry.
Now Treasury's issued a discussion document and is seeking submissions by October 26.
It's planned for the new body to be set up in the second half of next year. But in the meantime, an 'interim Infrastructure Transactions Unit' will be established within Treasury from 1 November 2018, to provide support to agencies in planning and delivering major infrastructure projects.
The Government is proposing that the new independent infrastructure body carry out functions spanning two broad areas – strategy and planning, and project delivery support. 
Treasury is proposing eight major functions for the new body as highlighted in the below graphic: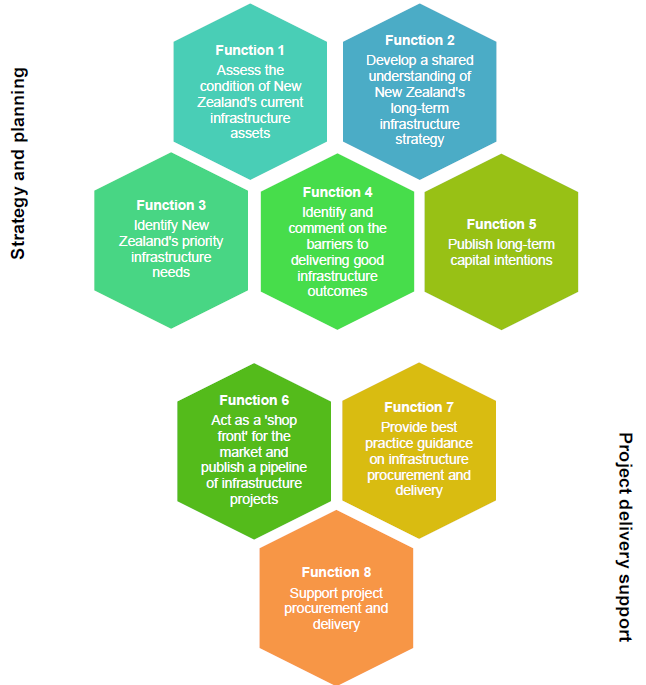 In terms of function 1, Treasury says on the proposed 'stocktake' that in order to understand our infrastructure needs for the future, we first need to understand what we currently have.
"The independent infrastructure body would gather information from infrastructure asset owners across central government, local government and the private sector to take stock of our existing assets, their condition, and ability to meet levels of service to build a picture of New Zealand's infrastructure baseline. This stocktake would form the evidence base for the independent infrastructure body to use in leading the development of a long-term infrastructure strategy."
Treasury says that the resulting strategy would take a long-term view of future challenges and solutions for infrastructure investment, considering projects, policies, service levels, institutional capability and capacity, funding, regulation and non-asset solutions.
Supporting procurement and delivery
In terms of the proposed function 8, Treasury says the independent infrastructure body could support the procurement and delivery of significant infrastructure projects by central and local government, including through providing early assistance with the preparation of business cases for such projects.
"The independent infrastructure body could also provide support though the project delivery phase, including on project governance, and through embedding commercial and procurement expertise into project teams and providing support through the appointment process for key advisors and project personnel. When requested by ministers, the body could also be directly responsible for the procurement and delivery of specified central government infrastructure projects." 
Treasury says that the feedback it gets through the consultation process will inform its advice to Government on:
options for institutional form and powers of the infrastructure body
how the infrastructure body's role will fit with the wider infrastructure system
arrangements for ensuring the infrastructure body is mandated appropriately so it can perform its role, while recognising the ultimate responsibility of governments to make decisions on infrastructure and investments
accountability mechanisms for the Minister for Infrastructure and government to retain control over the Government's policy direction and prioritisation
the overall purpose and objectives of the infrastructure body to ensure it is properly directed toward considering the broader public good benefits of infrastructure investment. 
The move to form an independent infrastructure body is being welcomed by the market.
'We need to get better'
BusinessNZ Chief Executive Kirk Hope says New Zealand needs to get systematically better at matching infrastructure demand with its delivery.
"For too long our planning and delivery cycles have been mismatched with periods of rapid growth and slow-downs. Once more we find ourselves in a period of rapid growth with infrastructure failing to keep pace," he said.
"We would hope for an infrastructure body that contributes to integrated procurement and investment decision-making, gives business the confidence to invest in people and equipment, and will result in long-lasting, high quality infrastructure for New Zealand." 
'An opportune time'
Infrastructure NZ chief executive Stephen Selwood said the consultation process had come at an opportune time, with news that a major Chinese company has bid to build and operate the long awaited Penlink project north of Auckland.
"Penlink has sat on the books of both the Transport Agency and various Auckland councils for two decades now, and is planned to sit there another decade before anything happens.
"This is despite the project demonstrating a very strong economic return and the local community indicating they will pay a toll if it means getting the road built.
"Private sector investors and infrastructure companies have seen the opportunity and front-footed a solution, which is exactly what you want to happen when official processes get tied up.
"We have already seen NZ Super bring forward an unsolicited proposal for light rail in Auckland and we are aware of several domestic and international investors looking for opportunities to invest in New Zealand infrastructure projects.
'It's not clear'
"But it's not clear in New Zealand who a company with an innovative infrastructure proposal should approach nor how their bid should be managed.
"The result can be frustration, wasted time and reduced competitiveness in the marketplace.
"With the establishment of an independent infrastructure body, the Government will create a market-facing expert entity with expertise in infrastructure procurement and investment planning.
"It will be able to develop, for example, a clear set of guidelines for unsolicited bids, such as that received for Penlink, and advise responsible agencies and ministers on a transparent, fair and efficient process."