China leads a recovery in export trade by Asian nations which is keeping some currencies elevated. Alex Ross expects our new government to prioritise exports and want to keep the NZD lower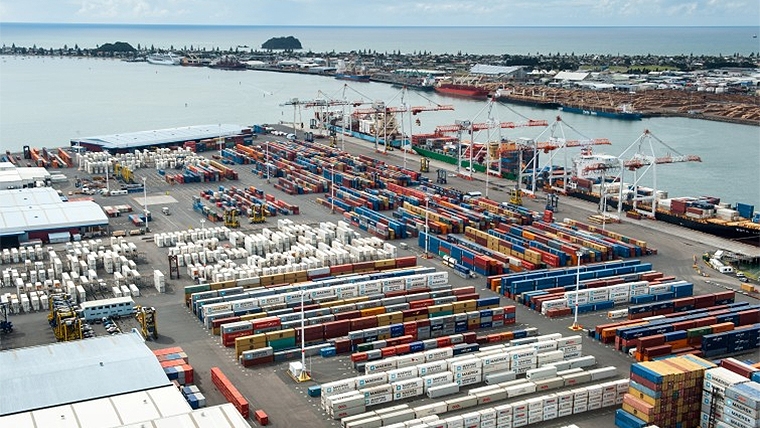 By Alex Ross*
It's been a big weekend for New Zealand, but first, we look ahead to a big week ahead in Asia for data releases. Today we get Chinese GDP, industrial production, fixed asset investment and retail sales numbers.
We're expecting an upside surprise in the data, on the back of stronger cross-provincial tourism and retail sales numbers, but also a surge in exports. That could help not only the Yuan but also give some assistance to Asia-Pacific currencies across the board, including the NZD.
Elsewhere, Japan, Taiwan and Thailand also report trade numbers. As per China's strong print from last week, we are expecting another rise in exports across the board - particularly out of Taiwan's electronics sector. That should be TWD supportive.
The Yen may also get some support from better terms of trade, although the Bank of Japan were back with murmurings about Yen strength last week, and we note some large and curious moves around the 104 level on USD/JPY over the past few months. We aren't sure of the source, but Japan is not any different to any other developed economy, where a lower currency is optimal. We will keep a close eye on that 104 level, which we expect to be retested in the weeks ahead.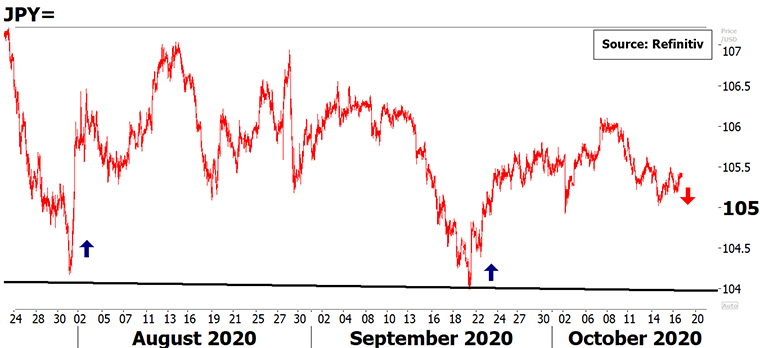 Labour secures landslide victory 
There's been a lot written about this weekend's election already. Labour's victory was hardly surprising. Nor was the significant success of Act and the Greens. But two things stood out for us. Firstly, the turnout. With special votes still to be counted voter turnout is expected to be around 82.5% of those enrolled to vote as of Friday 16th October. That would be the highest since 1999. 
Secondly, the scope of Labour's victory is significant, particularly its success in the regions. Labour won in Hamilton, Hawkes Bay, Wairarapa, Palmerston North, East Coast, Nelson and parts of Taranaki; areas that have been Blue for decades. Under Ardern, Labour is no longer a party of the cities. It's also a party of the regional hubs. And that brings with it its own special responsibility or mandate.
Exports, infrastructure the way forward
Indeed, if NZ First initiated the Provincial Growth Fund then Labour certainly bore its fruits on Saturday night. Sure, part of that rural support might be due to Labour's strict lockdown policies that kept COVID from the regions. But there's a real sense that our way forward in the post-COVID world is through regional exporters. The other part of Labour's game plan is infrastructure spend, both in the regions and in the cities.
Why is all this important? Well in a nutshell, higher infrastructure spending will bring higher government debt, at least in the near term. That's likely to keep the heat on the RBNZ to keep interest rates low (or even lower) so the government can secure ultra-cheap funding through the bond market. Lower rates generally equal a lower NZD. A focus on export productivity also leans towards currency jawboning. Granted this isn't a whole lot different from the last three years, and it's unlikely the new Labour Government will be transformational. Rather, ala National under John Key, we expect change to be incremental. So, while the currency might be a little firmer today as the NZD celebrates its first majority government under MMP, this will be a domestic win for lower rates and currency.
US election enters final fortnight 
There is, however, another election in the wings that should have a more material impact on markets. President Trump and Democratic challenger Joe Biden get their last shot at convincing undecided voters this week, with Biden taking a decent lead into the final fortnight of campaigning. Our polls here were remarkably accurate. Can the US polls escape the faux pas from 2016 or will history repeat? We expect the Dollar to catch a bid on uncertainty as we near D-Day on November 3. 
The Aussie Dollar hit a wall last week as China talked tough on coal imports and the RBA dropped hints that a November cut might be coming. Their latest minutes are out tomorrow and can have the AUD feeling a similar heat to that experienced by its compatriots (and fans) at yesterday's Bledisloe match. Finally, keep an eye on NZ September quarter inflation out on Friday. It might seem incidental, but a soft print could justify that more dovish RBNZ, as we head into a challenging summer for the new government.
---
Alex Ross is Client Manager, Western Union Business Solutions and is based in Auckland. You can contact him here.