As the Kiwi dollar rides the speculative bubble, Alex Ross sees markets at the delusional stage, a stage set for a major bubble bursting in 2021 as everyone else enters the year thinking the current exuberance is the new normal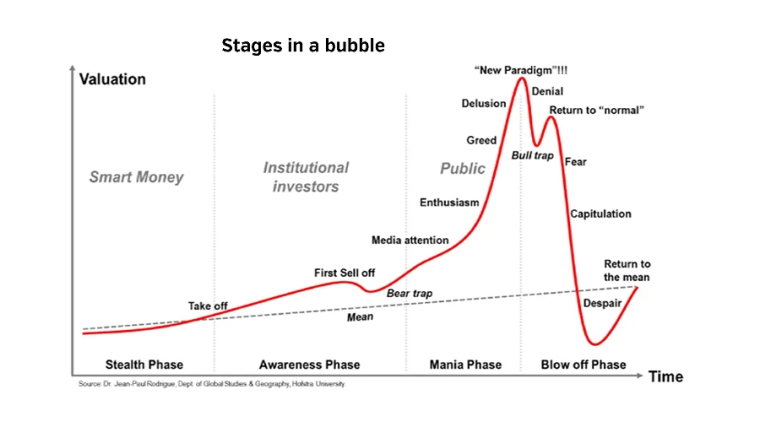 By Alex Ross*
Kiwi rides the speculative bubble
It was supposed to be a pretty quiet few weeks in markets, but as so often happens over the Christmas holiday period, thin liquidity can drive some exaggerated moves. The Kiwi added another 3.5% since we last wrote on December 21, before topping out at 33 month highs around the 0.73 handle mid last week. The sell Dollar buy anything trade we foreshadowed late last year just seems to keep trucking. Vaccine hopes continue to be the main market driver. Even new strains of COVID, or riots on Capitol Hill for that matter, were seemingly unable to shift the market buoyancy. Stock markets are making for fresh all time highs. Bitcoin hit 40,000 last week. Shares in Tesla are up tenfold from their March low. Are we really in the middle of a global pandemic?
One of the more striking (and incongruent) statistics reported in December was that US bankruptcies dropped to a 14 year low. This news came just as Coronavirus cases were experiencing another surge in the States. Without doubt the US Government's response to the pandemic has forced the Federal Reserve to add significantly more weight to their dumbbell. The sheer size of the Fed's balance sheet screams a weak Dollar on a reflation trade. Commodities, stocks and growth linked currencies like the Kiwi and Aussie are the major beneficiaries. But can this reflation trade survive 2021?
All eyes on the Chinese Yuan
Another factor aiding the rise of Asian-Pacific currencies has been the strength of the Chinese Yuan. Last week the Yuan marked its highest level since mid-2018 against the US Dollar. In fact, December marked seven straight monthly gains for the Yuan, its longest run since 2011.
But from Tuesday, the Yuan has begun to weaken as Chinese policy makers sent a string of signals that they may be starting to get uncomfortable with their currency's continual rise. The People's Bank of China (PBOC) has now made it easier for mainland companies to make more loans offshore, while they have also cured financial institution USD borrowing.
The PBOC certainly have a few other tools in their kit, such as increasing the QDII quota for overseas investments or loosening restrictions on the annual quota allowed for residents to buy foreign currencies (currently set at $50,000).
So, for now you may say they are merely tapping the brakes on Yuan appreciation. But if they decide to get serious on limiting Yuan strength this can certainly curb or at least cap Chinese appetite of our exports. The surprise moves from the PBOC helped the Kiwi top 4.70 against the offshore Yuan, a level last seen in both January 2018 and January 2019. We think more direct trade from NZD into CNH will grow through this decade.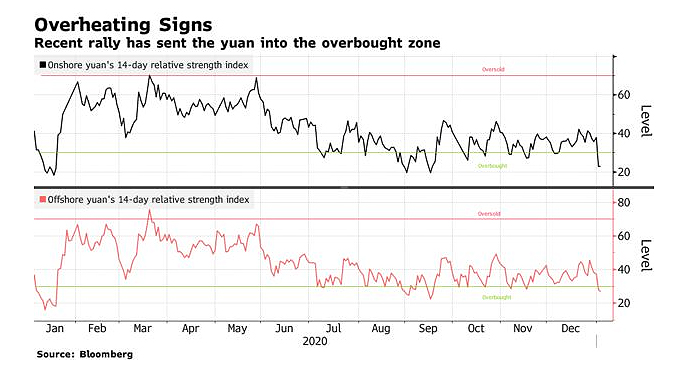 When will reality bite?
As we cast an eye further ahead into 2021 we have to ask ourselves for how much longer do we think this speculative bubble in risk assets and currencies will last. By and large that sentiment continues to be vaccine driven.
Politically the likelihood of a US Democrat dual house majority can add further stimulus to the mix. We saw last year that in the initial stages this increased spend can be supportive of the risk carousel and therefore is likely to drag the Kiwi and Aussie in in its tow.
But eventually one thing or another must happen: successful vaccines and the sheer volume of stimulus generates inflation leading to central banks thinking twice about a normalisation of policy, or the vaccines are a flop and/or growth fails to pick up and we have an economic relapse. Either way both scenarios present a major risk to asset prices in the back half of 2021, and therefore to current NZD valuations. Granted we think the Kiwi is likely to drive higher in the near term, even if the latter half of January sees a corrective phase, but the current valuations of assets (Bitcoin at 40K, S&P at 3800, property values throughout NZ) just seem so over-hyped and out of touch with economic reality that in the FX world, we have to prepare for the fact the bubble may just burst this year.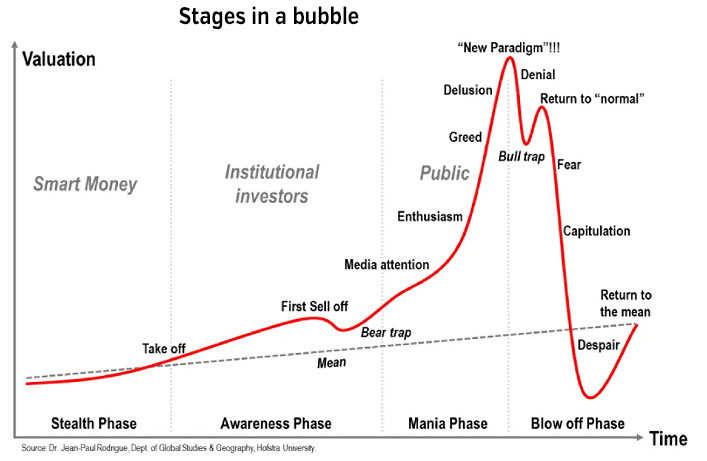 Taking Dr Jean-Paul Rodrigue's famous model of economic bubbles we think we are nearing the state of delusion.
For us signs of that are evident in seemingly rational explanations being provided for why Tesla stocks have gone up from around $88 to $880 in the space of 9 months, or Bitcoin exploding from $4000 to $40000 over the same period.
While one might postulate that the demise of fiat money could explain some of the attraction of Bitcoin, is a 10-fold surge in any asset over 9 months ever simply rational? We think not, and see such explanations that we are now in a "new paradigm" as further evidence that we are nearing the final stages of a massive speculative bubble in 2021.
In many ways we hope we are wrong but for local importers and exporters we think you simply have to be prepared for anything in 2021, and by and large that means having a risk policy, taking protection against your budgeted rate, but maintaining an element of participation should we see more extreme moves (in both directions) this year.
---
Alex Ross is Client Manager, Western Union Business Solutions and is based in Auckland. You can contact him here.