Alex Ross says central banks are now playing game theory with markets thinking they can win, when ultimately markets will be ready to have that head on collision if needed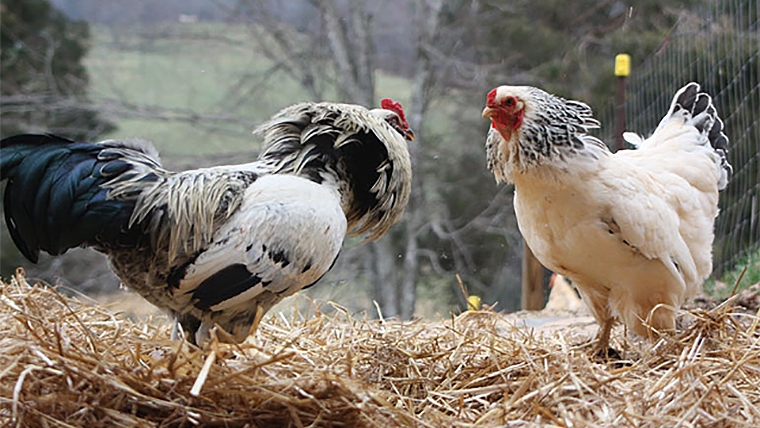 By Alex Ross*
Trouble in paradise
Let me be frank. Central banks are in trouble. After years of dormancy the inflation beast is finally awakening. As the former German economist Rudiger Dornbusch once said "in economics things take longer to happen than you think they will, and then they happen faster than you thought they could".
For the last decade reserve banks the world over have been telling us they want consumer price inflation, but they've been lying. That's because their solution to everything has been to lower the price of money, expand their balance sheets, pump up asset prices, and increase global debt.
When Coronavirus hit this time last year things went parabolic. This rate of growth in monetary aggregates has never been seen before. Check out the rate of M2 money supply in the US below. The prospect (and impact) of higher inflation predicating higher interest rates is now daunting.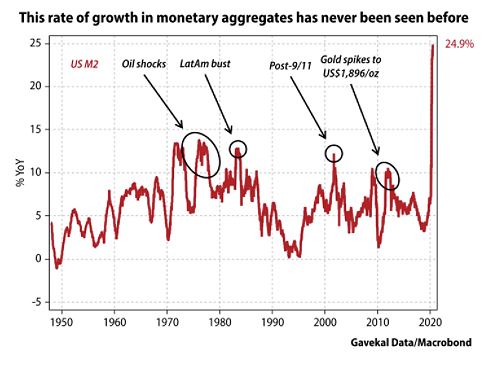 Beware the Cantillon Effect
In the 18th century Irish-French banker and philosopher Richard Cantillon laid out his theory of money supply. Cantillon suggested that an increase in hard money would first benefit those closest to the ruling powers. The wealthier you were the more financial assets you could purchase at relatively low prices and then see those prices inflate.
He suggested that it was only later that the effects would appear elsewhere, and that the further away from the ruling classes that you were the more you would eventually be harmed by higher food prices and lower relative wage increases. If you've taken a trip to the local supermarket in the last week you would know the Cantillon Effect is now in full swing.
Bond markets are pricing in inflation
There's an old saying that the bond market traders are the smartest guys in the room, and the past fortnight has seen some big interest rate moves. Much of the focus has been on the US 10-year Treasury yield. That's a market that is clearly seeing inflation ahead.
The Biden Government just this weekend finally passed their US$1.9 tln COVID relief package, and there's talk of another $3 tln to come. Add in an expectation that most Americans will be vaccinated by mid-year and you suddenly have growth differentials tilting in favour of the US.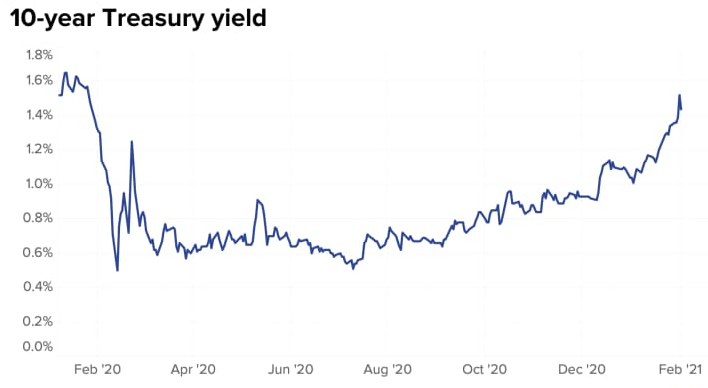 Source: CNBC
And yet the Fed continue to see their extraordinarily loose policy as still appropriate.
During the peak of COVID they never once queried the rather questionable employment data, but suddenly last week several Fed officials suggested the real unemployment rate might be around 9%, despite official data suggesting it is at 6.2% on Friday night. Inflation expectations surveys are now also being heavily scrutinised. When these prints were anaemic last decade no one seemed to stop and question their legitimacy, but suddenly now that their prints are moving higher attitudes have changed.
The key takeaway from this is that central banks will only be dragged kicking and screaming towards monetary policy tightening.
And markets have now got a sniff of this.
In fact, bond markets are telling you that concerns are growing that the Fed may allow inflation expectations to anchor above 2%, and that the Fed will be forced to take swifter action later due to complacency in the near term. The pummeling of tech stocks in the last week is endemic of this – the longer dated expected cash flows of technology are suddenly more heavily discounted due to rising inflation expectations.
The impact in FX markets
For FX markets (and markets as a whole) the real concern is not the recent move in bond markets but the swiftness of its move.
In just six weeks the US 10-year has advanced from 1% to 1.5%. Where might it be in 6 months? As per our introduction rising yields are a major problem for central banks, not to mention sovereign governments. Higher bond yields simply raise government interest payments on their debt, making it harder and harder to get deficit spending under control.
In the near term we expect the Federal Reserve (and potentially even the RBNZ) to adopt yield curve control to try and suppress bond markets. Should we get that as close as the next Fed meeting (on March 17) then that could lead to another USD weakening phase, propping up risk assets and commodity currencies. At this stage though the Fed have shown no signs of changing tack, and so bond markets look like they may continue to poke the bear, leading to more AUD and NZD losses should US yields continue to rally. Through Asia the Korean Won and Taiwanese Dollar are also being hit hard by rising yields.
A game of chicken
In the end though, there will be no get out of jail card for central banks. As we wrote last week we believe higher inflation is here to stay.
Direct government spending into the economy has ballooned over the last year, interest rates are at all time lows, and supply chain problems persist.
But overall, we think the biggest change through COVID is businesses are no longer willing to operate on lean margins. Cognizant of the fact many were bailed out by government wage subsidies many now want to build up a rainy-day fund. Expansion is a nice to have but making more with less is the mantra. Harking back to Richard Cantillon, money printing has distributional consequences that operate through the price system, and just because those changes didn't show up immediately doesn't mean they aren't coming.
And so, we are now left with a game of chicken. Markets have known for a long time what has been inevitably coming, and bond traders are ready to test central bank's mettle. Whether they adapt yield curve control or not is rather irrelevant in the longer scheme of things – central banks are now playing game theory with markets thinking they can win, when ultimately markets will be ready to have that head on collision if needed.
In FX that can foster a weird dynamic – a continued reflation trade that is ultimately NZD supportive, punctuated by sharp and sudden sell offs when another bond market spike hits.
In the long-term heightened volatility and a resurgent US will eventually take its toll on the Kiwi, but for now importers and exporters should keep a sound rolling hedge strategy, and when a good rate presents don't bother waiting for it to get better.
---
Alex Ross is Client Manager, Western Union Business Solutions and is based in Auckland. You can contact him here.