PM Key says stemming NZ$ rise effectively dependent on how long it takes for the US to sort out its economic woes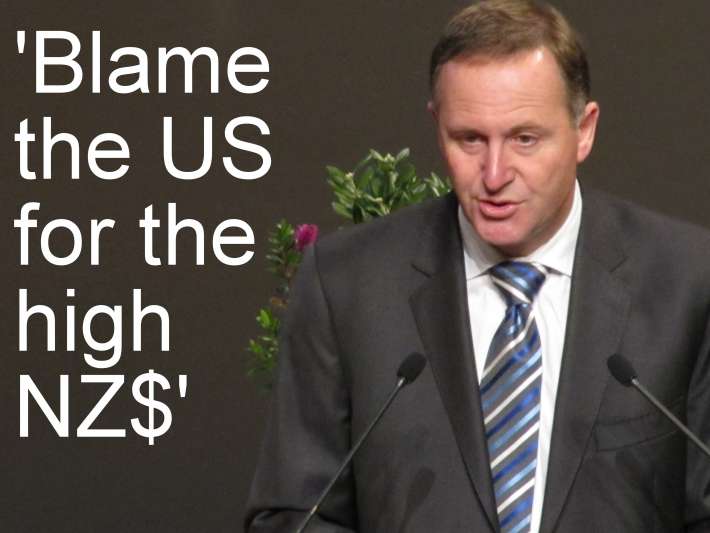 The extent of the New Zealand dollar's strength depends on how long the United States takes to sort out its economic woes, according to Prime Minister John Key.
The Kiwi hit 83.8 US cents on Friday night – a new post-float high – prompting questions of how much longer this would go on.
"Ask the Americans. They're the ones borrowing US$4.6 billion a day," Key told journalists in Wellington this morning.
Key, a former currency trader, has said he believes the rise in the New Zealand dollar has been primarily due to an "inherent weakness" in the US dollar as the US Federal Reserve printed money - quantitative easing (which has now ended) - to try and jump-start a stalled US economy.
Key and Finance Minister Bill English have previously stated their view that it could take a decade for the US and UK economies to recover from the hits they took during the global financial crisis. Investors were therefore looking for economies in better shape, with Australia at the forefront and New Zealand close behind.
Compared to the US and UK, New Zealand increasingly looked like a good bet economically-wise, with the government saying it would return to budget surplus within three years in order to start paying back debt.
Key reiterated comments that he was not so worried about the Chinese economy overheating and slowing down as authorities there sought to control inflation. Official Chinese figures show headline inflation hit 6.4% in the year to June, above expectations and pushing the cause for further interest rate rises.
"I can only work on the advice we get, but I think they are, broadly speaking, managing," Key said.
"And one of the issues with China of course is they are building up their [foreign currency] reserves – they're actually not bringing their money home," he said.
"The question is, can they control their credit growth? Well I'm not the expert in those matters, but those that are tell me they're [the Chinese] on top of it."