NZ$ drops through 76 USc on back of negative sentiment, Aussie fall, Chinese data; At lowest point since before Christmas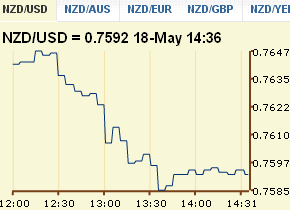 The New Zealand dollar fell below 76 US cents on Friday afternoon to its lowest point since December 21 last year. The dollar fell from just under US76.50c at 12:20pm to US75.82c at 1:30pm.
HiFX dealer Michael Johnston told interest.co.nz that while there was no specific event which pushed the Kiwi below 76 USc, negative market sentiment, a triggering of stops for the Aussie dollar, and weak data out of China all combined to force the Kiwi down.
Swap, or wholesale, interest rates are also down. The one-year swap rate is down 10 basis points today at 2.37%, its lowest point since interest.co.nz started recording swap rates in May 2007. Longer-term rates are also down with the five-year swap rate down 15 basis points at 2.99%. The 10-year is down 17 basis points at 3.69%.
Kiwi falling
Johnston said once the Aussie dollar broke down through the US98.50c mark earlier today it triggered some stops and pulled the Kiwi along with it.
"The Kiwi-Aussie's moved massively. A bit earlier today the Kiwi-Aussie was up around the 77.40 mark. Now we're down around the 77.10 mark. Even though the Aussie's fallen [against the US dollar], because the liquidity of the Kiwi is not quite as great, the Kiwi's been hit a lot harder," Johnston said.
"There's been nothing really specific out there you can put your finger on, it's just been a combination of negative sentiment, breaking through a few levels.
"The euro-dollar broke through lows, triggering stop-losses. Equity markets are all getting hammered - the [Australian] all-ords is down 2.2%, the Nikkei's down 2.25%, so it's just general big risk aversion. It's not quite a capitulation trade, but that sentiment out of China certainly won't be helping matters," Johnston said.
China fears
A flash business sentiment survey in China gave a reading of 52.99 in May, down from 56.04 in April. Meanwhile, figures also showed Chinese home prices fell in a record 43 46 of 70 cities there in April from March, Bloomberg reported.
"Given something like 13% of the GDP of China had been dependent on the housing sector, that's quite significant. You certainly could form a view that the Chinese authorities are probably a little bit behind the eight ball, and things are slowing down a little bit more. They've cut their reserve ratio three times, I don't think that's quite enough now." Johnston said.
"That's just going to manifest itself in commodity prices remaining under pressure, particularly base metals - the Aussie will be under pressure, and the Kiwi," he said.
"Also in these sort of markets, when the fear and panic hits, the liquidity of the Kiwi dollar just isn't there either. When there's a big wave of selling across the board the Kiwi suffers more than most."
However the market was looking for any rallies to sell in to.
"We will see a bounce at some stage, but it's difficult to pick. We'll have a violent move back up, but at the moment you want to be playing it from the short side," Johnston said.
At some stage the fall in the Kiwi would go too far. There were reports out of Greece that the two major political parties there who back IMF/EU reform measures might be able to form a government after the June 17 election as Greek voters realised what a Euro exit might mean for their economy.
"UBS were picking, if Greece does drop out of the Euro, that their GDP would drop between 40-50%. So austerity measures might be the lesser of two evils. You never know who they're going to vote for, but if they get properly informed, and that UBS pick is the case, then I think they'd rather go with the austerity measures than go to the drachma," Johnston said.
Going down
The Kiwi peak this year is US84.70c at the end of February. It hit an all-time post-float high in August 2011 of US88.4c.
The dollar's recent decline has come on the back of renewed turmoil in Europe in the run-up to, and after, a failed Greek election on May 6. Markets are also wary of France's new President, who is seeking to renegotiate the European Union's fiscal responsibility pact to allow for more growth measures, which could allow for a loosening of government deficit and borrowing guidelines in the Eurozone.
Markets have also been spooked by the rise in Spain's borrowing costs, which would be unsustainable if they remained so high, according to Spain's Prime Minister.
Since the end of April, the Kiwi has fallen by just under 8% to sit at US75.92c at time of publishing.
(Updates with links)