Why the Productivity Commission recommends against an Australia-New Zealand monetary union; Would require political union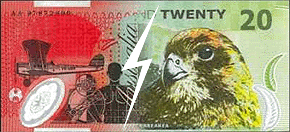 A monetary union between Australia and New Zealand could lead to more costs than benefits, the New Zealand and Australian Productivity Commissions say.
Releasing their draft report on possibilities for closer economic integration between the two countries, the Commissions say there were few instances where a monetary union had worked effectively without some degree of political union.
"Australia and New Zealand are separate countries: political union is clearly not a live option and this in turn rules out some higher forms of integration. In particular, proposals for a monetary union would take integration to the point where it started to generate net costs. Following the recent euro area experience, such proposals have little support today," the Commissions say.
The Commissions will release their final report in December, which will feed into the two governments' plans to commemorate 30 years of the Closer Economic Relations (CER) agreement between New Zealand and Australia.
Recommendations in the draft report include waiving certain CER 'rules of origin' tarrifs, making changes to lead to lower shipping and telecommunication costs between Australia and New Zealand, lowering ownership restrictions on sensitive land, allowing for mutual recognition of imputation credits, and developing a trans-Tasman tourist visa.
Read the Commissions' draft report here.
Here are the Commissions' comments on monetary union:
The possibility of a monetary union between Australia and New Zealand has often been raised in the past and was discussed in a number of submissions.

Determining which economies might benefit from forming a monetary union is a complicated task (Mundell 1961), and the limited available research only provides an overview of the costs and benefits of a monetary union (RBNZ, sub. 12).

Monetary unions offer a number of potential benefits. First of all, they remove the exchange rate risk on trade between member countries and permit price comparisons. This potentially increases investment and trade, and facilitates specialisation and productivity growth (Mundell 1961; Rose 2008).

However, the consequent increases in trade are generally small (Cote 1994). This is likely to be the case for Australia and New Zealand, since Australia accounts for only 23 percent of New Zealand's merchandise exports (table 1.1), while New Zealand accounts for a much smaller share of Australia's trade.

Monetary unions also entail a number of costs. They imply a loss of autonomy over monetary policy and exchange rate flexibility, which are important tools for macroeconomic stability. This means that in the event of an economic shock to New Zealand, but not to Australia (or vice versa), adjustment through the exchange rate or through monetary policy would no longer be possible, and would instead necessitate adjustment through prices, wages and employment.

Adjustment through these channels is typically slower and can result in more volatile prices and output (Rose 2008; RBNZ, sub. 12). The size of such effects will depend in part on the frequency of asymmetric shocks and the degree of synchronisation of the business cycles of the economies within a monetary union.

Business cycle synchronisation will itself depend on policy settings, the structure of the economies and resilience to economic shocks.

Determining the appropriateness of a monetary union involves assessing the significance of the benefits and costs. Available studies of a trans-Tasman monetary union suggest that the potential costs would outweigh the benefits. For example, Drew et al. (2001) and Hall (2005) found that if New Zealand had adopted Australia's monetary policy in the 1990s, aggregate output in New Zealand would have been slightly higher, but this would have come at the cost of higher inflation and more volatility in both output and inflation.

McCaw and McDermott (2000) and others have also shown that a common trans-Tasman monetary policy would have produced greater volatility than occurred under current policy alignment.

There are few instances where monetary union has worked effectively without some degree of political union.

Overall, the Commissions do not consider that the prerequisite conditions for a trans-Tasman monetary union exist — a view that is shared by most participants in the study.
Here are the Commissions' notes on its draft recommendations to the two governments:
'First freedom': trade in goods

The main remaining impediment to merchandise trade between Australia and New Zealand is the cost of CER 'rules of origin'. Waiving these for all items for which tariffs are at 5 percent or less — where rules of origin are unnecessary — would reduce compliance and administrative costs for a significant proportion of trans-Tasman trade.

Building on this reform, each country could reduce those tariffs that exceed 5 percent down to that level by, say 2015, improving the productivity performance of each economy and eliminating the need for costly rules of origin.

'Second freedom': trade in services

Reducing transport and telecommunication costs would facilitate trade across the Tasman. While the trans-Tasman air route is already quite competitive, two remaining regulatory barriers to competition could usefully be removed.

In relation to shipping, ocean carriers' exemptions from key parts of competition regulation are no longer necessary and there would be gains from removing them. In regulating coastal shipping, Australia has followed a different path to New Zealand. A future review of the changes to Australia's coastal shipping regulation should learn from the New Zealand experience in assessing what is in the best interests of the Australian economy.

In telecommunications, any move towards a more integrated market raises complicated issues. While the regulatory frameworks across the Tasman seem reasonably aligned, there are some significant differences in places that require closer examination. The two governments have announced that they will respond to the findings of a joint departmental investigation into options to reduce trans-Tasman roaming charges.

'Third freedom': capital flows

The three main areas of interest here are foreign direct investment (FDI), taxation and banking.

The two Governments should proceed to implement the investment protocol they signed last year which increased the thresholds for screening of trans-Tasman investment. There would be mutual benefits from extending this protocol to lessen the remaining ownership restrictions in 'sensitive' areas, given the closeness of the two countries.

An issue of greater concern to most business participants is that companies are not allowed imputation credits on trans-Tasman investment, so that company income is taxed twice if it crosses the Tasman. The fact that this has been debated for more than 20 years, however, is a sign of the complexities and judgments involved in addressing the matter.

Mutual recognition of imputation credits could expand investment across the Tasman and bring some efficiency gains. But this would involve sizeable fiscal losses as well as transfers of income between the two countries, which may or may not cancel out. This draft highlights the key determinants of these calculations, on which public comment will be sought.

In relation to banking, the two countries have adopted different approaches to prudential supervision. This is an area of regulation that is evolving rapidly, with an existing trans-Tasman forum well placed to assess integration opportunities.

'Fourth freedom': people movements

There are opportunities to reduce the costs and complications of (short term) trans-Tasman travel through wider implementation of SmartGate arrangements at the border, and development of a trans-Tasman tourist visa for foreigners visiting both countries.

In relation to the long-term movement of people, issues arise because while the two countries have long permitted virtually free movement across the Tasman, social security and tax systems can create incentives that distort migration choices. Current provisions to deal with these possibilities have placed some 'trans-Tasman citizens' in anomalous situations. The study contains some ideas for ameliorating this situation, but information gaps and the complexities and interconnections with wider national policy issues to do with migration and citizenship, mean that a more detailed assessment is needed.

Government services and benchmarking

There is considerable cooperation between the public sectors in Australia and New Zealand. This has developed organically as opportunities have emerged, and can improve regulatory outcomes and reduce the cost of providing government services. The two governments should ensure that government agencies consider opportunities for additional cooperation on a case-by-case basis. Additional use of performance benchmarking could identify scope for improved service delivery and enhance diffusion of best practice across the Tasman.