Weak US jobs growth and worries about Japan's aggressive new monetary policy sees the NZD end the week strongly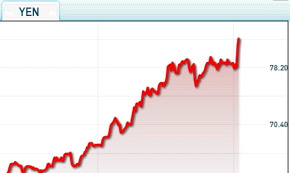 The kiwi dollar has ended the week sharply higher and closed with the TWI at a record level.
The jump was propelled by two overnight events.
Firstly, US non-farm payrolls grew in March by a level below every expert's estimate. The surprise knocked New York equity markets.
Payrolls grew by just 88,000, the smallest gain in nine months after a revised 268,000 February increase, the US Labor Department data showed. The US unemployment rate fell however to 7.6% from 7.7% as their participation rate fell.
That pushed the NZ dollar up to end the week at NZ$1 = US$0.8433.
At the same time, markets are absorbing just how massive the Japanese reflation plan is - basically doubling their money supply in two years.
The yen continued to weaken, ending the week at 82.25 yen to the NZ dollar, a level it has not been at since June 2008, almost five years ago.
And finally these events have hurt the Aussie dollar more than the Kiwi dollar and we have risen against them. We ended the week at NZ$1 = AU$0.8120, its highest level in four weeks.
These three shifts have left our TWI at 77.68, a record high.
Gold recovered some of its earlier losses ending the week in New York at US$1,580/oz.