Kiwi dollar falls below 80 USc for the first time since Sept 2012, commodities hit hard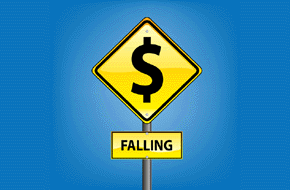 The New Zealand dollar ended the week sharply lower.
It ended trading in New York at NZ$1 - US$0.7940, its lowest closing level since July 26, 2012.
It started the month at NZ$1 = US$0.8569 and today's fall represents a decline of 7.3%.
The TWI ended the week at 74.89, down 4.7% from its May high.
According to data published by the RBNZ yesterday, the average exchange rate for May 2013 was NZ$1 = US$0.8266 and the average TWI for the month was 77.30.
It fell as markets absorbed RBNZ Governor Wheeler's recent comments, and on general weakness by commodity-linked currencies. The Aussie also fell and ended its trading at AU$1 = US$0.9570.
Commodity-linked currencies fell because some key commodities fell in US dollar prices.
Oil was down sharply, and gold fell back below US$1,400/ox.
WTI oil fell to US$91.63/barrel, a drop of US$3.50 on the day, and it is now at its lowest level since the start of May. Brent crude dropped a similar amount and is now sitting just over US$100/barrel.
Gold fell to US$1,394.50/oz in London, and fell further in New York, closing at US$1,387.60.
Copper and aluminium rose however.
The yen rose after Japan reported accelerating factory output and ebbing deflation.
But data out from Europe was weak, and US markets are worried about the end of their stimulus program.
Credit markets were unsettled too, with CDS spreads rising across the board. Credit markets are more concerned about Japan than the currency markets are. Japanese sovereign CDS spreads rose to 76.15 bps, a rise of 40% from mid-month.