Commerce Commission prevents New Zealand's insurance duopoly from getting stronger by declining Vero's bid to buy Tower; Tower's share price tumbles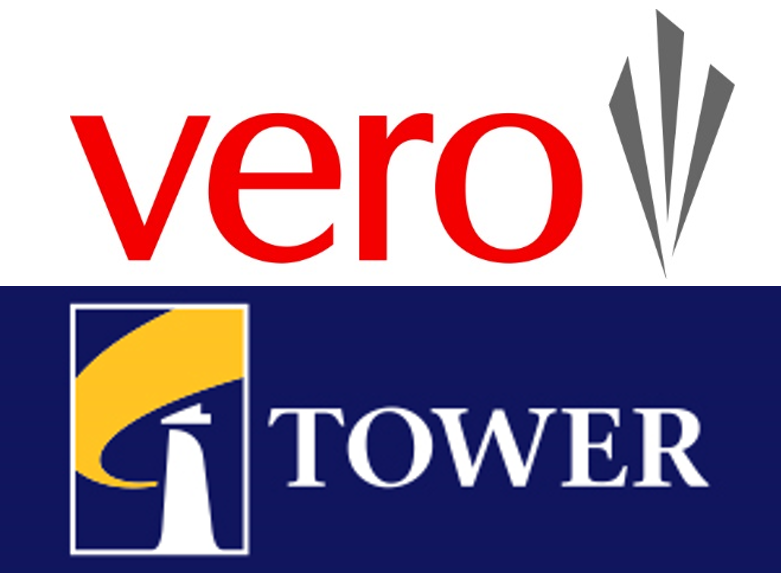 The Commerce Commission has declined Vero's application for clearance to buy all of Tower's shares.
The competition watchdog notes the proposed merger would have brought together New Zealand's second and third largest domestic home, car and contents insurers. This would have left only two "substantial" competitors in the market, lessening competition. 
Commission Chairman Dr Mark Berry explains: "The merger would remove Tower as the only independent competitor to Vero and IAG with the scale, brand strength and experience to compete effectively across the breadth of personal insurance markets.
"While there are other smaller competitors in personal insurance, we do not consider that they replicate the level of constraint that Tower imposes.
"Without the competition that Tower provides, there is a real risk that consumers would end up paying higher prices for insurance cover while receiving lower quality, such as reduced insurance coverage."
Vero, along with its joint venture partner AA Insurance, holds a 25% share of the general insurance market in New Zealand. If its bid to merge with Tower was successful, it would have increased its share to 30%. IAG has a market share of around 46%.
The Commission in 2014 approved IAG's bid to acquire Lumley, boosting its share of the general insurance market up 9%.
Vero honed this point in its clearance application to the Commission, mentioning the world Lumley 46 times in the 31-page document. 
It also noted the Commission enabled IAG to buy AMI's non-quake related business in 2012, after the 2010/11 Canterbury quakes saw the business collapse.
'Real chance' Tower could be bought by a third party 
Nonetheless, Berry says: "Relevant to this competitive landscape, Tower is making concerted efforts to reposition itself in the market and improve its performance."
Tower in November announced plans to ring-fence its problematic 2010/11 Canterbury earthquake-related business. It came up with this idea, having widened its loss to $21.5 million in 2016, and its share price dropping to a record low.  
The Commission, in a Letter of Issues it sent Vero in May, suggested splitting the NZX and ASX-listed company in two to form New Tower and RunOff Co, as well as raising capital and investing in new IT platforms, could make Tower "significantly more competitive".
Berry today adds: "There is also a real chance that Tower would be purchased by a third party further enhancing Tower's significance as an independent competitor in the market."
Canadian insurance giant, Fairfax Financial Holdings in February entered into a Scheme Implementation Agreement with Tower, whereby it planned to buy all of Tower's shares for $1.17 each.  
Yet Fairfax at the end of June withdrew its offer, as Vero entered into a Scheme Implementation Agreement with Tower, whereby it proposed to buy all of Tower's shares for $1.40 each.
Vero started acquiring a stake in Tower in February; by March increasing its shareholding to 19.99%.
The Letter of Issues mentioned above (which interest.co.nz received under the Official Information Act over the weekend) reveals the Commission is investigating whether Vero may have breached section 47 of the Commerce Act by purchasing these shares.
Berry explains: "By Vero holding 19.99% of Tower, there are issues around its ability to block matters that need special resolutions to be passed."
The Commission confirms this investigation is ongoing. It could see Vero end up in court.
Tower's share price tumbles
The Commission's decision has seen Tower's share price fall by nearly 32% to 86.0 cents (as at 10.40am). It dropped as low as 69.5 cents in November.
Tower's Chairman Michael Stiassny says: "Tower will work with Vero to assess the implications for the Vero Scheme, but it will mean a shareholder vote will now no longer occur in early September.
"The Tower Board will look to consider the impact on its business plans, including whether it needs to conduct a capital raise in the coming months to ensure the long term sustainability and accelerate the transformation of the underlying Tower business."
Suncorp, Vero's Australian parent, says it is "disappointed" with the Commission's decision.
Suncorp New Zealand's CEO Paul Smeaton doesn't believe the proposed acquisition would have substantially lessened competition in the New Zealand insurance market.
A copy of the Commission's decision will be available on its Clearances Register within the next week.
Background
Vero is a New Zealand subsidiary of Suncorp Group Limited, an Australian-based finance, insurance, superannuation and banking business. Suncorp, through Vero and AA Insurance, provides a range of personal and commercial insurance products direct to customers and through insurance brokers and banks (ANZ, AMP and Warehouse Money). 
Tower is a New Zealand based insurance company listed on the New Zealand and Australian stock exchanges. It offers insurance direct to consumers and through Kiwibank, TSB and Trade Me. 
IAG is a wholly-owned subsidiary of Insurance Group Limited listed on the Australian Stock Exchange. It provides personal and commercial insurance products direct to consumers under the State and AMI brands, and through BNZ, Westpac and via brokers under NZI and Lumley. 
See these stories interest.co.nz has done on Vero/Tower in the past.