No Govt plans to introduce prudential regulation for KiwiSaver providers, Commerce Minsiter Craig Foss says, despite FMA CEO's concerns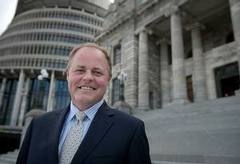 By Gareth Vaughan
This article was first published in our email for paid subscribers this morning. See here for more details and to subscribe.
Financial Markets Authority (FMA) CEO Sean Hughes is at odds with his responsible minister, Minister of Commerce Craig Foss, with Hughes saying there's a gap in the regulation of KiwiSaver because the scheme's providers have no prudential regulator and Foss saying the government doesn't believe there's a gap to be filled by prudential regulation.
Hughes told interest.co.nz in a Double Shot interview earlier this week that KiwiSaver was both a great opportunity for investors and a regulatory risk for the FMA. The regulatory risk stemmed primarily from the lack of a prudential regulator, Hughes said, with the FMA overseeing disclosure, conduct, licencing and trustees, and the Inland Revenue Department (IRD) having an administrative role. But unlike in Australia, where the Australian Prudential Regulation Authority (APRA) serves as prudential regulator for superannuation schemes, no one fills such a role in New Zealand.
Hughes said KiwiSaver was something both the government and FMA have a "paramount duty to ensure works well" for its 1.9 million members who have about NZ$12 billion invested through the scheme.
However, Foss told interest.co.nz - via a spokeswoman - that the government established a single regulator for KiwiSaver and other managed funds when the FMA was created on May 1 last year.
"This ensures that there are no regulatory gaps and the FMA can look at both the market conduct of the fund (e.g. is its behaviour consistent with the investment statement it has issued) and its competence," Foss said.
"The Government does not consider that there is a gap to be filled by prudential regulation of KiwiSaver schemes. The FMA will have the tools and powers to appropriately regulate the schemes. The regulation focussed on competence and conduct - which will be squarely within the purview of FMA," Foss added.
RBNZ won't be brought in
The Reserve Bank of New Zealand serves as prudential regulator for the country's banks, non-bank deposit takers which include finance companies, credit unions and building societies, and insurers. However, Foss is adamant the central bank won't be given a similar role with KiwiSaver providers.
"The FMA is the single regulator for KiwiSaver. The Reserve Bank prudentially regulates certain entities that promise to pay out of the assets of the entity, e.g. banks and non-bank deposit takers have to repay their deposits, insurance companies have to have enough money to pay in the event of a loss," said Foss.
"KiwiSaver schemes are all defined contribution schemes; investors' money is held in a trust fund that is independent of the manager's assets. Investors therefore have an interest in the trust - not an interest in the manager. The assets of the fund could, of course, be affected by misconduct of the manager, which fits with FMA's role."
APRA's prudential supervision of Australian superannuation providers comes from legislation, being the Superannuation Industry (Supervision) Act, rather than prudential standards. However, this is changing with prudential standards currently being introduced. For now APRA has prudential guidelines on capital, risk management, adequacy of resources, pandemic planning and risk management, management of security risk in information and information technology, contribution and benefit accrual standards for regulated superannuation funds, payment standards for regulated superannuation funds and approved deposit funds, plus fitness and propriety. See APRA's prudential framework here.
In contrast the FMA's website notes the core obligations of KiwiSaver providers are set out in the KiwiSaver Act 2006, which in summary include the need to:
register the scheme under the KiwiSaver Act and lodge a copy of the

trust deed

and other documents with the Financial Markets Authority, as set out in the Schedule 2 to the Act.
prepare annual reports and summary accounts, lodge these with FMA and distribute them to members (section 123)
prepare statistics-based annual returns and lodge these with FMA (section 125)
provide members with annual personalised statements of contributions and balances (section 125A)
lodge copies of amendments to the

trust deed

within 14 days of execution (section 129)
when they wind up a scheme, follow the processes in the Act (sections 173-176).
Furthermore, by September 30 this year all KiwiSaver schemes, other than certain employer and restricted-entry schemes, will be required to have a manager who is the issuer for the purposes of the Securities Act, and a licensed external trustee whose main function is to supervise the manager.
In addition the FMA website says anyone offering a KiwiSaver scheme must obtain IRD certification for their schemes.
(Update clarifies situation in Australia where prudential guidelines are currently in place but prudential standards are on the way).