National's Steven Joyce dismisses Labour-Greens power policy as 'bumper sticker politics at its most destructive'; Greens' Russel Norman pledges more competition and lower prices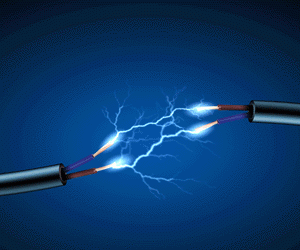 Government and opposition politicians are continuing to spar over Labour and the Greens' plans for electricity.
Economic Development Minister Steven Joyce says their "threat" to nationalise the electricity industry has wiped hundreds of millions of dollars off New Zealanders' savings. And Greens co-leader Russel Norman says the National-led government wants to keep a failed electricity system where there's no real competition and prices rise.
The Labour and Green parties yesterday jointly announced they will dismantle New Zealand's electricity markets if they win next year's election. They say they will create a new Pharmac-style agency called NZ Power that would act as a single buyer of wholesale electricity. They maintain this move would cut household power prices by up to 14%, create 5,000 jobs and boost Gross Domestic Product by NZ$450 million.
The two parties estimate the Crown would lose between NZ$260 million and NZ$365 million in dividends and taxes from power generation companies, while power generators, both private and public, would lose revenue of between NZ$500 million to NZ$700 million.
Joyce today described the Labour and Green policies as "reckless threats" and "Soviet-style 1970s policies".
"The more than two million New Zealanders in KiwiSaver will have watched with great concern yesterday as the value of their retirement nest-eggs fell sharply within hours of the opposition parties announcing their half-baked nationalisation plan," Joyce says.
"The sharemarket value of Contact Energy, Trust Power and Infratil shares alone fell by more than NZ$300 million yesterday afternoon. That value was taken out of the pockets of hard-working KiwiSavers, the New Zealand Super Fund and small shareholders across New Zealand. If Labour and the Greens could do that in just a few hours, imagine what they would do if they ever got near being in government," says Joyce.
'Chilling effect' on mobile capital
Joyce also questioned why anyone would want to invest in New Zealand in the days of mobile capital if a government can "turn up on a whim tomorrow" and nationalise an industry.
"These guys have completely lost the plot if they think what they announced yesterday wouldn't have a completely chilling effect on investment in New Zealand," says Joyce.
Even if the Labour-Greens plan did create the cost reductions they say it will, which Joyce says it won't, these would be "more than eaten up" by their plans for a "much more aggressive" Emissions Trading Scheme.
"Their power price savings estimates are totally made up. What we do know is that having politicians running the electricity market will lead to a shortage of investment, a mismatch of supply and power blackouts. It makes as much sense as politicians running the food market. Labour and the Greens are economically naive and untrustworthy if they believe any of this would be good for New Zealanders. It is bumper sticker politics at its most destructive," Joyce says.
In contrast Norman says whilst National wants to stick with a failed electricity system where there is no real competition and prices rise, the Labour-Green plan will create more competition and lower prices.
"The Greens' electricity plan will open the door to new competition and innovation in electricity generation and retailing, leading to lower prices," says Norman.
"In National's failed model, 93% of the generation market and 95% of the retail market are controlled by the five big electricity companies. NZ Power will change that by breaking the market power of those five big operators. Currently, the electricity companies share risk across their generation and retail wings, and ensure that their generation meets their retail needs first."
"That has allowed them to lock out new competitors. The proof is in the pudding: 20 years after reforms that were supposed to create a competitive market, not a single new significant generator or retailer has emerged," Norman adds.
An end to the vertical integration between power generation & power retailing 'will create a more equal playing field for newcomers'
Norman says NZ Power will "sit" between the generation and retail markets. He says the effective end of vertical integration between power generation and power retailing will create a more equal playing field for new entities to enter both markets. When NZ Power tenders for new generation, it'll accept bids from whichever companies can offer the best price to build the new power plants at the lowest cost, while at the same time meeting sustainability and reliance requirements.
"That will foster innovation. We expect to see more community and micro-generation and, potentially, new operators for large-scale plants," says Norman. "There will be more competition in the retail market. Rather than being squeezed out by the current big five, new, innovative retailers will enter the market offering new, smarter, and greener products than the old companies do."
Earlier this week the Electricity Authority published its Electricity market performance, - A review of 2012. The report says 18% of retail customers switched provider during 2012, down from the record high of 19.5% in 2011, but still a 'strong" level of movement.
"The retail market in 2012 was characterised by sustained high levels of switching, reducing retailers' concentration in various regional markets and retailers aggressively chasing customers," the Electricity Authority says.
"The overall level of competition in the retail market is one of reducing regional market concentration with some new independent retailer entry and growth slowly having an effect on the dominance of the main retailers. Generally, the retail market continues to head towards a more competitive market structure."
Prices are rising
However, the Electricity Authority, described as an independent Crown entity responsible for the efficient operation of the New Zealand electricity market, also says while more consumers are getting relatively better deals, absolute prices are rising.
Figure 29, below, from the Electricity Authority's report, shows the change in average price - including GST - paid by residential consumers per kilowatt hour (kWh). The Electricity Authority says this is a measure of absolute price and includes transmission and distribution charges as well as energy charges.
"Figure 29 shows that the total average cost of electricity increased over the last three years by about 5% per year. The GST increase from 12.5% to 15% in October 2010 impacted price. However, inflation over this period had been about 2.14%," says the Electricity Authority.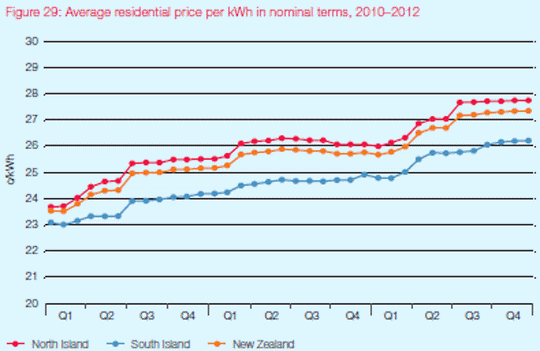 'Profits v prices'
National, says Norman, ought to decide whether it cares more about protecting power company profits or cutting power prices for New Zealand families and businesses. He maintains the proposed NZ Power would save families NZ$300 a year by reducing wholesale electricity prices and passing those savings on to households and businesses.

Energy and Resources Minister Simon Bridges, meanwhile, says Labour's finance spokesman David Parker, when Minister of Energy in 2006, effectively advised the Cabinet against an NZ Power type scenario.
"As Minister of Energy he (Parker) said that 'a single buyer would likely result in higher capital and operating costs.' He went on to say that: 'The risks involved in changing arrangements could be significant. The resulting uncertainty could lead to investment proposals being put on hold. Direct implementation costs could be large.' And, he admitted that 'The single buyer would be relatively poor at sustaining pressure on operational costs'," says Bridges.