David Chaston joins the call for KiwiSavers to move investments in default funds elsewhere, unless they're nearing retirement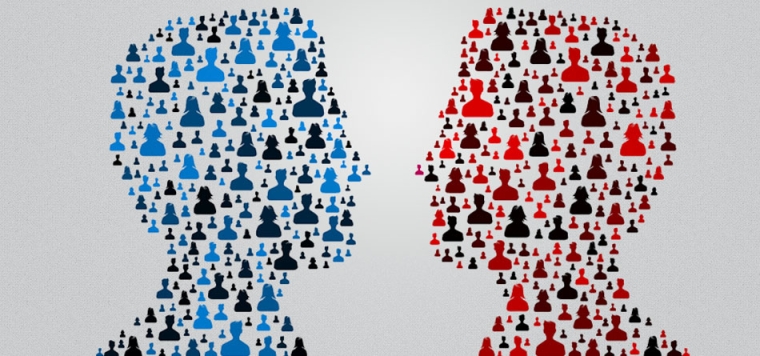 By David Chaston
As KiwiSaver moves into its second decade of investing, a debate has broken out about the wisdom of leaving your investment in default funds.
Some see the essential risk being that low returns are being eaten up by fees.
And there are important investing lessons and experience to be gained by taking an interest in your skin in the game.
Others, such as industry players, like the idea of encouraging members to shift to more profitable funds, ones that can justify higher fees. ANZ has been vocal recently in front-footing the call for members not to use default schemes for anything other than to park funds before a move to better arrangements.
But with 10 years' history, a 10 year track record, how have these low cost default funds performed on an after-all-taxes, after-all-fees basis?
The answer is, not bad at all. In fact the better ones have delivered returns in excess of 4% on that basis. But they have been helped by a period where there have been strong bond market gains. As high interest rates fell (the OCR was 8.25% when KiwiSaver was born), bond values zoomed higher giving fixed income investors unique gains.
But that time is over. If interest rates rise - especially internationally - that effect will reverse and there will be bond losses. Conservative default funds are vulnerable.
Given that about a third of default KiwiSaver funds are held in cash, and cash gives very low returns these days - and that fund managers don't invest anything anywhere without fees attaching - the cash position of any fund's holding will be a drag on future returns.
(And that is not to overlook the conflict-of-interest that may exist where cash funds are just 'invested' in the fund manager's own term deposits.)
So, this 'cash' drag will be on top of the bond risk - and bonds make up almost half of the exposure in KiwiSaver default funds.
It is no surprise that returns for KiwiSaver default funds are sagging. Our last three years' look shows that clearly (see the table below). And we expect that to deteriorate from here.
So we are joining the call for members to move investments in default funds to other options. Which ones? Well, we will deal with that question in another review (due soon), but suffice to say that it will involve going out the risk curve. Yes, involve taking on "more risk".
If you think that is not for you, you should read on.
My guess is that you see yourself as risk averse. You would rather have the certainty of not having to worry about potential losses of your hard earned savings. But you need to know that you are thinking about this wrong.
Very wrong.
All investment involves risk - even 'cash' or 'default KiwiSaver' funds. You need to understand risk better.
Many people fear a loss far more than they appreciate a gain. Psychology suggests it is a 3:1 relationship - you will be more than three times as worried about a loss than appreciate an equivalent gain. That is illogical of course, but it is the way some of us are wired. If you can't get your head around that to see gains as equally beneficial as losses detrimental, you are not an investor and you can't make rational investment decisions. You should get someone else to handle your money. Seriously.
If you are prepared to be mature about risk, then be prepared to go out the risk curve some way. The evidence is that many cash, conservative, or moderate funds actually don't deliver after-all-taxes, after-all-fees returns better than default funds. There are exceptions, but interestingly, very few. And that is why you need to do some 'work' to figure out where and why you would move your investment. Also remember that track record isn't everything. You would be best to move to a fund that has better future prospects rather than just a good historic track record.
How far out the risk curve is visually suggested in this updated chart.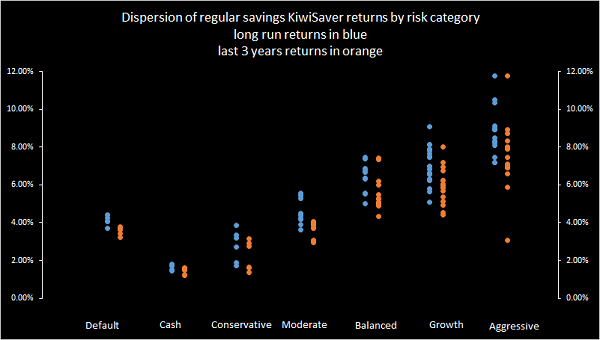 Return range of all funds, as at June 2018
Here are the updated results for default funds.
Default Funds
 
 
 

Effective

cum return

since April 2008
X
Y
Z
to June 2018
 
 
 

% p.a.

 
 
 
 

 

 

 

 

 

Mercer Conservative
C
C
C
31,926
8,033
4.5
39,959
3.8
ANZ Default Conservative
C
C
C
31,926
7,692
4.3
39,618
3.3
ASB Conservative
C
C
C
31,926
7,360
4.1
39,285
3.7
FisherFunds2CashEnhanced
C
D
C
31,926
7,335
4.1
39,261
3.8
AMP Default
C
C
C
31,926
6,610
3.8
38,535
3.5
 
 
 
 
 
 
 
 
 
BNZ Conservative
C
C
C
19,368
2,355
4.1
21,723
3.8
Kiwi Wealth Default
C
C
C
14,624
1,105
3.5
15,729
3.5
Westpac Defensive
C
C
C
14,624
1,085
3.4
15,709
3.4
Booster Default Saver
C
C
C
14,624
1,074
3.4
15,698
3.4
---------------
 
 
 
 
 
 
 
 
Column X is interest.co.nz definition, column Y is Sorted's definition, column Z is Morningstar's definition
C = Conservative, D

= Defensive
If you are not about to retire in the next few years, you should seriously review why you are in a default fund. We will review the track record performance of other classes of KiwiSaver funds over the next week or so, but being in KiwiSaver is a long term commitment and you should be applying long-term strategies to this investment.
That may well mean accepting some higher level of risk to gain a higher level of returns. Over a long-term, that is usually a sensible strategy. Sure, bumps in the road do come around (like the Global Financial Crisis) and they can knock growth fund returns. But as we have seen post-GFC, the bounce-back can turbo charge your results.
Here is where these managers have your default funds invested. 
Allocation, approx.

Mercer
ANZ
ASB
FF2
AMP
BNZ
Kiwi
Wealth
Westpac
Booster
 
%
%
%
%
%
%
%
%
%
Cash
34.6
22.1
23.7
21.1
46.9
38.4
38.9
34.4
27.7
NZ fixed income
14.9
17.6
32.6
38.3
16.5
10.1
17.6
22.9
27.9
Intl fixed income
29.3
39.9
23.8
22.9
16.3
31.5
23.6
23.3
23.9
NZ/Aust equities
3.7
5.2
10.1
5.1
7.2
6.0
0.5
7.6
5.6
Intl equities
13.8
12.0
9.8
7.5
13.1
14.0
19.4
8.5
13.9
Listed Property
0.4
3.2
 
 
 
 
 
3.3
1.0
Unlisted Property
1.3
 
 
5.1
 
 
 
 
 
Other
2.1
 
 
 
 
 
 
 
 
 
----
----
----
----
----
----
-----
-----
----
 
100
100
100
100
100
100
100
100
100
If you want your money allocated differently, you will need to change funds, either with the same manager, or with another. But before you do that, get some proper investment advice from someone who understands your investment goals and tolerance for risk. That involves work on your part. But it's not a good excuse to just leave it there because it seems too much effort.
---
KiwiSaver default funds are only part of a broader range of conservative funds available. Many of the 'traditional' conservative and cash funds are under performing the default funds. We will look at the rest of the conservative funds in another article.
For explanations about how we calculate our 'regular savings returns' and how we classify funds, see here and here.
There are wide variances in returns since April 2008, and even in the past three years, and these should cause investors to review their KiwiSaver accounts especially if their funds are in the bottom third of the table.
The right fund type for you will depend on your tolerance for risk and importantly on your life stage.
You should move only with the appropriate advice, and for a substantive reason.