The KiwiSaver results are in for the December 2018 quarter and we review how high market volatility affected our retirement savings accounts, with a detailed look at Default funds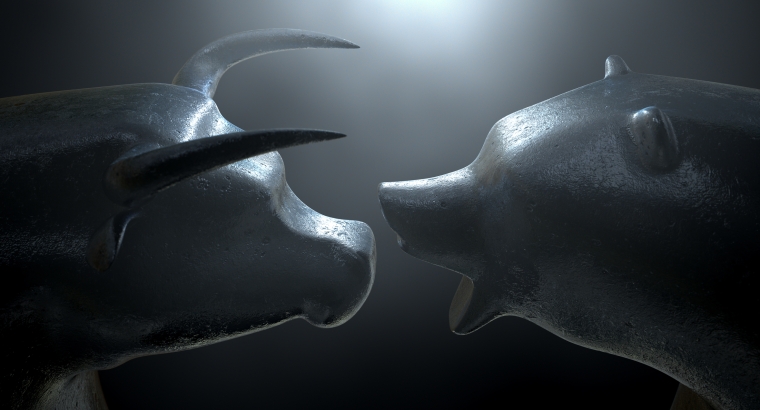 By David Chaston
The last time we reviewed KiwiSaver performance for the period to September 2018, we warned that market turmoil was likely to be tough on KiwiSaver funds.
But if you have been keeping an eye on your balance via your bank app or provider website, you may have been pleasantly surprised - your balance won't have seemed to suffer what the headlines suggested.
Were you lucky that your fund was an outlier?
Sadly, they may not have been the case. Remember, your balance is a combination of the earnings your fund manager achieves, plus the recent contributions you and your employer make to your account. These contributions will mask investment losses.
So you need an independent review of how well your fund actually performed. This quarterly series of articles should do that job.
Overall, there was a significant step-down in fund performance. KiwiSaver is a long term investment and generally it is not wise to get too hung up on the ups-and-downs of the market. Choose the right risk profile for your time-frame to retirement, and stay patient. History and investment analysis clearly shows that is the best strategy.
But it is human nature to pay attention more closely when losses seem imminent. Psychology shows that we are three times more attentive to the risk of loss than the opportunity of profit. Investors that can see past that skewed base instinct are the ones that can take advantage of the dips, and profit from a higher risk profile.
But human nature being what it is, this quarter we will take a look at how fund managers have performed over the past year. We much prefer to report on results "since inception" coloured by "the last three years" to ensure managers are not resting on their laurels. But the events in the October to December 2018 investment markets were inherently interesting, so we are deviating this quarter from our usual perspective.
Here are two top-line charts of the since-inception performance, and the last-three-years performance of most funds we monitor.
This first chart is the result we reported for the September 2018 quarter: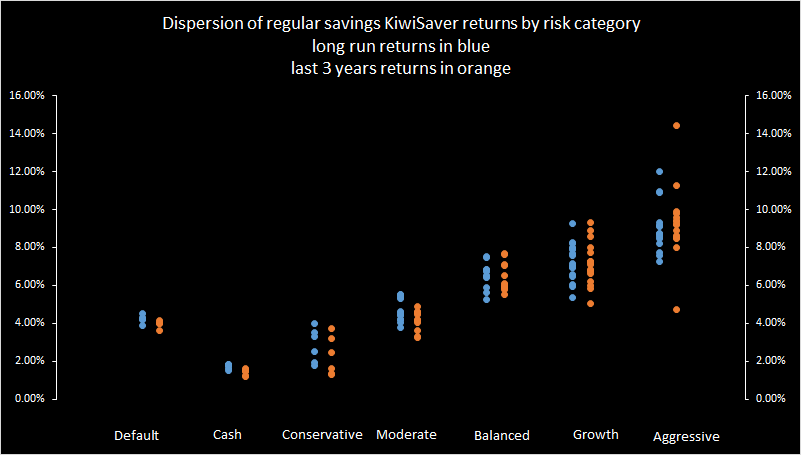 Note the scale.
Now look at the December 2018 update: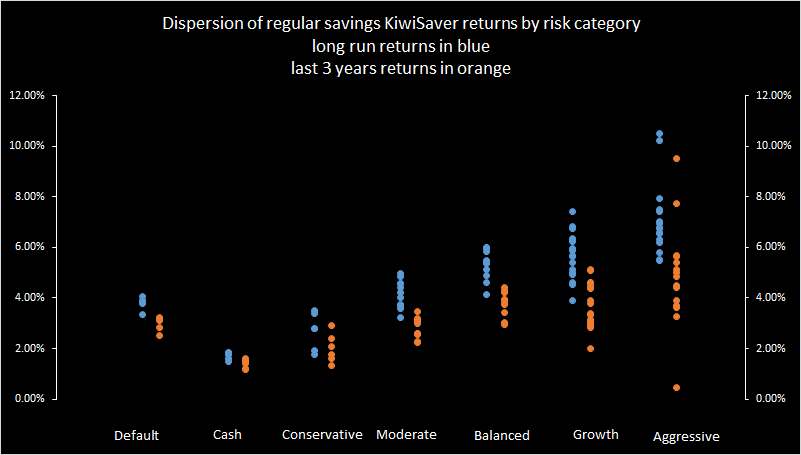 The Q4 results have twisted the "last three years" results sharply lower. Volatility has been especially hard on funds that have more risk exposure and a higher allocation to equity investments.
Even the Default funds have taken a shift lower.
We will look at a range of other fund categories separately, including a detailed look at Aggressive funds, but the place to start are these Default funds.
Default funds hold about one dollar in every six of all KiwiSaver funds. Such funds have about 32% invested in Cash assets, 48% in Fixed Income instruments (about equally split between NZ and overseas securities), about 18% in Equities (a third with NZ exposure), and only a tiny exposure to Alternative assets. You can see how each individual fund allocates their Default investments in the table further down in this article.
But this overall allocation should be relatively protected from equity market volatility. But they are not immune.
Our analysis shows that ANZ Default has been hurt least by this Q4-2018 turmoil and AMP Default has been affected most.
* Return is the Loss based on starting account balance at 30 Sep, 2018.
ASB, AMP, BNZ, KiwiWealth and Booster all have more than 20% of their Default funds exposed to equities. ASB's expsoure is weighted to New Zealand, whereas the others are more to the offshore variety. It is this offshore equity exposure that has hurt them.
But it is likely that this same allocation will benefit them on the recovery. And such a recovery has come in 2019. This will give you the perspective you need.
 
NZX50
ASX200
S&P500
 
 
Year to
Oct to
2019

as at

index

index

index

 
 
Sep-18
Dec-18
Jan-19
 

#

#

#

 
 

% pa

%

simple

%

simple

30-Sep-17
7,930.4
5,681.6
2,519.4
 
 
 

annualised

annualised

30-Sep-18
9,351.1
6,207.6
 2,914.0
 
NZX50
+17.9%
-23.1%
+23.7%
31-Dec-18
8,811.3
5,646.4
 2,506.9
 
ASX200
+9.3%
-36.2%
+46.4%
31-Jan-19
8,985.3
5,864.7
 2,707.2
 
S&P500
+15.7%
-55.9%
+95.9%
Of course, not all equities are the same, and fund managers get quite specific. Some equities, like utility companies that pay high dividends operate more like fixed income investments than risk stocks. And to be fair, some fixed income investments, especially some sub-investment grade bonds, have risk profiles like some equities. The complexity can be intimidating, which is why you use a professional fund manager to do this analysis and make the investment choices. All the same, you need to know how they perform, especially over the long run.
Markets can be volatile. There is nothing unusual about that. (There is also nothing unusual in some people saying this volatility is the end-of-the-world, this-time-is-different, and a-collapse-is-underway. These voices get shrill at every bump.)
So reading the headlines will make anyone nervous about what is ahead for investors. If you are a KiwiSaver you may wonder what to do, too.
As a direct response to the uncertainty, the answer is 'nothing'. Sit tight.
We may well be facing something akin to the Global Financial Crisis - or we may not be.
For a KiwiSaver, it actually shouldn't matter. You certainly should not rush out and change your investment strategy to try and avoid what you might think is an impending downturn.
Three things remain important.
1. Firstly remember KiwiSaver is a long term savings program.
As ex-Retirement Commissioner Diane Maxwell said, "KiwiSaver is a long game that will have bumpy patches, but will pay off in the end and make a huge difference to your retirement." Try not to look at your balances too often - about once a year is enough (and ignore them on your banking app - that sort of visibility can set you into a short-term trader mindset and that is completely wrong for this type of investing).
2. Secondly, understand that it is a regular contribution system. While yesterday's investments may decline in value temporarily, you are also getting a powerful advantage because today's contributions are buying into your investment plan with an enhanced impact (your contributions buy more).
3. And thirdly, remember, we have been through this before. The next financial crisis won't be exactly like the last one. However it plays out we will emerge on the other side just fine and the transition will be relatively quick (a few years at most) and far shorter than your investment horizon.
The most important thing you can do is recommit to a long-term retirement savings strategy. You are hopefully invested in a type of KiwiSaver program for a good long-term reason. Impending volatility isn't a good reason to change that.
But this is not to say you should stay with an under-performing scheme. That is the power of our unique regular savings analysis approach. You can use it to compare how each fund performed (their track record) over the past ten years. And you can use this relative performance data to shift to a manager that has shown better achievements for their members within the equivalent investment strategy. That is, don't change strategy for your long term saving, even if you shift to a better performing fund.
Here are the updated results for default funds.
Default Funds
 
 
 

Effective

cum return

since April 2008
X
Y
Z
to December 2018
 
 
 

% p.a.

 
 
 
 

 

 

 

 

 

Mercer Conservative
C
C
C
34,059
8,078
4.1
42,137
3.1
ASB Conservative
C
C
C
34,059
7,632
3.9
41,691
3.2
ANZ Default Conservative
C
C
C
34,059
7,514
3.8
41,573
2.5
FisherFunds2CashEnhanced
C
D
C
34,059
7,441
3.8
41,500
3.2
AMP Default
C
C
C
34,059
6,457
3.3
40,516
2.8

Funds with a later start date ...

 
 
 
 
BNZ Conservative
C
C
C
21,501
2,236
3.3
23,737
3.0
Westpac Defensive
C
C
C
16,757
1,085
2.7
17,842
2.7
Booster Default Saver
C
C
C
16,757
1,047
2.6
17,805
2.6
Kiwi Wealth Default
C
C
C
16,757
1,012
2.6
17,770
2.5
---------------
 
 
 
 
 
 
 
 
Column X is interest.co.nz definition, column Y is Sorted's definition, column Z is Morningstar's definition
C = Conservative, D

= Defensive
If you are not about to retire in the next few years, you should seriously review why you are in a default fund. We will review the track record performance of other classes of KiwiSaver funds over the next week or so, but being in KiwiSaver is a long term commitment and you should be applying long-term strategies to this investment.
That may well mean accepting some higher level of risk to gain a higher level of returns. Over a long-term, that is usually a sensible strategy. Sure, bumps in the road do come around (like the Global Financial Crisis) and they can knock growth fund returns. But as we have seen post-GFC, the bounce-back can turbo charge your results.
Here is where these managers have your default funds invested.
Allocation, approx.

Mercer
ANZ
ASB
FF2
AMP
BNZ
Kiwi
Wealth
Westpac
Booster
 
%
%
%
%
%
%
%
%
%
Cash
34.6
22.1
23.7
21.1
46.9
38.4
38.9
34.4
27.7
NZ fixed income
14.9
17.6
32.6
38.3
16.5
10.1
17.6
22.9
27.9
Intl fixed income
29.3
39.9
23.8
22.9
16.3
31.5
23.6
23.3
23.9
NZ/Aust equities
3.7
5.2
10.1
5.1
7.2
6.0
0.5
7.6
5.6
Intl equities
13.8
12.0
9.8
7.5
13.1
14.0
19.4
8.5
13.9
Listed Property
0.4
3.2
 
 
 
 
 
3.3
1.0
Unlisted Property
1.3
 
 
5.1
 
 
 
 
 
Other
2.1
 
 
 
 
 
 
 
 
 
----
----
----
----
----
----
-----
-----
----
 
100
100
100
100
100
100
100
100
100
If you want your money allocated differently, you will need to change funds, either with the same manager, or with another. But before you do that, get some proper investment advice from someone who understands your investment goals and tolerance for risk. That involves work on your part. But it's not a good excuse to just leave it there because it seems too much effort.
---
KiwiSaver default funds are only part of a broader range of conservative funds available. Many of the 'traditional' conservative and cash funds are under performing the default funds. We will look at the rest of the conservative funds in another article.
For explanations about how we calculate our 'regular savings returns' and how we classify funds, see here and here.
There are wide variances in returns since April 2008, and even in the past three years, and these should cause investors to review their KiwiSaver accounts especially if their funds are in the bottom third of the table.
The right fund type for you will depend on your tolerance for risk and importantly on your life stage.
You should move only with the appropriate advice, and for a substantive reason.