Finance Minister Grant Robertson admits lack of faith in Treasury's immigration projections; Treasury Secretary Gabriel Makhlouf a no-show at Budget briefing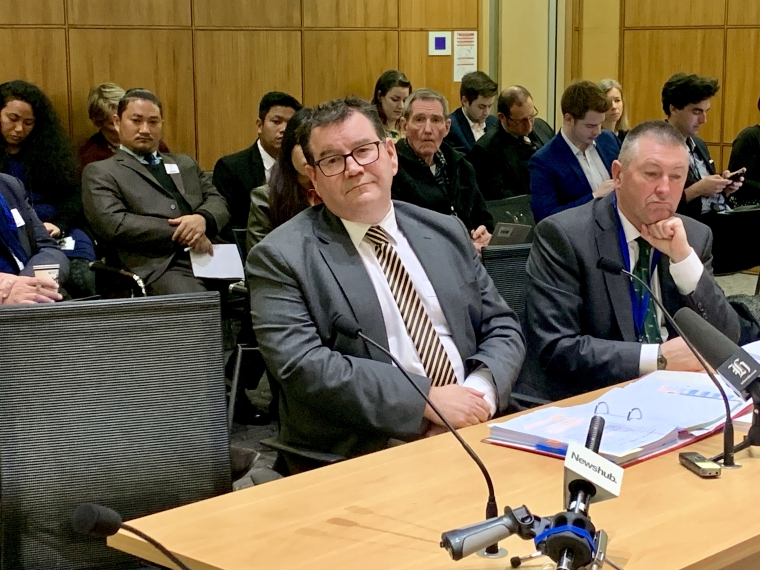 Finance Minister Grant Robertson doesn't believe immigration numbers will fall by as much as Treasury's projections suggest.
A key assumption in Budget 2019 was that net immigration would fall from 50,000 people in the 2017/18 year to 25,000 in 2021/22.
Asked by interest.co.nz whether any government policies around migration would need to change for this forecast to be met, Finance Minister Grant Robertson said: "I've long held the view that the Treasury's model on this is - depending on your view - optimistic or pessimistic, and I don't necessarily believe we will reach 25,000 in this forecast period."
National's Finance Spokesperson Amy Adams said that when she was Associate Finance Minister she too considered Treasury's migration forecasts to be "a bit of a nonsense", largely because they were based on lower historical averages.
Robertson said the policy changes the Government had made around attracting the right sorts of immigrants to fill skills shortages "may well lead to a reduction" in immigrant numbers, but he had "some scepticism" around Treasury's projections.
He wouldn't be drawn on exactly where he believed annual net migration would fall to.
He also pointed out the fact Statistics New Zealand is using a new method to collect its migration data, which is causing volatility in the figures.
Pressed on the significance of the fact that not only is there ambiguity around current and historic migration data, but now the Finance Minister doesn't trust the advice he has received about future trends on a matter so integral to economic growth, and thus government revenue and expenditure, Robertson said the risk to the economy was an upside not a downside one.
In other words, if it turned out Treasury was wrong and net migration remained above 25,000 come 2021/22, the effect on the economy would be positive.
The added pinch in the matter from a political perspective is that Labour before the election said it expected its policies to see annual net migration fall by 20,000 to 30,000 people. Meanwhile its coalition partner, New Zealand First, drew a more definitive line in the sand, campaigning on reducing annual net migration to 10,000 people.
The awkward empty chair
In another political tangent, Treasury Secretary Gabriel Makhlouf was expected to appear at the Committee, but Treasury on Monday informed it he would be represented by Treasury's Deputy Secretary for Budget and Public Services Struan Little, Chief Economic Adviser Tim Ng and Deputy Secretary for Macroeconomics and Growth Bryan Chapple.
Little explained the call was made because Makhlouf's term was ending next week, and the meeting was about forecasts looking ahead to 2023.
Grilled by Adams on Makhlouf's absence, amidst controversy around Treasury's Budget "leak", Robertson said this was a matter for the Treasury, but he had "absolute confidence" in the representatives present.
Treasury's rationale
Little earlier gave some insight into Treasury's migration modelling. He said the vast bulk of Treasury's assessment was derived from movements of New Zealand citizens, rather than foreigners. 
So Treasury paid more attention to factors like how the Australian economy was performing relative to the New Zealand economy, and what was happening in Europe, to determine whether kiwis would be leaving New Zealand, or returning from overseas sooner than they might otherwise have. 
He said changes in government policy around migration didn't have a huge impact on Treasury's modelling, as these policy decisions largely affect movements of foreigners. 
However, a scan through recent historic migration data shows there are more foreigners than there are New Zealand citizens moving in and out of the country.
This is how Treasury characterised possible variances in its migration projections in the "Risks to the economic outlook" section of its Budget Economic Fiscal Update: 
Net migration outflows to Australia tend to increase when Australia's labour market strengthens relative to New Zealand's. The prospect of relatively faster wage growth in New Zealand may lead to less people migrating to Australia than assumed in the main forecast. Equally, tight domestic labour markets may encourage employers to look offshore for workers. In addition, uncertainty around policy changes to residency requirements or visa conditions may deter potential migrants, widening the uncertainty around the outlook for net migration. Large revisions between the most recent releases of Stats NZ's new official measure of net migration also make the outlook uncertain.