National Caucus reshuffle: Paul Goldsmith to replace Amy Adams as Finance Spokesperson; Overtakes Judith Collins on the list, taking her infrastructure portfolio with him; Questions raised over Todd Muller being kept low on the list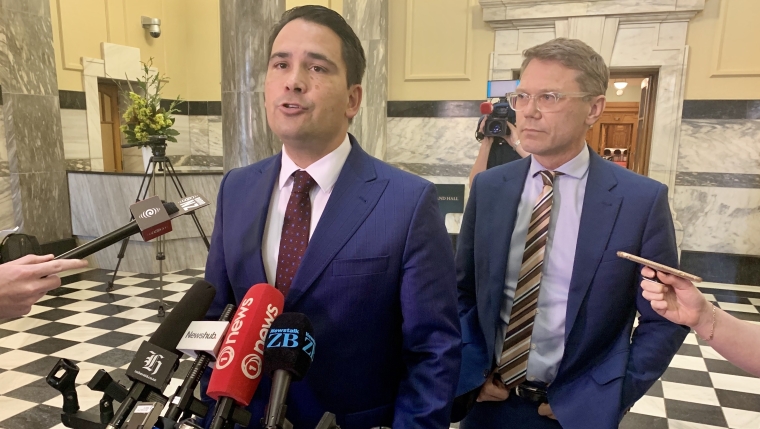 National Leader Simon Bridges has pulled Paul Goldsmith up the party's list ahead of Judith Collins, as he's reshuffled the party's caucus.
Goldsmith has been promoted from seventh to third, overtaking Collins who remained at fourth.
He was given Amy Adams' finance portfolio, further to her announcing she'd retire at the 2020 election, and snatched Collins' infrastructure role.
Bridges, who was accompanied by Goldsmith at a media conference on the reshuffle, said Goldsmith was among the party's "proven performers".
He denied the change was a demotion for Collins, arguing finance and infrastructure went hand-in-hand with each other.
Collins kept her housing and urban development and planning roles, which will see her continue to go head-to-head with Housing and Urban Development Minister Phil Twyford.
A move to the right?
Goldsmith, who is known to have relatively liberal economic views, responded to a question about whether his new roles would see National shift its policy to the right, saying: "We've always been focussed on ensuring… we only take what we need and we spend the money effectively.
"It's not just about announcing that we spend lots of money, it's the quality of the delivery that's important."
He took a much more hand-off approach, when Commerce and Consumer Affairs Minister, towards regulating banks and insurers, addressing competition issues, and cracking down on third-tier lenders, compared to his Labour successor Kris Faafoi.
Goldsmith dodged answering a question about which economists he regarded as important, saying he admired the work Bill English did as Finance Minister.
He didn't initially want to comment on what he thought of deposit protection insurance, but following a bit of a push, said the "broad issue" made sense, but the details would need to be looked at further. For example, how non-banks are handled and how you prevent a moral hazard where people take on more risk.
Bridges denied Goldsmith's promotion was a "sweetener" ahead of National getting him to ask those in his Epsom electorate to vote for Act's David Seymour again.
Goldsmith's transport and regional development roles were passed on to Chris Bishop, and his economic development role to Todd McClay.
Bridges made special mention of Bishop - the MP for Hutt South - who'd proven himself as National's police spokesperson, and risen from 34th to 16th on the list.
'A natural party for talent'
As for Todd Muller, the former Zespri, Apata and Fonterra executive from the Bay of Plenty touted by some to be future leader material, he remained at 31 on the list.
Muller retained his climate portfolio, which has seen him work closely with Climate Change Minister James Shaw on the Zero Carbon Bill, and was also given forestry.
Asked whether he'd kept Muller low on the list because he saw him as a rival, or because he didn't regard climate issues very highly, Bridges pointed to others in similar positions who had been given additional responsibilities.
He said this was a "vote of confidence" in them.
Bridges also mentioned outgoing Air New Zealand CEO Christopher Luxon (who's expressed interest in joining National) on his own volition, saying National was a "natural party for talent".  
Elsewhere in the party's top 10, there was little movement.
Paula Bennett remained at number two, Todd McClay at five and Mark Mitchell six. Adams' departure saw Nikki Kaye, Gerry Brownlee, Nathan Guy and Michael Woodhouse each bumped up a spot to seventh, eight, ninth and tenth respectively. There was some additional portfolio switching.
Prime Minister Jacinda Ardern is expected to announce what she's described as a "minor" Cabinet reshuffle on Thursday.
While Housing and Urban Development and Transport Minister Phil Twyford is expected to be in the firing line, Ardern has in recent days come to Twyford's defence, pointing out how much of a tough task it is solving the country's housing problems.