Minister for Trade and Export Growth David Parker unveils government plan to boost productivity including ideas borrowed from Singapore. National offers alternative plan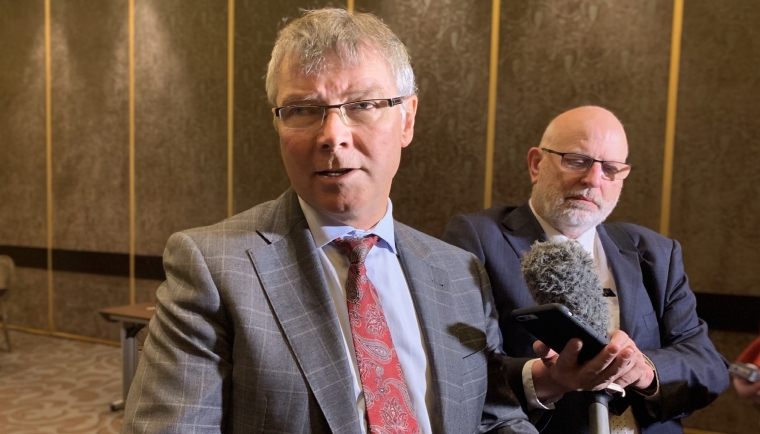 David Parker, Minister for Trade and Export Growth and Acting Minister for Economic Development, has outlined the government's plans to boost New Zealand's lagging productivity.
And the country's agritech sector looks set to play an important part in it.
Parker released a report by the Ministry for Business, Innovation and Employment (MBIE) on Tuesday titled: From the Knowledge Wave to the Digital Age: Growing Innovative Industries in New Zealand which sets out the Government's proposal.
Central to the Government's plan to boost productivity are sector-led Industry Transformation Plans, which Parker says were copied from Singapore.
Each plan will be unique to the particular industry it covers, but will set out an agreed vision for the future state of the sector and outline the actions required to realise it, including investment, innovation and skills development.
"Boosting productivity, including redirecting investment towards more productive sectors, is crucial if New Zealand is to lift the standard of living of all Kiwis, and this will be a key initiative for achieving this," Parker says.
The key industries that will be the focus of the Industry Transformation Plans are agritech, digital technologies, food and beverage and forestry and wood processing. But MBIE says overtime it could extended to cover other industries.  
"The agritech sector has been chosen as a key focus because it brings together two of New Zealand's key competitive advantages – our expertise in agriculture and horticulture with our well-educated workforce," Parker says.
"New Zealand has a strong economic foundation with low unemployment, government surpluses and low inflation but our productivity is lagging. Sustainably boosting productivity – creating more from our resources while staying within environmental limits – is key to raise the living standards of all New Zealanders."
Parker says New Zealand needs to move from volume to value in sectors like agriculture.
The MBIE report says while we have stable economic growth, low unemployment and a strong regulatory environment, our productivity has been lacking for a number of years and we have continued to fall behind our main competitors.
"Our economic growth has been too dependent on high levels of net migration and house price inflation driving consumption and demand for extra infrastructure.
"Too much of our capital has been skewed towards speculative asset classes, like rental properties, rather than investment in growing new points of competitive advantage. The Productivity Commission notes that these factors have contributed to low capital intensity in our productive sectors – put simply, there has not been enough money invested in our productive enterprises.
"Technology transfer and resource allocation is poor and our exports remain focused on low-complexity products. While some progress has been made in diversification, our exports remain focused on too few products and too few markets."
The report says the Government has taken a number of steps to direct investment into the productive sector and away from speculation in property, this includes the introduction of a 15% R&D tax credit, ring-fencing losses from property rental portfolios, extending the bright line test from two to five years, and banning foreign buyers of existing New Zealand homes.
It says New Zealand is facing new challenges and opportunities due to technology. The nature of work is being profoundly affected by artificial intelligence and automation, but this is also creating opportunities for businesses who innovate and develop their businesses using such technology.
"Many applications of technology have global reach and are highly valuable. Globalisation and digitisation are both reducing the tyranny of distance, but paradoxically, they are increasing reward for scale, as the capital required to expand new digital goods and services into global markets can favour larger economies with deeper pools of capital."
'The higher the productivity of a country, the higher the living standards'
According to the Productivity Commission the reason we need to lift our productivity is pretty straight forward.
"Generally speaking, the higher the productivity of a country, the higher the living standards that it can afford and the more options it has to choose from to improve wellbeing. Wellbeing can be increased by things like quality healthcare and education; excellent roads and other infrastructure; safer communities; stronger support for people who need it; and improved environmental standards."
It says New Zealand used to have some of the highest living standards in the world, but it has slipped in more recent decades.
"Our productivity is now much higher than it was, but has not increased as quickly as other countries and our income growth has been slower. As a result, we collectively have fewer options for improving wellbeing than if New Zealand had performed better.
"The lag in relative productivity matters a lot over time. About 700,000 New Zealanders now choose to live abroad for the living standards and options offered in other countries (such as wider employment choices, higher incomes or better quality social services).
"With New Zealanders already among the hardest working people in the OECD in terms of hours worked, improving productivity is the most likely way of achieving higher incomes. Even small increases in productivity growth, if sustained, can have a big impact on income and wellbeing."
National's alternative plan
National Party Economic Development, Trade and Tourism Spokesperson Todd McClay says the government proposals do nothing to address the causes of a slowing economy and reducing productivity.
"To drive innovation and productivity, the Government needs to address the problems caused by their own anti-growth policies and create certainty for the business sector. Policies that restrict foreign investment, ban industries from operating, make our labour market less flexible and put a handbrake on our economy need urgent attention. For instance the horticulture and agriculture sectors need skilled and unskilled labour now to get their products to overseas markets. The New Zealand economy cannot afford to wait decades for technological advancements, it needs real and actual solutions from the government urgently," McClay says. 
"In contrast, National has proposed an ambitious plan to grow our export market through new trade deals and targets in our International Affairs Discussion Document. We proposed a new agritech fund to boost technology in the primary sector in our Primary Industries Discussion Document. National has committed to indexing tax brackets with the cost of living, ensuring that Kiwis are no longer taxed by stealth."
 "National will also be releasing our Economic Discussion Document later this year which will propose a range of ideas to continue to boost productivity, add jobs, and grow our economy. These are the kind of ideas that help to grow our economy, support our innovators, and ensure that Kiwis can keep more of what they earn," McClay says.