Government rebukes China on reports of Chinese officials pressuring AUT to scrap a Tiananmen Square commemoration and condemning Hong Kong democracy protestors at Auckland University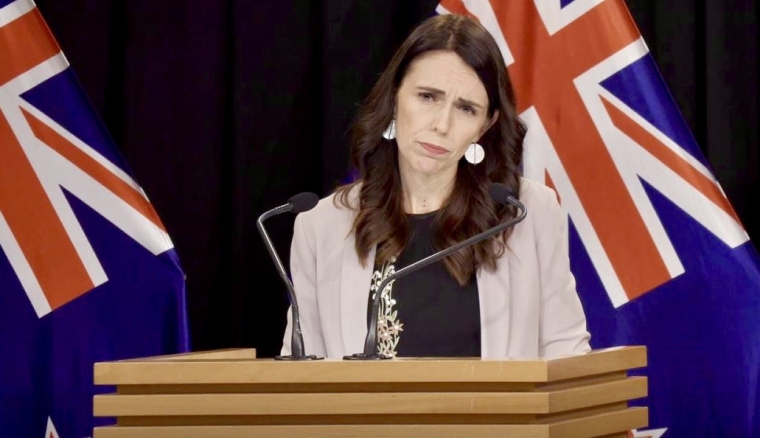 Prime Minister Jacinda Ardern has confirmed the Government has raised its concerns with China over freedom of speech being impeded at New Zealand universities.
Having previously been quiet on the matter, she has revealed the Ministry of Foreign Affairs and Trade (MFAT) on Monday reiterated to Chinese officials New Zealand's "expectations" around upholding freedom of expression.  
MFAT specifically raised its concerns over China's Consul-General in Auckland last week issuing a statement condemning Hong Kong democracy protests at Auckland University and praising students who confronted protesters for their "spontaneous patriotism".
MFAT's move also followed Newsroom's Laura Walters last week revealing Auckland University of Technology (AUT) cancelled a Tiananmen Square anniversary commemoration event on the Chinese Consul General in Auckland's request.
Ardern on Tuesday said freedom of speech was something New Zealand guarded.  
"That is part of who we are. And I think it is important that for those who may take a different view, we are very clear about our expectations," she said, also noting how this was something enshrined in law.
MFAT wouldn't elaborate on the Prime Minister's comments. Nor would it provide more information on the discussions had between officials.
When asked at a post-Cabinet press conference on Monday about the incidents at Auckland universities, Ardern didn't mention MFAT's correspondence.
As previously reported by interest.co.nz, she was at pains not to specifically single out, let alone rebuke, China.
"Of course, for us as a general principle, academic freedom is very important. And my expectation would be that individual institutions will continue to uphold that, and make decisions without interference from foreign entities or from government," Ardern said on Monday.
"I'll bring this issue back generally to foreign interference... I won't speak to any specific examples, because I haven't had in recent times placed in front of me. I have heard accusations raised in the past by the likes of, for instance, Professor Anne Marie Brady.
"But more generally around issues of interference, of course, we have not taken a country-specific approach. We should be live to this issue generally.
"And that should include in our electoral system... That's an area where we of course keep an ongoing brief on whether or not our legislative framework's fit for purpose."
Quizzed on the matter on Tuesday, Deputy Prime Minister and Foreign Affairs Minister Winston Peters likewise spoke in general terms.
But just as he left the media scrum, he said: "Running around and shouting from the rooftops isn't our style. We tell them quietly."
Before making this comment, Peters said: "Since 1854, anyone dealing with this country… knows that we stand for freedom of speech and we expect people to respect that - no matter where they come from."
Asked whether he would be making this explicit to the Chinese Government, he again remained cautious: "I made it very explicit to everybody who's dealing with New Zealand, that freedom of speech is what we stand for and we expect them to respect that…
"No matter where you come from, whoever you are, no matter how big or small you - we expect you to respect that."
ACT leader David Seymour on Monday raised his concerns in a letter to the Chinese Consul-General. 
He pointed out how the incident at AUT followed reported attempts by the Consulate General to last year stop a documentary critical of the Confucius Institute from being aired at universities.
Seymour also said it was "deeply concerning" the Consulate General publicly praised the students who "assaulted" a peaceful protestor.
"The Consulate General's comments encouraged disruptive and violent behaviour which undermines authorities upholding the rule of law here in New Zealand, and therefore our internal affairs," he said.
"I am interested to learn why the Consulate appears to be so blasé about interfering in New Zealand's internal affairs. I wonder if this results from a misunderstanding of diplomatic conventions, or a belief that the PRC is not required to respect those conventions in New Zealand for some reason?"
Emails released to Newsroom under the Official Information Act show AUT Vice Chancellor Derek McCormack responded to the Chinese Consul General's concerns over the Tiananmen Square commemoration event by saying it wasn't a university event, and a staff member had booked a building on campus through the incorrect process.
Yet he added: "Nevertheless, I would like to take this opportunity to re-affirm that not only in the University, where academic freedom is taken very seriously, but also in New Zealand at large, freedom of speech and assembly are held as core democratic principles and fundamental values of our society."
As for the incident at Auckland University, a video uploaded to You Tube shows a stand-off between students over Hong Kong ending with someone being shoved.
Australian universities are grappling with similar issues.
China remains New Zealand's largest export market. Negotiations to upgrade the New Zealand-China Free Trade Agreement are underway.