Finance Minister Grant Robertson says government's strong financial position provides 'the space for further opportunities to strengthen our economy as is necessary'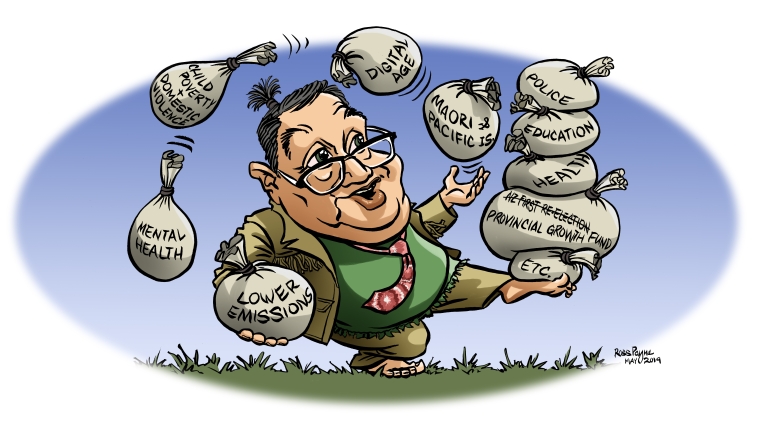 The Government has reported a $7.5 billion annual surplus with Finance Minister Grant Robertson saying this provides the space for further opportunities to strengthen the economy as is necessary.
The operating balance before gains and losses (OBEGAL) came in at a surplus of $7.5 billion, an increase of $2 billion from 2017/18. This is $4 billion ahead of the OBEGAL position forecast at the time of May's Budget, and the biggest surplus since 2008. However Robertson says the big increase on the forecast is largely due to one-off factors that are not expected to continue, including $2.6 billion from the revaluation of rail assets.
Core Crown tax revenue of $86.5 billion was $6.2 billion, or 8%, more than last year and was $1.8 billion higher than the Budget 2019 forecast. Core Crown expenses were $6.4 billion higher than last year, but $300 million less than Budget 2019 forecast.
According to Treasury the increase in core Crown tax revenue was primarily due to more people in employment, increases in average wages, additional domestic spending, and higher corporate and individual profits. Additionally the Inland Revenue Department's recent transition to the new Simplified Tax and Revenue Technology (START) system used to calculate tax revenue was also a factor. Treasury says START has improved the way tax revenue is recognised as estimates are based on the most recently-available data for each individual and corporate taxpayer. The previous process relied on the forecast of provisional tax revenue.
"This change in process has resulted in bringing forward the recognition of some tax revenue for the 2018/19 year [although] cash has not changed," Treasury says.
Total Crown other revenue was $32.8 billion, an increase of $3.1 billion. Other revenue includes fees and levies such as ACC levies, revenue from operations of Crown entities and State Owned Enterprises, interest revenue and dividend revenue.
Total Crown expenses increased $7.4 billion, or 7%, year-on-year to $111.4 billion. A core Crown expenses increase of $6.4 billion is the largest year-on-year increase since 2011, with the expenditure, as a share of the economy higher than the previous year at 29% of GDP.
"The largest drivers of growth in core Crown expenditure were the Government's 100-Day Plan, Budget 2018 and Budget 2019 decisions. On announcement, the combination of these decisions were expected to increase core Crown expenses, by around $4.7 billion in 2018/19," Treasury says.
Net debt up $200 million
Net core Crown debt came in at $57.7 billion, $0.2 billion higher than for 2017/18. In GDP terms, net core Crown debt fell from 19.9% in 2017/18 to 19.2% this year.
"All together these accounts represent a sound and resilient position, as recognised by international observers and ratings agencies. As a country we are well positioned to deal with a slowing global economy in the tail end of the economic cycle. The government will deliver our investments to deal with the long-standing issues in our economy and society. We are delivering new infrastructure investment, lifting productivity, mitigating and adapting to climate change, improving child wellbeing and addressing the other social deficits this Government inherited," says Robertson.
"Our strong position gives us the space for further opportunities to strengthen our economy as is necessary," Robertson adds.
In contrast National Party Economic Development spokesperson Todd McClay says Robertson's "fat pockets have come at the expense of hard-working New Zealanders who have been taxed to the eyeballs." McClay says National would index tax thresholds to inflation so "New Zealanders aren't taxed more by stealth every year because of the rising cost of living."
NZTA facing $352 mln lawsuit
The Crown accounts also reveal that the New Zealand Transport Agency (NZTA) received a legal claim for $352 million from the Wellington Gateway Partnership in relation to the $850 million Transmission Gully motorway public-private partnership in February. The claim stems from delays in work starting on the project, with $352 million representing this claim and other contractual disputes.
The Wellington Gateway Partnership is the consortium chosen by NZTA in 2013 to deliver the Transmission Gully project. It's led by Leighton Contractors Pty Ltd, and also includes HEB Construction Ltd, InfraRed Infrastructure General Partner Ltd,  The Bank of Tokyo–Mitsubishi UFJ, Ltd, and the Accident Compensation Corporation. Transmission Gully is the the first state highway project in New Zealand being built as a public-private partnership.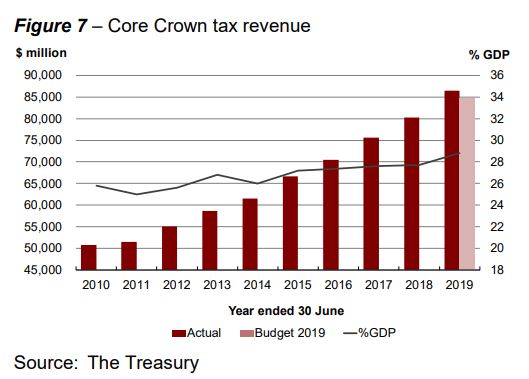 Here's Robertson's full statement. And here are the June year financial statements from Treasury.   
A strong surplus and low debt show the economy is performing well, and means the Government is in a good position to meet the challenges of global economic uncertainty.

"The surplus and low levels of debt show the economy is in good shape. This allows the Government to spend more on infrastructure and make record investments in health and education," Grant Robertson says.

The Crown accounts for the year to June 2019 show a $7.5 billion surplus. This is due to the stronger economy, and also includes a number of one-off factors including revaluation of the country's rail assets.

Net debt has fallen further to sit at 19.2% of GDP, down from 19.9% a year ago and below the 20% target in the Budget Responsibility Rules.

Corporate profits, employment and wage growth were higher than expected in the May Budget. This contributed to tax revenue coming in 2.1% above forecast.

"The results show businesses are investing, employing more workers and paying higher wages, while at the same time reporting stronger profits," Grant Robertson says. 

"This is a timely reminder that the underlying fundamentals of the New Zealand economy are solid. We are growing faster than the likes of Australia, the UK, Canada and the EU, which is being recognised by international investors and agencies like the IMF and Moody's.

"It's important that we don't talk ourselves into a downturn just because it suits some people's negative narrative. Unemployment, interest rates and Government debt are all low, giving the economy a solid platform to keep growing and face any global headwinds."

The accounts show the Coalition Government continues to increase investment in areas that were neglected by the previous Government. Capital investment, including in new hospital buildings, classrooms, roads and rail and the Super Fund was up 13.7% over the year.

"New Zealand is well positioned for this point in the economic cycle and any global shocks that may come our way. Fiscal policy has a part to play alongside monetary policy as we manage these challenging global economic conditions. At Budget 2019, we increased infrastructure investment and boosted spending in key areas like health, education and research and development.

"Our strong position gives us the space for further opportunities to strengthen our economy as is necessary," Grant Robertson says.

"The accounts show that we have the balance right. We are tackling long-term challenges by investing in hospitals, schools and transport infrastructure while managing the books responsibly. We are making our economy stronger to make sure we remain resilient and have room to move to support New Zealand through any further challenges ahead."
And here's a statement from National Party Economic Development spokesman Todd McClay
The Finance Minister's fat pockets have come at the expense of hard-working New Zealanders who have been taxed to the eyeballs by this Government, National's Economic Development spokesperson Todd McClay says.

"The Government should be looking to stimulate the economy by letting New Zealanders keep more of what they earn.

"Instead, it has piled on more and more taxes to the point where Grant Robertson is sitting on a big surplus while those living outside Wellington's beltway struggle with rising living costs.

"One of the reasons debt is lower than forecast is because the Government is failing to invest in the infrastructure New Zealand needs.

"It has cancelled or delayed a dozen major new roading projects right across the country and replaced them with projects that weren't ready, and won't be ready for some time yet.

"Meanwhile, the Government has been piling on taxes. It has legislated to milk an extra $1.7 billion from motorists through fuel tax hikes and extra GST, while its misguided housing policies have pushed up rents and burdened landlords with extra costs and regulation.

"National legislated for tax relief that would have put more than $1000 a year extra into the back pockets of New Zealanders. This Government cancelled that.

"We will index tax thresholds to inflation so that New Zealanders aren't taxed more by stealth every year because of the rising cost of living."