Govt to announce commercial property sector support this week; Banks nearly ready to write taxpayer-backed business loans; Treasury says 'bespoke' support for big business could involve debt, equity or regulatory relief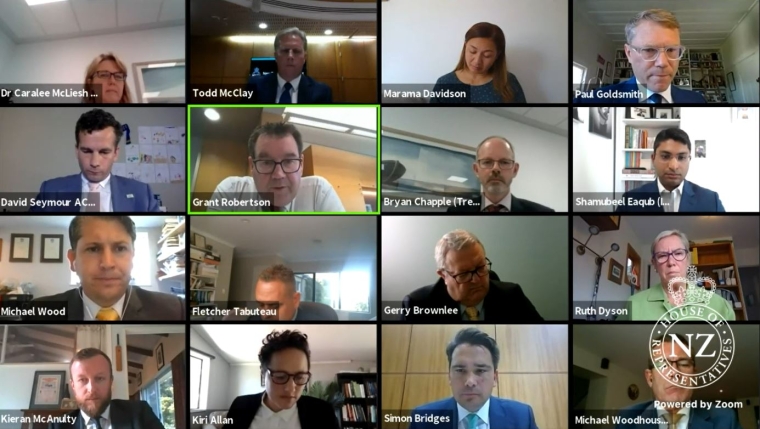 Finance Minister Grant Robertson says help is on its way for both the commercial property sector and large businesses affected by COVID-19.
Appearing remotely before the Epidemic Response Committee, chaired by National leader Simon Bridges, Robertson said he will have "something to say" on a "package" supporting the commercial property sector in coming days.
Speaking at a press conference later in the day, Robertson said he was looking at ensuring relief was consistent with that provided to residential tenants. Landlords of residential property have been banned from increasing rents in the next six months and tenants can't be evicted during the lock-down period.
Robertson said it was important commercial tenants that will remain in business after this crisis period to be supported.
"What we want to do is make sure there is nothing in the way of the good arrangements that are being made between landlords and tenants," Robertson said.
"But where we're seeing gaps, we want to be able to address that."
Robertson said he'd be talking to the Property Council, which represents a number of large commercial property investors and landlords, as well as others in the sector.
The Council last week voiced its concerns over some tenants not paying rent, which is putting pressure on landlords, particularly as they need to keep meeting their mortgage obligations.
It argued the Government's decision to allow building depreciation as a tax deductible expense didn't go far enough to "bridge the gap in what is becoming a crisis of cash flow for many property owners".
ACT leader David Seymour told the Epidemic Response Committee: "Between the tenants, the landlords and the banks, the buck has to stop somewhere. There is all sorts of confusion out there…
"There are different people making totally different arrangements based on where the buck is stopping, and it would be terrible for the Government to come in with a major intervention in a week's time that undercuts a lot of people who have done the right thing, such as cutting a 50-50 deal.
"You need to be really clear and do so early."
Robertson responded: "Our first best response has to be people making pragmatic arrangements with one another… Where people have been able to make those arrangements, it's important that they are supported. I agree with that.
"Having said that, not everybody is playing nice. So therefore, we're very aware of the issues you're raising."
Support for big business could involve debt, equity, asset acquisitions, regulatory changes
In terms of specific support for large, complex businesses, Treasury Chief Executive and Secretary Caralee McLiesh told the committee a team of commercial experts is being established to provide "bespoke" assistance.
She said debt, equity, asset acquisitions, and policy and regulatory changes were the tools Treasury was considering using to support these businesses.
The type of support provided will "depend entirely on the individual circumstances of the business", McLiesh said.
Wage subsidy payments to surpass $5 billion mark
Robertson noted large businesses are also eligible for the wage subsidy scheme, now that the $150,000 per firm cap has been lifted.
Bridges questioned whether the subsidy level could be increased to avoid firms laying off staff that get paid much more than the subsidy ($585.80/week for full-timers).
Robertson reiterated the scheme was subject to change, and said the level had been pegged to paid parental leave, which is likewise aimed at keeping people employed.
Robertson expected the amount of wage subsidies paid to surpass the $5 billion mark on Wednesday.
He couldn't provide Bridges with detailed information around subsidy decline/acceptance rates and which types of the businesses the subsidy was going to.
Robertson also reiterated "design work" was underway around additional income support, noting that many more New Zealanders will need to use the welfare system. He acknowledged the precarious positions people were in as their situations changed with alert levels.
Banks nearly ready to implement Business Finance Guarantee Scheme
Robertson expected banks would this week be ready to start receiving inquiries from businesses seeking loans that could in-part be underwritten by taxpayers.
The Government has agreed to underwrite 80% of individual bank loans to eligible firms with turnovers of between $250,000 and $80 million per annum.
In the event of a loan default, 80% of the loss will be borne by the Government/taxpayers and 20% by the bank. The Government will only underwrite loans of up to $500,000. Loans will be written accordingly to banks' lending criteria.
The aim of this $6.25 billion package is to encourage banks to keep lending.
Epidemic Response Committee (1 April 2020) | NZ Parliament from New Zealand Parliament on Vimeo.