Climate Change Commission chairman Rod Carr sees opportunity to have a good think about what sort of tourism sector we want, raises idea of running it like one big national park
By Gareth Vaughan
The impact of the COVID-19 pandemic offers an opportunity to look at what type of tourism industry New Zealand really wants with the potential for the sector to operate like one big national park, Climate Change Commission Chairman Rod Carr says.
Due to the lockdown and demise of international travel, the tourism industry is dormant.
In an interview with interest.co.nz Carr points to the December report from Simon Upton, the Parliamentary Commissioner for the Environment, on the environmental consequences of tourism.
"The Parliamentary Commissioner for the Environment made the observation that we couldn't continue to simply do more of what we were doing in tourism, that we were degrading the experience of the international visitors, we were creating significant impacts on local provincial and rural communities as a result of the infrastructure strain ... and was really sounding the alarm that we could not go on simply doing what we were doing. Let alone doing more of it the same way," Carr says.
"The setback that we have now had gives us a very significant opportunity to think precisely [about] what kind of tourism sector do we want in New Zealand. And maybe we should be running it more along the lines of one large national park where we do actually sell licences for people to come and tour New Zealand and control admission at the gate, rather than all comers at any price able to go anywhere to do anything that they might choose to do." 
"I think we'll find that domestic tourism does build back a little, but it's not going to replace the four million international tourists a year that were coming into New Zealand. I hope that sooner rather than later we will form a bubble with our near neighbour to the west, Australia, and that that will provide stimulus for both sides of the Tasman's tourist industry," says Carr.
However he says we're going to have to think again "pretty hard" about tourism's environmental footprint, and the emissions associated with bringing tourists to NZ from all over the world.
"I think there are opportunities for research and development in the medium-term for short haul electric flight. [But] that certainly doesn't appear to address the long haul issues and challenges."
"There is certainly a lot of research and some potential in biofuels. But here we have the challenge of the now substantially lower oil price, which makes the gap between the cost of biofuels and fossil fuels even higher. We need to put an appropriate price on those emissions. And certainly the international airline industry has got a stream of work around how emissions from airlines might be first measured, then managed and ultimately reduced," adds Carr.
According to Tourism NZ in the March 2019 year, total tourism expenditure was $41 billion, with international tourism expenditure at $17.2 billion contributing 20.4% to NZ's total exports of goods and services. Additionally, Tourism NZ says tourism generated a direct contribution to gross domestic product (GDP) of $16.2 billion, or 5.8%.
"Tourism is our biggest export industry, contributing 21% of foreign exchange earnings. The indirect value added of industries supporting tourism generated an additional $11.2 billion, or 4% of GDP," Tourism NZ says.
Also for the March 2019 year, 229,566 people were directly employed in tourism, which according to Tourism NZ was 8.4% of the total number of people employed in NZ. And tourists generated $3.8 billion in goods and services tax (GST) revenue, with $1.8 billion coming from international tourists.
The Climate Change Commission is a Crown entity established under the Climate Change Response (Zero Carbon) Amendment Act to provide independent, evidence-based advice to government to help NZ "transition to a low-emissions and climate-resilient economy." It's also tasked with monitoring and reviewing the Government's progress towards emissions reduction and adaptation goals.
Carr recently sent a letter to Minister for Climate Change James Shaw, copying in other ministers including Finance Minister Grant Robertson. In it he encouraged the Government to "put a climate change lens" across the measures chosen to help drive an economic recovery. The letter offers six principles for the Government to follow, which are listed at the foot of this article.
Oil price collapse 'very unhelpful'
Carr says the collapse in the oil price does not help the cause of shifting away from fossil fuels given it makes alternative technologies powered by different fuels less commercially attractive.
At the time of writing West Texas Intermediate was at just US$10.89 a barrel, and Brent crude at US$16.51 a barrel. Both started the year above US$60 a barrel.  
"It is very unhelpful that the oil price has effectively collapsed because alternative technologies essentially were becoming commercially attractive when oil was priced at $45 to $65 a barrel," says Carr.
The second principle in Carr's letter to Shaw is 'bring forward transformational climate change investments that need to happen anyway.' On this Carr says electrification is a significant opportunity for NZ to reduce its emissions, as long as the electrification is powered by renewable energy sources.
"There's not much point converting everybody to electric vehicles and then firing up the coal fired power stations to provide the electricity. So the investments that need to be made in New Zealand are a significant investment to increase our renewable energy production, a significant investment to upgrade essentially the way we move the energy from where it is produced to where it is used and that's every step of the chain, whether it's the high voltage transmission lines, the local distribution, it's the recharging points for an EV fleet," Carr says.
"So it's not just about buying the cars. It's a matter of making sure the renewable generation is in place, the distribution of that energy is in place, and then the technologies that people have to choose from are reliable and competitively priced." 
"I think that whole chain then leads you to want to both discourage the importation of new high emitting vehicles, as well as encourage the adoption of low or zero emitting vehicles, so hybrids and EVs are part of a new suite of vehicles. In that process then we will reduce a very significant part of our non-agricultural emissions," says Carr.
He also sees the current situation as potentially offering an opportunity to increase petrol tax.
"Maybe there is the opportunity for the Government to take some additional taxes from oil as part of stabilising the oil price for New Zealand consumers and using some of that revenue to support New Zealand households to get energy efficiency, either in their household use or in their motor vehicle use," Carr says.
Asked if increasing petrol tax during a recession and in an election year would be a brave call from a government, Carr suggests it would depend on what the revenue raised was used for.
"Sure, tax increases are never favoured at any point in the economic cycle. But at the moment many people haven't even benefited from the lower oil price because we haven't been driving anywhere. So it hasn't been baked into household spending plans," says Carr  
"We are going to have to make some hard choices here to incentivise switching fast from high emitting technologies whether it's the coal fired boiler, whether it's the coal used to dry milk powder for export, whether it's your and my choice about our home heating system, or whether it's how much we pay for our transport. There are no easy, simple silver bullets for the transformation to meet the inevitable impacts of climate change."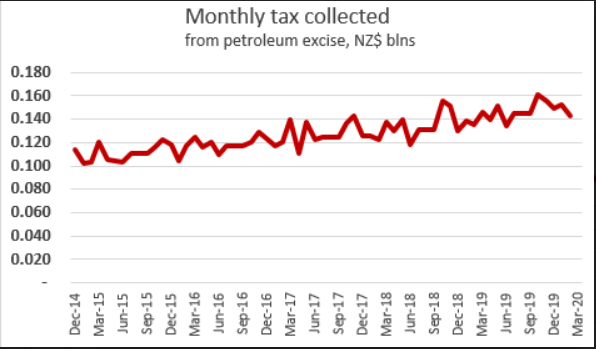 Another opportunity Carr sees is becoming more efficient in how we heat our homes.
"If we can be more efficient in how we heat our homes, then we will have more electricity left over and less fossil fuel polluting by households. So the electrification will require less new infrastructure than it might otherwise have needed. So, for example, home insulation which is a programme of work already well supported, is a widely distributed employment opportunity for appropriately trained and supervised people that has health benefits for homeowners, that has energy efficiency and cost savings for homeowners, and that would be a sensible type of programme for the Government to consider investing in as part of its economic stimulus with an eye to the long-term future of New Zealand," Carr says.
'Agriculture's best strength is in its diversity'
But what about agriculture, key export earner but also the elephant in the room when it comes to greenhouse gas emissions? Farmers last year convinced the Government to give them a chance to come up with a way of pricing agricultural emissions at a farm level by 2025, to avoid being brought into the Emissions Trading Scheme.
Data released by the Ministry for the Environment last week shows the agriculture and energy sectors were the two largest contributors to greenhouse gas emissions in 2018 at 48% and 41%, respectively. Increases in emissions from dairy cattle and road transport are the biggest contributors to the growth in emissions since 1990. NZ's gross greenhouse gas emissions in 2018 were 78.9 million tonnes of carbon dioxide equivalent, a 24% increase since 1990.
"I think the starting point is to acknowledge that the agriculture sector in New Zealand is not only significant, but has also shown over 100 years to be quite flexible and responsive and its best strength is in its diversity," says Carr.
"So we have seen in the last 20 years a very substantial investment in dairying. That has resulted in emissions and a footprint for dairying that has not been as carefully managed as we now know and understand it needs to be. But I have every confidence that the sector is aware of that and is investing in developing talent to manage their emissions and reduce them per unit of output." 
"You're absolutely right to observe that the world is hungry and needs access to affordable food and that New Zealand has a capacity to produce that food for the world. So choking off our agriculture sector is not in the world's interest and neither is it in New Zealand's interests. On the other hand it is important  that we make progress in doing the science, running the development and ultimately deploying technologies in agriculture that will reduce emissions per unit of output. If we can do that we will be playing our part in addressing climate change," says Carr.
According to the Ministry for the Environment, NZ's 2018 greenhouse gas emissions consisted of 44% carbon dioxide, 43% methane, 10% nitrous oxide and 2% fluorinated gases. 
The six principles listed in the Climate Change Commission's letter to Shaw are:
Consider how stimulus investments can deliver long-term climate benefits;
Bring forward transformational climate change investments that need to happen anyway;
Prepare our workforce for the jobs of tomorrow;
Work in partnership with iwi;
Maintain incentives to reduce emissions and adapt to climate change. And;
Change how we measure the success of economic recovery.
Carr is the former vice chancellor of the University of Canterbury and former deputy governor and chairman of the Reserve Bank. He's also an independent director of ASB, and former managing director of Jade Software. He has a PhD in insurance and risk management.
---
*This is the fifth interview in a series looking at reactions to and potential policy responses to the coronavirus pandemic and evolving economic downturn. 
The first interview, with staunch critic of the economic mainstream Steve Keen, is here. The second interview, with director at economic advisory firm Landfall Strategy Group David Skilling, is here. The third interview, with Motu and Victoria University's Arthur Grimes, is here. And the fourth interview, with Patrick Watson, senor economic analyst at Mauldin Economics, is here.
*This article was first published in our email for paying subscribers. See here for more details and how to subscribe.