Full results of the ANZ Business Outlook for the month of April paint a grim picture - but not as grim as the preliminary results of the same survey released earlier in the month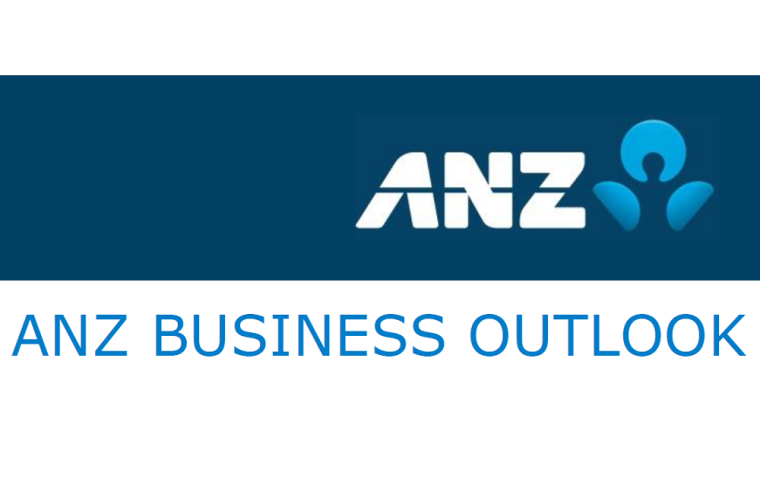 Businesses stepped back from the cliff - a little - as the month of April progressed.
The final results of ANZ's Business Outlook survey for April are indeed grim, but not as unremittingly bleak as the preliminary results of the same survey that were released on April 8.
However, there's some very bleak news around construction - particularly residential construction, which was not included in the preliminary results as the sample size had been too small.
Confidence, particularly in residential construction, plummeted from the already not great levels in March.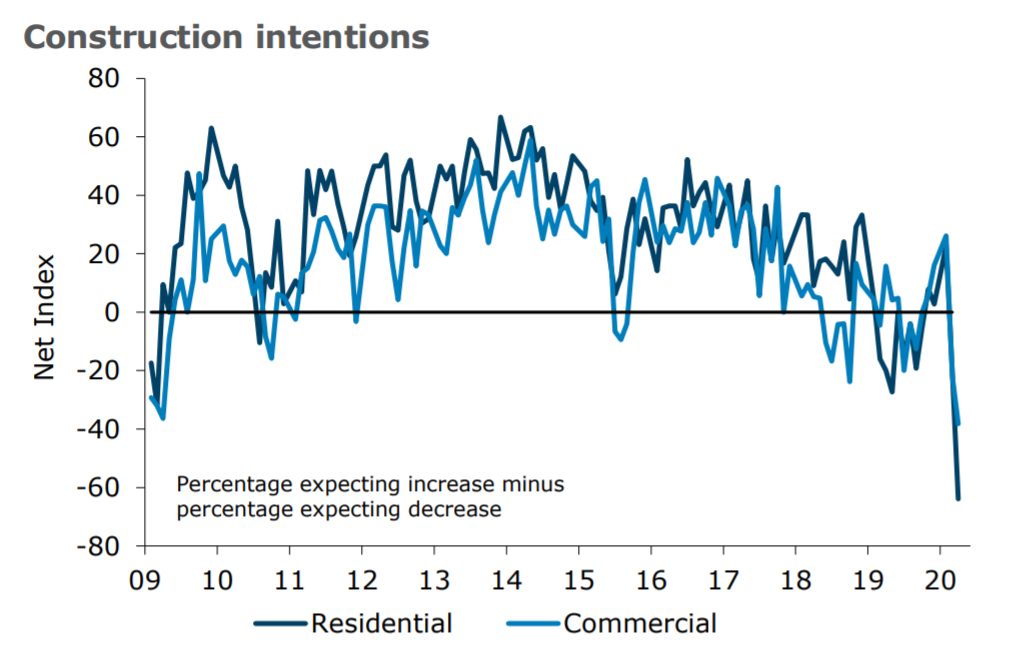 Here's some of the highlights:
Compared to March, April headline business confidence fell a further 3 points to -67%, but this was a small improvement versus the preliminary April read of -73%. A net 55% of firms expect weaker activity for their own business, awfully weak, but again, higher than the preliminary April data (-61%).
Retail sector own activity is the weakest at -67%, with construction at -58%.
Expected profitability, investment and employment intentions, while all deeply negative, saw small bounces from early April. A net 51% of firms intend to lay off staff, with remarkably even results across sectors.
Inflation expectations also bounced to 1.46%, still well short of the 2% target midpoint but an improvement on the 1.28% level in the preliminary data.
ANZ chief economist Sharon Zollner said while the full-month April was, while still dire, a slight improvement on the preliminary early-April results.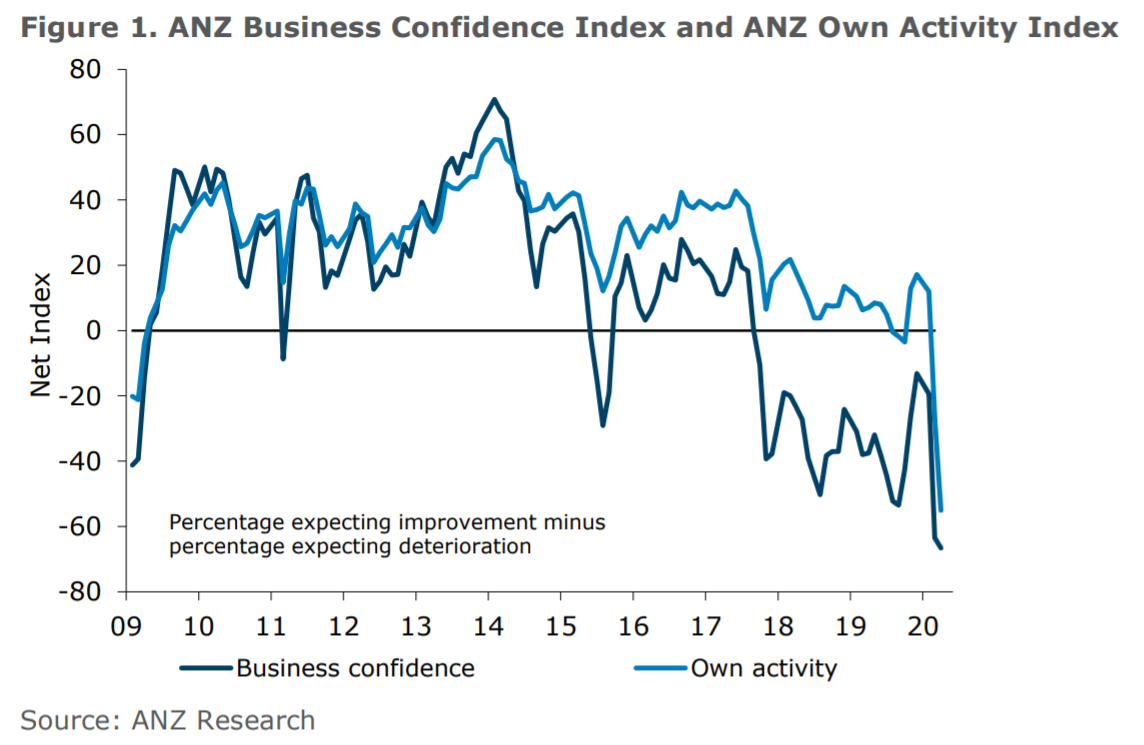 "A glimmer of light at the end of the tunnel emerged over the month, with the country making solid progress in its Covid-19 battle."
But she said there was also a technical element to the lift.
"Given the questions are typically whether things will go up, down or sideways, for the roughly one third of the economy that couldn't operate at all under Level 4 lockdown, 'down' wasn't an option, for activity levels at least."
About two thirds of responses were included in our preliminary release on 8 April.
The first sample group scored -73% for business confidence; the second sample reported -58%. Similarly, a net 61% of firms who responded early in the month expected weaker activity ahead for their own firm; a net 47% of the later sample did.
"At least the data have found a floor, albeit a damp, cold basement," Zollner said.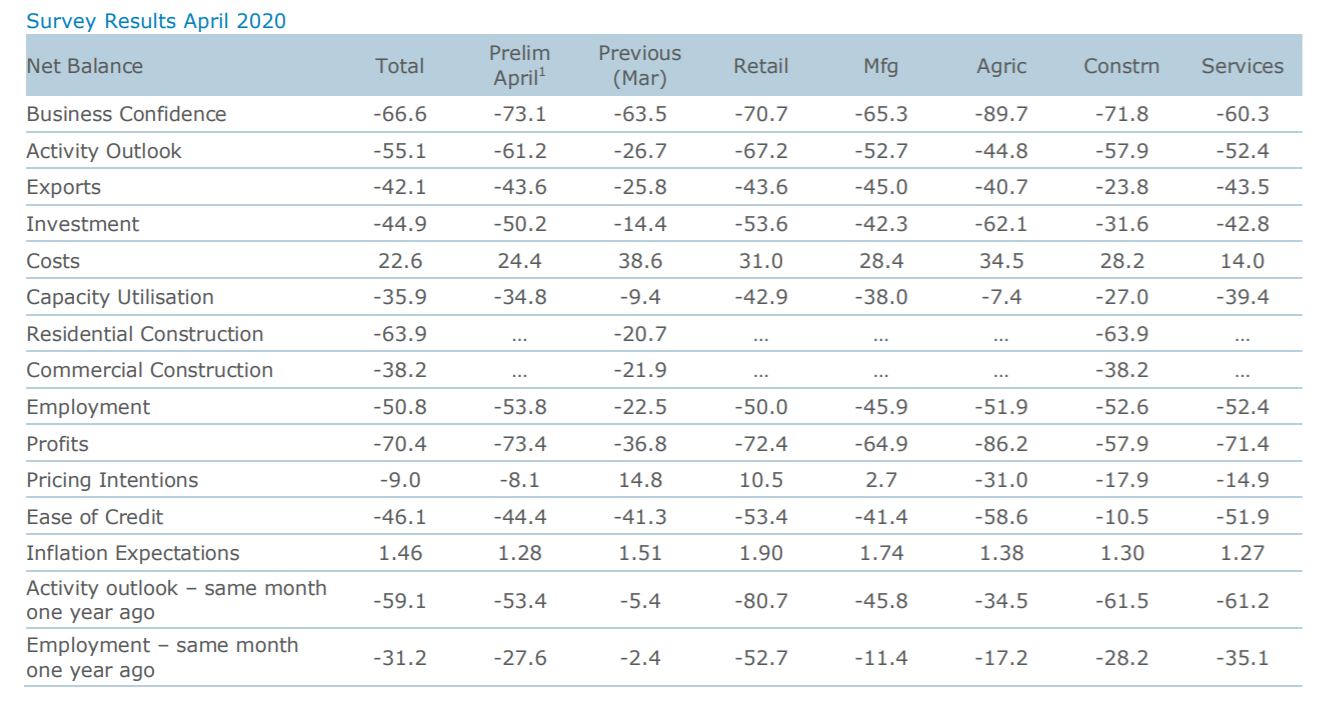 Zollner said "it doesn't get much worse" for a peacetime economy than Level 4 lockdown.
She said the levels of most indicators remain at levels that were "frankly unthinkable" before Covid-19 reached our shores.
"Businesses are really hurting. And it's not just expectations. The proportion of firms that have already seen lower activity and have let staff go continues to rise. That will clearly remain a theme for some time.
"The Reserve Bank and the Government clearly have their work cut out to get this economy back on track.
"The Reserve Bank will be pleased to see the decline in inflation expectations arrested, suggesting that the launch of aggressive quantitative easing has had some success in demonstrating their commitment to keeping inflation within the target band. But with the survey data confirming a period of significant weakness ahead for the economy, they can't relax. Nor can business owners. It's a very bumpy road ahead as we take our first tentative steps back to normality.
"The nearly month-long level 4 lockdown was a triumph in terms of achieving its medical goals, but at an enormous economic cost.
"It has bought us a degree of certainty about the path forward of which most countries would be deeply envious. But it could still go awry. Let's all do our part to do this exit right, lock in our hard-won gains, and make sure we never see Level 4 lockdown again."